---
Posted by
MobileVisuals
Astral effects contains 10 hypnotic and trance inducing screensavers for your mobile like Hypnotic Mandala, CosmicPulsator, Polar Lotus and BrainCharger. These can be used for meditation or to to relax and free your mind from all sorts of stress and strains.
The software decreases the brain wave rhythm which makes it easy to meditate and later reach a deep level of trance.Using this technology will help you to reduce stress, improve creativity, accelerate spiritual growth and much more . You can increase your awareness and reach deeper levels of consciousness.
If you want to try Astral Effects, go to the WAP page
http://www.enwap.cl/AstralEffects/real.asp
with your mobile and download it.
Visit
http://www.mobile-visuals.com/
for more information about the company and its products.
Let me know what you think about the product!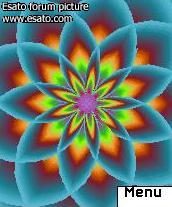 ---
---
Posted by
Cycovision
Excellent! I absolutely love it

It looks suberb and (so far!) works flawlessly on my SE P990i but it would be better if it filled the entire screen

I haven't visited your website yet so apologies if you've already addressed this issue on there. Nice work!
[ This Message was edited by: Cycovision on 2007-10-16 17:30 ]
---
Posted by
gola
yip,totaly awesome...it doesn't fill up my screen neither...but great job!
---
Posted by
MobileVisuals
I'm happy you liked it! I thought I would be fullscreen on SE devices, but it is not as I can see now. It works fullscreen on Nokias and I thought it would on SE too.
As soon as I manage to make it fullscreen on SE devices, I will release this product on the market. I did some changes on it, but I don't have a SE device to test on right now. Could you try the product again and see if it's fullscreen now? If you help me out with this testing, you will get a lifetime license on Astral effects, which means that you will get the future releases of the product for free. So you can download the product again on
http://www.enwap.cl/AstralEffects/real.asp
if you want to help me with this.
I use setFullScreenMode(true) and the canvases extend from Canvas not FullCanvas, so it is strange that is doesn't get fullscreen.
But I import FullCanvas and use it to capture key events. Could this be what messes it up and makes the fullscreen not work?
---
Posted by
Cycovision
Yup, works fine in full screen now

Brilliant stuff, good luck with the launch!
---
Posted by
gola
mine now works perfectly aswell.thanks alot...
@cycovision,what camera device did you use to take that photo?it looks great...
---
Posted by
Cycovision
@Gola
It's just my very old cannon digital ixus V2 2 megapixel digital camera

Despite the low resolution by today's standards it is still capable of taking decent pictures. Shame about the photographer!
---
Posted by
gola
lol,that's very true.it doesn't take bad pics at all...
---
Posted by
MobileVisuals
It's good to see that fullscreen finally works!
---
Posted by
jonathansrf
dont like me that image...