Sony Ericsson MW600 Handsfree Review
MW600 is the latest high-end Bluetooth
headset
from Sony Ericsson. It was announced in November last year as a companion accessory to the Xperia X10. In some markets, the X10 sales package will have the MW600 included. While the style and probably price would match the X10 very well, it can be used with most other devices as long as it support one of the supported Bluetooth Profiles which are

MW600 Bluetooth Headset and the Sony Ericsson Vivaz
The MW600 is a Bluetooth headset with built in FM-radio. While the majority of new phones has FM-radio built in, one of the advantages of having a dedicated FM-radio is less power consumption by the phone thereby gaining more talk- and standby time with the phone. Most mobile phones with built-in FM radio also requires a connected wired handsfree to operate. The reason for this is that the wire works as an antenna. Using a MW600 instead eliminates the need for a wired phone if you want to listend to the radio.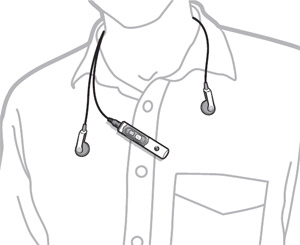 Ill: Example showing how to fasten a headset
The included headphones is of ear bud type, but it is connected to the control unit with a 3.5 mm jack, so it is possible to use any headset with a 3.5 mm plug. Personally, I like the the ear bud type of headphones very much, and the included medium size buds fits me very well. The length of the headset wires could have been a little longer. I understand that the main unit headset needs to be close to the mouth when talking, but often I used the unit to listen to the radio and wish I could put the headset into a pocket further away from the face. The ear plug for the right ear is a little bit longer than the left one. Nevertheless, 80cm and a turn around the neck is not long enough for my taste. The length is an improvement of the predecessor headphones HBH-DS200 which are 65 cm long.
AVRCP Bluetooth profile makes it possible to control several phone features directly via the MW600. Available control features depends on phone model, but if you have relatively new mobile phone you can start/pause music, navigate to the next/previous song, do voice dialing, adjust phone volume. In addition to this your are able to scan for radio stations with the standalone FM radio.

Volume controls is of the touch-pad type
MW600 has a very long volume slider control which cover almost the entire length on one side of the unit. I have not seen this type before and I never really became comfortable with how it worked. It is touch sensitive and will only respond to finger touch. The problem with this touch interface is the lack of feedback from the unit. The sound level will change of course, and a volume level indicator is visible on the display. But as no key actually are pressed, setting right volume level without looking at the headset is impossible. The volume touch pad has a several indicators but these are hollowed and not elevated which seems more logical to me. You can say that this is a constructed problem, but I sometimes found it hard to adjust the volume without looking at the display.
Up to three phones can be paired with the MW600 at the same time. This makes it possible to listen to music stream from one source, a PC maybe, and automatically transfer active connection to a mobile phone if this is receiving an incoming call. It is a nice feature, but I am a little unsure of the usefulness of this capability.
Sound quality is very good. With this type of headset, the microphone is a little further away from the mouth than a phone microphone would be. And the sound volume and quality is affected by this. We did a blind test with a regular phone call and one where the MW600 speaker was placed with the same distance as the phone speaker. It was not possible to hear any difference. Some will say that the headset sound quality is of more importance. It is not possible to compare a phone speaker and the MW600 directly but having two sources plugged into the ears gives better sound quality than a phone speaker because surrounding noise are almost completely blocked out.
MW600 is only available in one colour. Black. The MW600 has a lacquer finish and the OLED display is invisible when not lighted. The display backlight will fade out after 5-6 seconds without usage.
Is the MW600 a good deal? It depends on the retail price which at the time of writing is unknown. A wild guess would be around 50 Euros which is acceptable if you want all the features the MW600 possess . It will be companioned with the Xperia X10 in some markets so that might be an even better deal.
+ Good sound quality
+ Very good battery capacity
+ Multiple Pairing possibilities


- Not scratch-proof display glass
- Never got used to the volume control touchpad
---
Sony Ericsson MW600 Bluetooth Headset Specifications
Size and weight
Size: 17.5 x 15.0 x 62.0 mm
Weight: 13.0 gram

Battery capacity
Standby time: 500 hours (up to)
Talk time: 11 hours (up to)
Stream time: 8.5 hours
FM Radio playing time: 11 hours (up to)
Battery: 170mAh

Acoustic
Speaker type: 2x 9mm dynamic, 32ohm
Ear coupling: Insert
Nominal Impedance: 32ohm
Driver type: Dynamic
Driver size: 9.2mm
Speaker frequency range: 10Hz .. 22000Hz
Sensitivity: 100 dBSPL/mW at 2kHz
Total harmonic distortion: < 0.5% (100Hz .. 10000Hz @ 1mW)
Microphone: 4mm electret

Controls
Call control
On/off
Play/pause
Volume up/down (touch type)
Next track
Previous track

Display
OLED 12 x 125 white pixels pluss border of red/green pixels

Supported Bluetooth profiles
Handsfree profile v1.5
Advanced Audio Distribution Profile v1.0
Audio Video Remote Control Profile v1.4 Ė Control and Target role
Headset Profile v1.1

Colour variants
Black

The MW600 unit was provided by Sony Ericsson UK
---
So what is the difference between a headset, handsfree and headphones. The three words are often mixed but in this review, we have interpret the meaning of the three like this
Headphones are a pair of small loudspeakers and an optional microphone.
Handsfree is a system where no hands are required to operate the device. It could include headphones, but also a speaker and microphone setup in a car. It does not need to be wireless.
Headset are headphones in combination with a microphone. It does not need to be two speakers. It could be a device attached one ear.