True SonyEricsson fans live in the Philippines
12 June 2002
What do you do when you like your Ericsson/SonyEricsson phone so much that you visit Esato once a day for the latest news about this brand and want to talk to like-minded. You start your own SonyEricsson user group of course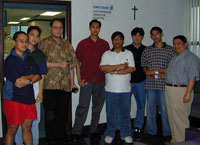 EB V 1
L-R: GOwin, Dan47, Handsome Puppy, GPRS, ArnoldC, Beatrix, Ferrarista44, GreenArrows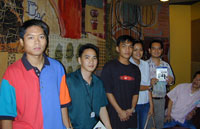 EB V 1
The winners: Dragon76er (Handsfree kit), Dan47 (MP3 player), Reggie, DJ and Dlreyes (Handsfree kit)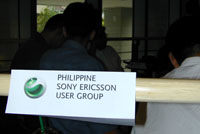 EB V 2.0
Phillipine Sony Ericsson User Group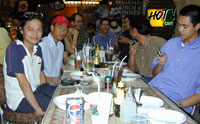 EB V 2.1 (Originally, the MMS upgrade EB)
Left to right: Pogie, Racoonice, Beatrix (body parts), Dan47 (body parts), Handsome Puppy, Ksroy, Arnoldc, Ferrarista44, and GPRS.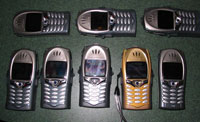 EB V 2.1
The Attendees
All images Copyright Erwin G Olario and Arnold Cruz.
This is what some of our members from the Philippines have done. You may have noticed the large number of posts in our forum. Pinoy Chit-Chat, Pinoy Chit-chat (Archive) and Pinas EB - (who, when and where) are all on the top of our forum top 20 list.
If you are from the Philippines and want to join the group or post in one of the threads, you should start your "application" by reading the Pinoy Chit-chat (Archive). This thread will inform you about their internal rules for the PPC (Pinoy Chit-Chat) thread.
The user group is also very active in the "real world". In addition to using some of their spare time in the Pinoy Chit-Chat thread they also arrange EB (Eye Ball. Slang for get together occasions) meetings. In the time of writing, they have arranged three EB's. SonyEricsson Philippines was invited to the second user group EB, and brought with them some accessories which was given away as prizes in a competition.
Because none of the members had met in real life before the first meeting and the meeting was in a public place, it was not easy to find each other. The first arriving members had to go from table to table and ask "Esato?"
An election have been hold and the PSEUG (Philippine Sony Ericsson User's Group) are:
Norbert Aquende (Handsome Puppy) – President
Arnold Cruz (arnlodc) - VP, Technology
In charge of the supporting the technical needs of the members such as provide and collect information related to Sony Ericsson mobile technologies. Responsible for the online forum, members Web/WAP sites, coordinating with the technical groups in SE and other related groups, and other techie stuff.
Niño Pasamonte (babynino79) - VP, Public Relations
In charge of public image of the group and partnership with other groups or organizations. Responsible for getting public support for the group and other marketing stuff.
Erwin Olario (GOWin) - VP, Operations
Responsible for membership, special events, special projects, logistics, etc... you get to choose who will be the coordinator for the EBs/events and how we will go about it.
GOWin have taken most of the pictures in this article from the EB meetings. Take a look yourself here: http://pbase.com/gowin/esclub
---