SIMpill
26 January 2005 by axxxr
A South African doctor has developed a pill bottle that uses cellphone technology to remind patients to take their medicines and warns them if they are about to take an extra dose by mistake.
Cape-based company, SIMpill (PTY) Ltd, has developed an innovative, world-first solution for the wireless monitoring and support of patients on chronic medication. This will enable health organisations to be more efficient and cost effective in their patient care.The SIMpill incorporates wireless technology to monitor and remind patients with chronic conditions to take their medication as prescribed. Non-compliance with many prescribed medications leads to significant waste in health expenditure,drug resistance, and unnecessary morbidity and mortality.
According to Dr David Green, inventor of SIMpill, the device works in the following way: a pill bottle, when opened, delivers an SMS text message to a central server. The SMS contains a
unique pill box ID number as well as information about the battery status of the pill box."The central server receives the incoming SMS and, if this is within the appointed time tolerance set for the patient, this message is stored for statistical purposes. Should no message be received, the server can produce a number of responses such as sending a reminder to the patient's handset, a family member or the health care professional," adds Green.Tellumat Communications, part of Tellumat (Pty) Ltd is a South African technology company with extensive experience in the development, manufacture and distribution of advanced products for the information and communication technology (ICT) sector, and is the telecommunication partner for SIMpill. "We are proud to be part of this project and hope to be able to bring peace of mind to the families of patients on chronic medication," says Neill Friedman, product manager at Tellumat.

The costs of providing medication to people living with chronic diseases (including HIV/AIDS) are substantial. However, these costs can be justified in terms of the benefits to the patient in
improved quality of life, to the funder in reduced overall case management costs and to society in increased productivity and longevity."Current compliance monitoring systems only alert caregivers to non-compliance after the fact. With SIMpill, we are able to alert necessary parties to non-compliance as it happens,thereby enabling real time support and care for patients when they need it," says Dr Green.The end result from using SIMpill for patients with chronic medication is that there is a decreased need to provide interventions to patients who are compliant and it provides both cost savings and improved quality of life for patients.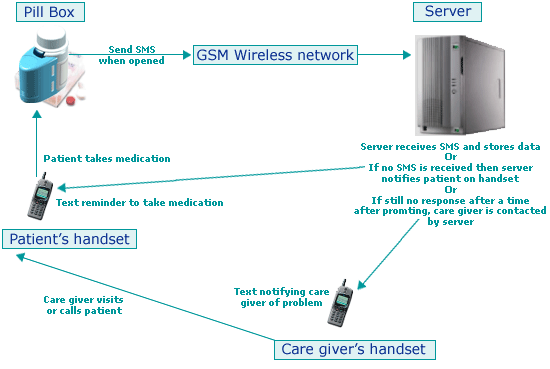 ---