News from CEBIT 2006
Visiting CeBIT: Olav Hellesø-Knutsen
M600 is the next business model from Sony Ericsson with Symbian OS and touch screen. By using the stylus to click on the display, you are able to navigate much faster than by using ordinary key pressing. Text can be input via a virtual keyboard, hand writing recognition or the keys located below the display. The keys are of a new type where two letters share the same button. During the short time I tried the phone; I found it very difficult to use these. I guess some practice will help out with the comfort. To type an "H" you will have to press on the right side of the 5-key.

M600 does not have an external camera which makes it possible to bring the phone into areas where cameras are restricted. The phone is slight but not small. The display has a 240 x 320 pixels display resolution. M600 does not have the usual soft keys but instead have virtual buttons in the lower part of the display.

The M600's main menu can be viewed by icons, or as a list, like the picture below. On the left side you will find a scroll wheel, the Jog dial and a return/back button that ease navigation.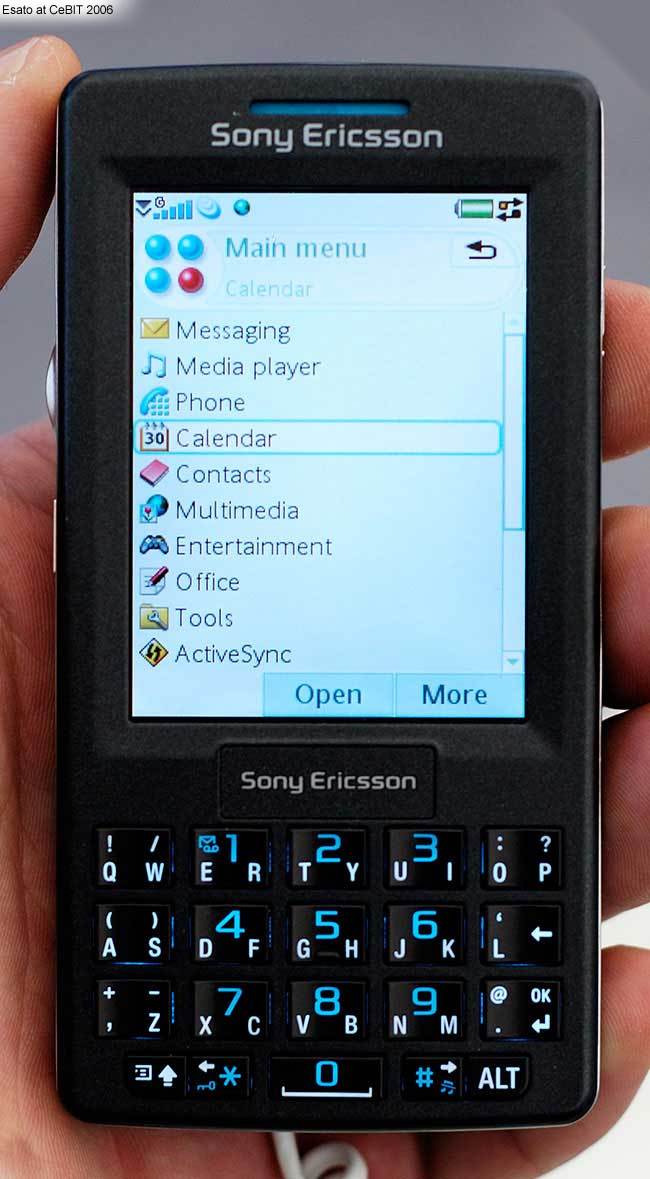 User comments:

Despite sacificing a camera I think this phone is a winner..nothing comes close Nokia/Blackberry etc despite clumsy fat fingers I eventually was able to type on the unusual keyboard...(i've replaced my p800 with this pda/phone)... one thing I hope the feb firmware upgrade improve startup/shutdown performance that's all
By WanaBeeBetter on 27 May 12:33

The only phone to top this one is the M610i when it arrives.
By moonshot on 22 Apr 01:20

Show me the features
By Isuru on 13 Mar 08:45

get your passion in........
By erik on 5 Feb 06:50

Love it! Love it! Love it! BEST phone EVER!
Buy! Buy! Buy! <3 <3 <3
By Icelicious on 4 Feb 17:46

no chinese language. don't sell and reap asian money then!
By kong on 2 Feb 14:25

Hi cool site friends!

By tom on 26 Jan 15:49

I want it
By Byindia on 25 Jan 14:58

I've replaced my P910i with M600i. This phone is great man.... smaller, slim and very reliable
By Bramiana on 7 Jan 04:09

Hi cool site friend!

By amigo on 29 Dec 23:49

nice phone, want it!!
By tiny on 11 Dec 08:56

W950 all the way for me! ! !
By sefan on 1 Nov 17:14

The Phone is amazing, with the newest Firmware! The best SE phone to date!
By Alex on 8 Oct 20:44

Got N70, LGP7200, W900, K-Jam, K800 and now, M600...THIS YEAR...I am optimistic that this phone will reach the year end. Its the best.
By MIL on 2 Oct 13:20

Hi Putu, long time no c.. Where r u? Well wherever u r, I still love u very much.. C? we have the same M600i. It's a proof that our heart is connected... Realy, M600i has a great problem like that? Hhmmm too...
No wonder one of my friend sold his M600i, and get Nokia E61...
By NonikYuniarthi on 23 Aug 17:14

Be careful.. if your Bluetooth headset still recharging its batterey, you cannot receive sounds in your phone without transfering sound into your M600 handset.
It still asking whether I retrieve incoming call in my mobile or no. Even I choose Yes, the sound's still missing. Until I goto More option, and then choose Sound in Phone...
Even you're un-pair your BT headset, it still doesn't work.
HHmmmmm...
Anyone can help me?
By Putu on 20 Aug 15:41

M600 has all you need to keep in touch with friends and colleagues in every way, every day. It gives you secure push e-mail, Internet and company intranet access. And when you're browsing the Web with your M600, you can still make and take calls. M600 is a true 3G multitasking device. Send and receive e-mail, edit and re-send attachments and, if a compatible printer is nearby, you can print attached documents. Touchscreen navigation is intuitive. Tap any function icon on the M600i desktop to open an application. M600i is a Symbian OS device. This makes it possible to add applications and useful tools to your phone including navigation, travel and organizer enhancements.
By NonikYuniarthi on 20 Aug 15:22

oops.. no Edge.. sorry
By AriSedana on 18 Aug 19:17

I have a PDA. Since I have a M600, now the PDA becomes useless. M600 makes my dreams come true. Since PPC with MS Windows 2005 OS still too expensive and those MS Windows 2003 second edition for PPC still an unstable OS, M600 becomes a winner. 3G, Blackberry connect, Bluetooth, Edge, Office applications, push email, MP3, etc. They're all make me confortable to carry M600 in my hand.
By AriSedana on 18 Aug 18:56

Perfect Thing-I want it!!!
By Uniwega on 1 Jul 12:27

hello every1, 1st of all: stop actin like a children- u want a camera? buy a digital1&stop complainin... 2nd thing: 4god's sake it's NOT a toy anymore... who needs a camera in that sort of mb&ls??? he??? or games??? wanna play games- but a PSP... the era of mbls full packed wit all that CRAP like games and thousands of things related to camera, IS GONE!!! just like w950i... who needs a camera if it was designed as perfect multimedia center... mp3 player wit 4gb memory... so t conclusion seems2b simple... buy m600 as a mbl... buy a digital camera4pictures... buy PSP4games... end of story... shut it!!! &ENJOY T M(600)ASTERPIECE!!!
By david on 22 Jun 23:10

Nice Phone! But when will we get it this model. Most of the models are in website stage only. In india when will come.......?????????. Good features. It's like a small notebook. More than a PDA.
By Ananth on 18 May 09:22

All of you who say this phone is crappy because it doesn't have a camera and no games, well, I must say you are not too bright. Why, this phone isn't intended to be used by your average John Doe which yesterday used to play Snake on a 3310. It is intended for the heavy business user. For those of you who like cameras, there's the P990, or better yet a K800.
By ALN on 18 May 09:01

just amazing though amissing magaoixel camera
By dixitpatel on 12 May 16:11

i think m600 is better than w900..even though w900 can change memory card..but m600 hv 4gb inside..dun realli need a memory card..n da thickness is similar 2 w900..w/ 4gb u can put bout 4-5 movies in2 it..n also its a touch screen..not much ericsson phones got touch screens..u can prob use dis phone throughout ur life time..da onli disadvantage bout dis phone is dat..it doesnt hv a camera w/ 4gb u dun hv a camera..pretty lame..i would prefer a w950 w/ cyber shot camera..pretty useful..change ur memory card..u can use it as a camera n a music player.
By phonenoob on 4 May 23:29

Nice phone and decent features. Too bad it's got no camera. I'd consider that a waste because all it's competitors will have a camera. Sony Ericsson has to step up their game if they hope to beat Nokia. It's a shame really. Learn from your mistakes SE! That was one dumbass move.
By dja on 1 May 07:51

M600 will be the best phone! what W900 are you out of your mind? M600 is even better than P990!!! That crapy camera and WiFi are useless and drain too much battery! You have internet at home and if you realy need anything you can do almost everything with your M600!! W900 is uncomperable to M600. W900 is not even a mobile phone. M600 !!!!!!!!!!
By dormanz on 15 Apr 13:00

Better in what? sucking?
By dondo on 15 Apr 00:19

w900 is better than this phone
By dragon on 12 Apr 11:21

This is for Holland:
In my brief observation of your message, you don't seem to be intelligent enough to be a reliable source for what is or isn't going to be successful.

You say you don't think there will be a decent 'marked' for this phone? If you aren't a market analyst with statistics then shut the hell up.

The phone is for business users and I in my opinion power users (or geeks) too. I also believe that if the market can get past the unusual (but increasingly implemented) keyboard it should do well. Sorry to flame but I couldn't hold back on this occassion.
By Jordan on 10 Apr 06:16

is this a grammaschool or phonediscussion?? LOL
the fone is k00l and ie LÅVE IT!! :)

i´ve tried it out myself and its great though it has the usual childish errors every newborn breed has to live with the first couple of months.. ;)

a small reminder to people such as kylie:>>
remember sonyericsson dosent make allround-phones ;)
this phone is great for e-mail and other buisness stuff exactley as the W950i sucks in cam-test because it dosent have a cam and the K800 have poor soundquality(compared to W950!;))
By frdknnedk on 6 Apr 12:00

I haved owned a P800 and P900. This is a dream phone is seems for business applications. Outlook and interent. Huge memory. Now make sure to ship it soon Ericsson!
By OHWOW on 2 Apr 00:45

GenghisKahn:
It's 'Queen's English', note the apostrophe. No good damning others for poor grammar if you can't manage it yourself. There's no need for the comma after 'could' either.
By Dapple on 20 Mar 12:55

just amazing though a missing megapixel camera
By d2d on 18 Mar 14:57

It would be a great experience if all the thick shits who use this forum could, speak, type and spell in the Queen English!
Hooray Darlings!
By GenghisKahn on 16 Mar 19:48

i don't know what 2 say but it loooks coOol
By w800lover on 14 Mar 16:07

At last a decent phone without a waste of space camera in it. I've pre registered for mine
By Nick on 14 Mar 09:26

I want it!!!!
By supergene on 14 Mar 09:26

due the lack of a camera and a realy keyboard i don't expect much out of this phone, althoug it's features are nice i don't think there will be a good marked for this phone

By holland on 13 Mar 17:43

its too big it looks funny too bright too less games for all sony ericson

By kylie on 13 Mar 10:04

---
Add your comments to this image
Feel free to comment this photo. HTML characters are removed. Back to CEBIT news
Visiting CeBIT: Olav Hellesø-Knutsen
Check out the mobile blog