---
Posted by
Topmobilegis
March, 2019-13-03
Dear Potential Sponsor,
PROPOSAL FOR THE TOP MOBILE GIST TV PROGRAM IN NIGERIA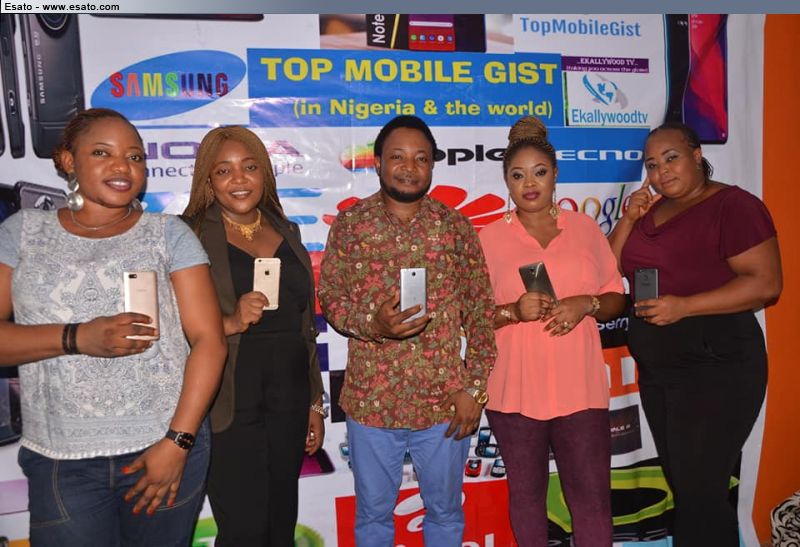 INTRODUCTION:
Top Mobile Gist is a community talk-show television platform to promote Mobile phones companies, apps brands, phone manufacturers, phone dealers, wholesalers, marketers, retailers, users and customers', etc. It is a programme that brings awareness to the people in different communities, states and countries while reflecting how people are using mobile phones, the benefit and for what purposes.
It will address issues such as important advantages and disadvantages of mobile phone industries and its future usages. It will provide basic mobile phones awareness campaign, seminars, workshops and enlightenment to the users. And it will ensure proper equipment, facilities, volunteers and professional staff members are ready available for any projects.
Top mobile Gist post-production video will be air on different Television Stations and Channels in Nigeria and other chosen Cable Networks for communication hyper stories, education, awareness campaign, and entertainment. A new Mobile phone TV programme is specifically needed to educate, enlighten and empower people on how to use their mobile phones in Nigeria and Africa as a whole.
Top Mobile Gist TV programme in Nigeria and the world will help to create new more jobs opportunities to the young graduates, contents creators, entertainers, Presenters, broadcasters, and journalist, etc, in order to reduce poverty in the country.
This Top Mobile Gist television programme will serve the government agencies, companies, organisations, ministries and individuals to go-mobile while increasing their productivity and maximise their business operations.
Top Mobile Gist TV program will feature: Interview with mobile phone manufacturing companies, dealers, warehouse owners, Sales promoters, Engineers, sales consultant and users.
OUR MISSION
1. Promote and encourage sustainable impact-oriented mobile phone usage for everyone in Nigeria, Africa and beyond its borders.
2. Promote the harmonization of mobile phone technology in furthering of employment, education, and awareness, etc.
3. Establish a mobile phone user's network and forum for the exchange of information, experience, resources and mentorship.
4. Promote lobbying, and advocacy campaign of the mobile phone usage and harmful effect of technology in communities..
5. Conduct research and publish on issues facing mobile phone industry and users operations.
OUR ACHIEVEMENT
1. Educating people in communities on the important of mobile phones usage and apps management.
2. Organizing mobile phone usage training and empowerment programmes in Nigeria communities.
3. Organizing TV talk show on how mobile phone has change the way we live our lives and the world.
4. Training and interview with mobile phones users and sales consultant.
5. Learn How To Build Your Own Video Marketing Agency Using Video Marketing Blaster
PROBLEM/NEEDS
According to research that we conducted recently in Nigeria, showed that the Mobile Companies in the country are unable to articulate the issues of majority of people on mobile phone usages especially those in rural areas. This is why we are using media as a tool, and door-to-doors to populate the information and awareness of mobile phone usages. And this will gives many people an opportunity not to feel abandon on the digital ways of life using mobile phones.
We at Top Mobile Gist invites you to become a sponsor for our first Series Top Mobile Gist TV Programme in Nigeria (Topic: HOW MOBILE PHONE HAS CHANGE THE WAY WE LIVE OUR LIFES AND THE WORLD) to benefit the Mobile phones companies' owners, phone manufacturers, phone dealers, wholesalers, marketers, retailers, phone users and customers'.
This exciting event has commence already with post production, though, in the future will be on live streaming. And we intend to air it on different Television Stations and cable networks. The primary source of funding for ''Top Mobile Gist'' is from corporate sponsors, such as you. The 'Top Mobile Gist' receives no governmental funds. Your sponsorship will help assure the success of ''Top Mobile Gist'' TV talkshow programme.
The funds provided by this programme will be use to provide:
1. Office space for TV broadcasting
2. Television Airtimes
3. TV studio equipments
4. Production cameras
5. Studio furniture's
6. Studio lightings
7. Snowball USB Condenser Microphone with Ringer Shock Mount
8. Wirecast Softwares
9. Backdrops
PROGRAMME SCHEDULE:
How mobile phone has change the way we live our lives and the world
On Series
Time: 30 munite
Host: Emmanuel Bassey Joe
Co-Host: Precious Isiaka
SPONSORSHIP LEVEL: The terms of any formal sponsorship agreement are negotiable, depending on the level of sponsorship offered and the level of the sponsoring entity. However, the following levels of sponsorship are indicative of arrangements that could be negotiated.
TV AIRTIME --- $50,000
GENERAL SPONSORSHIP ------- $100,000 annually
(Sponsor the entire Top Mobile Gist TV program production and airtime for airing on local and international television stations and channels).
SPONSORSHIP BENEFIT:
1. Publish and advertisements of the sponsors brand logos, products and services on our commercial break time and news letter consecutively.
2. Recognition of the sponsors on our website, social media platforms and print Medias, with a link to the sponsor's websites.
3. Sponsors invited to our stakeholders' engagement events which provides useful networking opportunities to sponsors.
Be part of the mobile tech world of champions.
Join the top mobile Gist as we are educating and entertaining you with latest happening in mobile phone industries and how to manage phones.
Enclosed please find more information on this exciting programme and its partnership levels. Please don't hesitate to call me for any question or concerns. I will be making follow up calls time to time and hope that we can count on your support.
Sincerely,
Emmanuel Bassey Joe
+2348025516793
[ This Message was edited by: Topmobilegis on 2019-03-14 22:07 ]