---
Posted by
difenbaker
Samsung Z is the first Tizen smartphone, confirmed for limited markets
News by Andrew Kameka
Monday June 02, 2014
The Samsung Tizen endeavor is finally starting to bear fruit in the smartphone area. Samsung today confirmed that it will soon release its first Tizen-based smartphone, the Samsung Z, a departure from the almost exclusive use of Android in recent times. However, It's not a drastic departure. The phone still uses the faux-leather back found on the Galaxy Note 3, and it has the same Menu, Home, and Back physical buttons commonly seen on Samsung's handsets.
Though the underlying software may differ from the Android-powered Galaxy handsets, the features are similar. Samsung has included apps for S Health, a Download Booster to accelerate data transmission, an Ultra Power Saving Mode to extend battery life, and a camera app with the ability to take several photos and choose the best or use the rear and front cameras at the same time. There's even a fingerprint sensor used to unlock the device and authenticate users.
The hardware differs because Tizen has a more rectangular shape. The Samsung Z features solid hardware with a 4.8-inch Super AMOLED display with 720p resolution. A 2.3 GH quad-core processor by Intel powers the device, which Samsung claims has been optimized for efficient 2D and 3D graphics. Other specs include a 2,600 mAh battery, 2GB of RAM, 16GB of internal storage, a 64GB micro SD slot, Bluetooth 4.0, NFC, IR Remote, a 2.1-megapixel front-facing camera, and an 8-megapixel rear camera.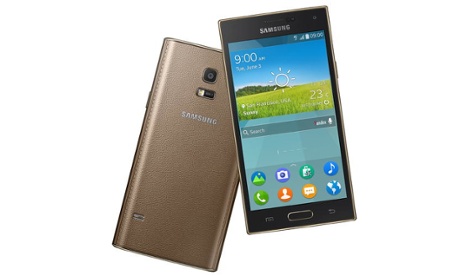 Read more at
http://www.mobileburn.com/22919/news/samsung#gUOzksuS8mbRQK23.99
Links:
http://www.pcauthority.com.au[....]martphone-ditches-android.aspx
http://www.cdrinfo.com/Sections/News/Details.aspx?NewsId=40613
http://www.techspot.com/news/[....]artphone-powered-by-tizen.html
http://mashable.com/2014/06/0[....]ium=feed&utm_source=feedburner
http://www.theguardian.com/te[....]artphone-android-tizen-android
cheers!
.
[ This Message was edited by: difenbaker on 2014-06-03 12:26 ]
---
---
Posted by
emerson_shei
Good Smartphone

---
Posted by
Tsepz_GP
I hope in 2years time Samsung uses Tizen as their main OS, I just don't see Android being good for a company as large as Samsung in the long term.
The Samsung Z is a nice start, hope this doesn't go the way of Bada.
---
Posted by
difenbaker
Samsung Z runs Tizen, feels like the Galaxy S5
cheers!