---
Posted by
julias
The Samsung Galaxy S4 goes on sale in the UK on 26 April, and when it hits you'll be able to pick one up with wide and
slightly surreal array of official first party accessories. There are a few covers to choose from, including a pouch, a kaleidoscopic selection of flip covers and a particularly clever S View Window case, which has a small panel cut away so you can still see notifications through it. There's also a Qi wireless charging pad, so you can drop the Galaxy S4 on it and it'll start filling up with power right away.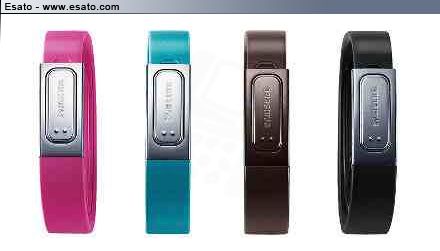 Then there's the fitness accessories. There's a heart rate monitor for runners that pairs with the Samsung Galaxy S4, and even a wireless weighing scale which connects via Bluetooth and messages your phone with your weight. It's the S Band that's really got our attention though: the waterproof wrist strap works much like a FitBit or a Nike FuelBand, logging your steps, and even measuring how much you moved while you slept. Given the craze for these sort of smart pedometers right now, we could see the S Band being a huge hit.
Last but not least, there's the Samsung Game Pad, a gaming controller that looks eerily like an Xbox 360 gamepad or Nvidia's Project Shield. You can drop the Samsung Galaxy S4 into the top and it connects via Bluetooth with one tap, for when touchscreen controls just won't cut it. Interestingly, Samsung says the device supports phones up to 6.3-inches in size; given even Samsung's giant Galaxy Note 2 isn't so large, it does make us wonder what else the tech company has in the pipeline.
http://gadgetshow.channel5.co[....]galaxy-s4-accessories-revealed
---
---
Posted by
julias
http://www.t3.com/features/best-samsung-galaxy-s4-accessories
---
Posted by
Away
Will ALL this stuff be made available and soon like wireless charging was made available for the s3?
---
Posted by
Tsepz_GP
Very nice

I'm also very much into that S Band, would be great for when doing cardio training. Samsung really trying hard to create a little eco system for their Galaxy brand, it's nice to see an Android OEM do this, I've also found myself often shopping around for new apps and games in their Samsung Apps store which even allows you to charge purchase to your phone bill, and they often have discounts on some incredible games, I got Real Racing 2 a while ago for half the price it goes for in Play Store.
---
Posted by
worf1000
I just ask, what is insane about it?
Sammy sheeps always exaggerate about existing technology ?
[ This Message was edited by: worf1000 on 2013-03-17 07:27 ]
---
Posted by
Del
Looks like some nice accessories coming from Sammy

I'm just wondering, as the S4 is capable of wireless charging will a Qi charging pad from Nokia work with it? Just curious because I have a spare one from when I had a Nokia 820

[ This Message was edited by: Del on 2013-03-17 08:19 ]
---
Posted by
Miss UK
Have they not included a resemble like Apple Earpod for that
New Sammy yet?! Lol