---
Posted by
laffen
Samsung is expected to ship over 500 million handsets during 2013. A 26% increase over 2012. Nokia will no longer be the worlds largest maker of mobile phones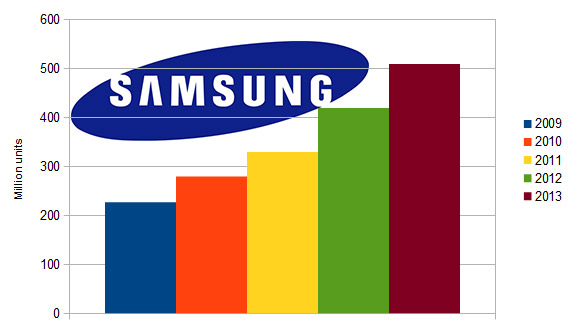 Esato News
---
---
Posted by
Bonovox
Yawn boring Samsung
---
Posted by
DSF
They deserve it.
After HTC take-down (in smartphones department), now Nokia take-down. That's what happens with companies that doesn't care too much about their costumers needs

(been both old Nokia & HTC user and I know what I'm talking about)
[ This Message was edited by: DSF on 2012-12-31 23:25 ]
---
Posted by
alenn
That's expected.I think I've read that as of now Samsung IS in front of Nokia...
---
Posted by
Tsepz_GP
Shouldn't be a problem for them, they have an excellent strategy going. At this point, Samsung remind me of Nokia between 2005-2007. Galaxy S is what the N70 was, Galaxy S2 is what the N80 was and the Galaxy S3 is what the N95 was, S3 LTE what the N95-8gb was and Note2 being what the E90 was, and now is the time where they must continue to improve the strategy and not try to cut corners as Nokia did with the flagships after the N95, N95-8gb, E90 and N82.
They seem to understand how important it is to have one halo device once a year that is THEE high end to have for the masses, Galaxy S line, and then also to have a high end niche device that rounds up the range, Galaxy Note line, again, once a year. They then give priority to these two, and then create smaller versions for the mid end and low end for those who may aspire to own the top ends but maybe cant afford them or arent interested in all the high tech features but trust the brand and want a Samsung.