---
Posted by
laffen
Samsung today announced the Galaxy Grand Android smartphone with a 5-inch display and dual-core 1.2 GHz processor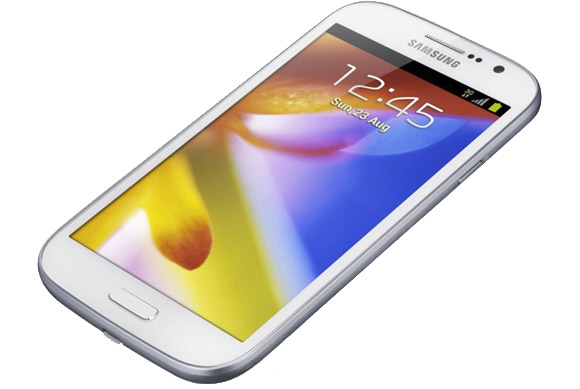 Esato News
---
---
Posted by
Bonovox
For goodness sake when will Samsung get some new designs

I can't tell the difference between any of them anymore. Design team need some imagination or sacking
---
Posted by
Miss UK

WTF Big Slab alert

---
Posted by
rikken
If the price is right this will sell well

---
Posted by
Bonovox
Yeah lord knows why. A 5 inch screen @ WVGA that's gonna look pixelated

Design is not Samsung's forte at all. Now Nokia well all their new phones look good and look different from each other
---
Posted by
laffen
On 2012-12-20 08:54:29, rikken wrote:
If the price is right this will sell well

I agree. If we look at the PC monitor market we can see that 27" monitors with a 1920 x 1080 resolution are selling well compared to the more expensive 2560 x 1440 models. The price is of course the most important factor here
---
Posted by
rikken

On 2012-12-20 10:30:00, Bonovox wrote:
Design is not Samsung's forte at all. Now Nokia well all their new phones look good and look different from each other


Sammy would not have sold so many millions of phones the last couple of years if people didn't like their design

As for the Nokia it seems to me that the N9, Lumia 800, Lumia 900 and the Lumia 920 doesn't look different from each other

---
Posted by
Bonovox
People go for Samsung performance & software rather than design imo. Nokia previous generation of Lumia looked similar but not the latest bunch. Samsung have been looking the same or just bland and plain designs for ages
---
Posted by
Tsepz_GP
I like Samsung's designs, very slim, simple and clean, the GS3's design grew on me.
The Galaxy Grand is for those who want a huge screen at a budget, although i must say the screen res is awful, should have been qHD (540x960) not WVGA.
WRT Nokia, i have to agree with rikken, Nokia's WP handsets all look like a N9 in a variety of sizes, the 820,710 and 610 are the only ones that truly stick out for me.
---
Posted by
Bonovox
The new 620, and in US the 810,822 they have different designs. Anyway i am with HTC now
---
Posted by
nicv27
On 2012-12-19 23:26:59, Bonovox wrote:
For goodness sake when will Samsung get some new designs

I can't tell the difference between any of them anymore. Design team need some imagination or sacking
Maybe they are taking a leaf out of the apple idea book....
---
Posted by
Caspa
Yeah, that does look just like the others...
I'm with Bono on this one, they need to spice it up a little!
---
Posted by
julias
If you think this is big then take a look at the
6.1-inch Huawei Ascend Mate