---
Posted by
laffen
Nokia to shut down the last Finnish mobile phone factory in Finland. The result of the closure is that 780 Finnish employees will lose their jobs next month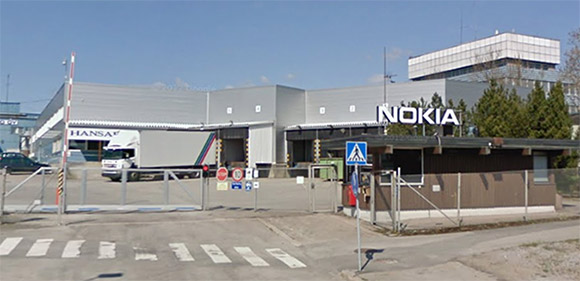 Esato News
---
---
Posted by
Bonovox
I think this is really sad news

always known Nokia to be made in Finland,Germany or Hungary. My Hungarian friend her husbands mom works at the Hungarian plant. Made In China like every other company has gone. My Nokia Lumia 710 is made in Korea.
---
Posted by
pt020
The only way I see for Nokia to survive will be if they adopt Android as soon as possible
---
Posted by
chunkybeats
made on China = made of shit, seriously when Nokia's where made in Finland the quality of the handsets were unmatched, I dont care what Apples quality is they are made in China. Nokia always had the best, especially from Finland! Sad times but Nokia please come back. and kick Apples arse, I am sick of looking at Apples!
[ This Message was edited by: chunkybeats on 2012-08-06 11:31 ]
---
Posted by
Ranjith
Unfortunately i haven't owned any Finland made NOKIA's.Are they really all that better than the ones Made in China?
---
Posted by
Tsepz_GP
No, thats just a myth.
I've owned Nokias made in both Finland and China, there was no difference, people liked to believe there was a difference, but in reality it depended on whether you were just unlucky and got a lemon that just happened to be made in China.
---
Posted by
Bonovox
Nokia Lumia 800 some are made in China and the quality is fine. I think its how the company trains its staff and keeps quality control at 100%. Sony phones are made in China as are some lower end Samsung phones. Its a shame this has happened but I don't think its going to ruin Nokia. My brother has an Asha 302 qwerty phone and the quality fir the price made in China is to usual Nokia standard. As for Nokia Android no they have a deal with MS and also I don't think it'll be the end of Nokia as WP8 is gonna be bigger and better.
---
Posted by
pt020
iPhones and iPads are also made in China and there is nothing wrong with them.
---
Posted by
Bonovox
China used to have a poor reputation but not anymore. Recently I had a Huawei G300 phone(don't laugh its decent of you look it up) And it was the most solidly built phone I have held in ages. Made in China

---
Posted by
alenn
Very nice Nokia...
They just keep firing people.Sad indeed.They gotta do something.I just wonder what's it going to be like later.Just WP?
I don't like that idea.
---
Posted by
Miss UK
I don't see the problem China do make good products and it keeps them in jobs,
only thing I dislike is that they have a reputation of making fake copys of everything lol
which is bad for the original manufacturer(s)
Also this isn't a sad time for nokia just for those employee's who loose there jobs in that factory
which so happens just about everywhere lately!
Edit "Poor typo's my pc Keyboard is Busted"
[ This Message was edited by: Miss UK on 2012-08-08 01:00 ]
---
Posted by
Bonovox
Yes it keeps them in jobs but takes our jobs in the west away all for cheap labour. But it'll all change in the future as people in China are already demanding higher wages. The suicide rate of staff at the Chinese Apple factory was so high the company had to attach nets to the side of the buildings. There is a 15 minute video about it I was shown by someone.
http://www.youtube.com/watch?v=CtEUjd7H4gk
_________________
Material things don't matter,but Rock n Roll does!!!!
Sony Xperia U
[ This Message was edited by: Bonovox on 2012-08-08 00:58 ]
---
Posted by
Miss UK
it must be really menancing having to work on a line like that
I wonder how long each employee has to work on just one individual product
before it moves on to next phase!
I do feel sorry for manufactring here in the UK and europe ive been a victim myself
but that company I did work for has bounced back and created alot of motor manufacturing jobs!
hope manfactring comes back anyway and creates more jobs then we will have youngsters moaning
about something else
anyway im of to buy a new keyboard this one suxx


---
Posted by
Bonovox
Nobody is immune from the downturn. Even Germany has had factories close. But I guess this is a knock on effect of Nokia's own downfall not just recession. Ireland recently lost 900 Dell factory jobs to Poland.