---
Posted by
laffen
Nokia today confirmed that the Nokia 808 PureView 41 megapixel monster will be available in stores in May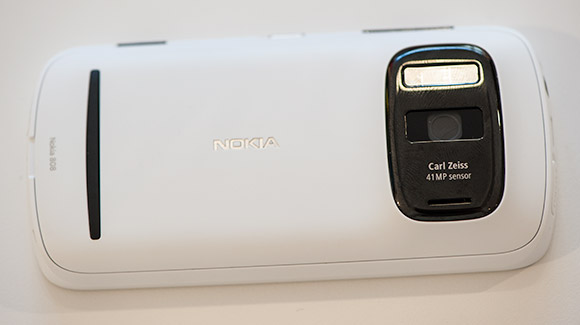 Esato News
---
---
Posted by
Hobbs
I've got a feeling Amawanga's got his eye on this one.
---
Posted by
hihihans
I'm really looking forward to see some pics taken with 808 by "real" people in "normal" circumstances.
---
Posted by
Bonovox
Yes true cos sample pics are never true to life
---
Posted by
rikken
Well in a way sample pics shows a cameras potential

---
Posted by
Bonovox
That's not always been the case. Sample photos from the N8 on GSM Arena were awful and I knew it could do better. I am sure some sample pics sometimes are tweaked a bit. I wanna see in the real world shots with consumers
---
Posted by
Guarulhos
Counting The Days... The Hours... The Minutes... The Seconds... For Arrival In Brazilian Market The Largest And Best Camerafone Of History !!!

Regardless Of The Value... My Will ! So Simple !

PS: The Sample Images Disclosed About Potential Of The Digital Camera 808 PureView Are Only One "Teaser" What's Really He Is Able To Produce, Since All The Images Were Taken With a "PROTOTYPE", As Was Amply Confirmed By Damian Dinning "Nokia Guru Imaging" !!!
So That Presents a Prototype "Excellence" Perhaps The "Final Product" !
Why It Up Even My Grandma Who Has The Evil Parkinsson, Will Take Great Photos With
"The Almighty"
King Of Cameraphones !!!
Nokia 808 PureView Is King In Image And Video For Next 2 Years And Probably Only Be Matched And Overcome By a DEVICE NOKIA !
Long Live The Empire Nokian !!!

---
Posted by
Nadiayan
Wow,I want to get it too.And combine it with my mts converter mac will be perfect,I think.So great!
Thanks very much.
---
Posted by
ok1907
€599. Price is not that right in my opinion.
---
Posted by
AkuKL
I love to have the camera. But when I sow the screen size and resolution, I just know that it is a stone age phone.
---
Posted by
punitpanchal
I too loved the camera of 41 megapixel 808 pureview and can't stop myself from buying and after buying I am really happy with the image quality that i just ignored the screen size and resolution.
---
Posted by
Guarulhos
On August 30
, Begins The Officers Of This Excellent Smartphone
Sales In Brazil
!!!