---
Posted by
MrBAW
SE seems to have given a way a phone to come:
http://www.sonyericsson.com/s[....]1_1&zone=pc&lm=pc3_1&prid=8119
they mention the W750 in some of the last paragraphs on this page.
/
---
---
Posted by
antichrist
we'll have to wait for more details about w750
but now the main

phones are k850 and w960 so i doubt w750 will have a real success
---
Posted by
xironghostx
i know this it totally wrong but some people is calling their modded k750 for w750:
http://images.google.se/image[....]TF-8&oe=UTF-8&um=1&sa=N&tab=wi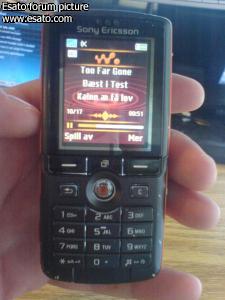 ---
Posted by
Daedalus85
I think it may have been a typo. It looks like they meant to say W910i rather than W750i, by the way it lines up with the other launches. Either than or the Z750i.
---
Posted by
KingBooker5
On 2007-06-15 21:34:48, antichrist wrote:
we'll have to wait for more details about w750
but now the main

phones are k850 and w960 so i doubt w750 will have a real success
In the low end of the market it may score right well, but your right, it will get squashed by the 3 other models. Dont forget the price of the k810 will go down so that should get massive sales, as people want the newer version and not so much the k800
---
Posted by
tkshinobi
Boys, get this right:
!!! It`s a modded K750 !!!
To make it a brief one:
1. K750 front cover, K750 keypad
2. W800 joystick, W800 middle-case and my wild guess (i think i know this modded phone from some other forum) is that it also has W810 back cover.
3. Walkman 1.0 version (it`s really obvious i belive)
And did you forget that SE launched enough midd-class Walkman phones already?
Get real please
---
Posted by
shaliron
You can post in the main thread please:
http://www.esato.com/board/viewtopic.php?topic=133292
---
Posted by
belialwafu
First glance looks like k750...is it new?
---
Posted by
>500
new version of w710i perhaps.......
---
Posted by
ajeetpv
it may be a slider phone with 2mp af, :w 2.0
---
Posted by
tkshinobi
C`mon ... !
It`s a moddified K750.
- Why whould SE go back to that keyboard (just look at the new phones and their keyboards) ?
- Why whould SE release yet another mid-range Walkman phone?
- Do you need a link to the topic were this MODDIFIED SE K750 was posted in the first place?
_________
Later Edit:
Just to show you that i`m right, i followd the link posted just above the initial image.Since it`s a Google, i traced it down... it`s some SE forum from Netherlands, and from what i make out off it...was posted in the MODDIFIED PHONES SECTION.
Now, just look at the picture i`m posting...it`s from the same message... And tell me after that it`s not a K750 with W800 joystick, W800 middle case !
I admit, my guess was wild...he did keep the K750 back-cover.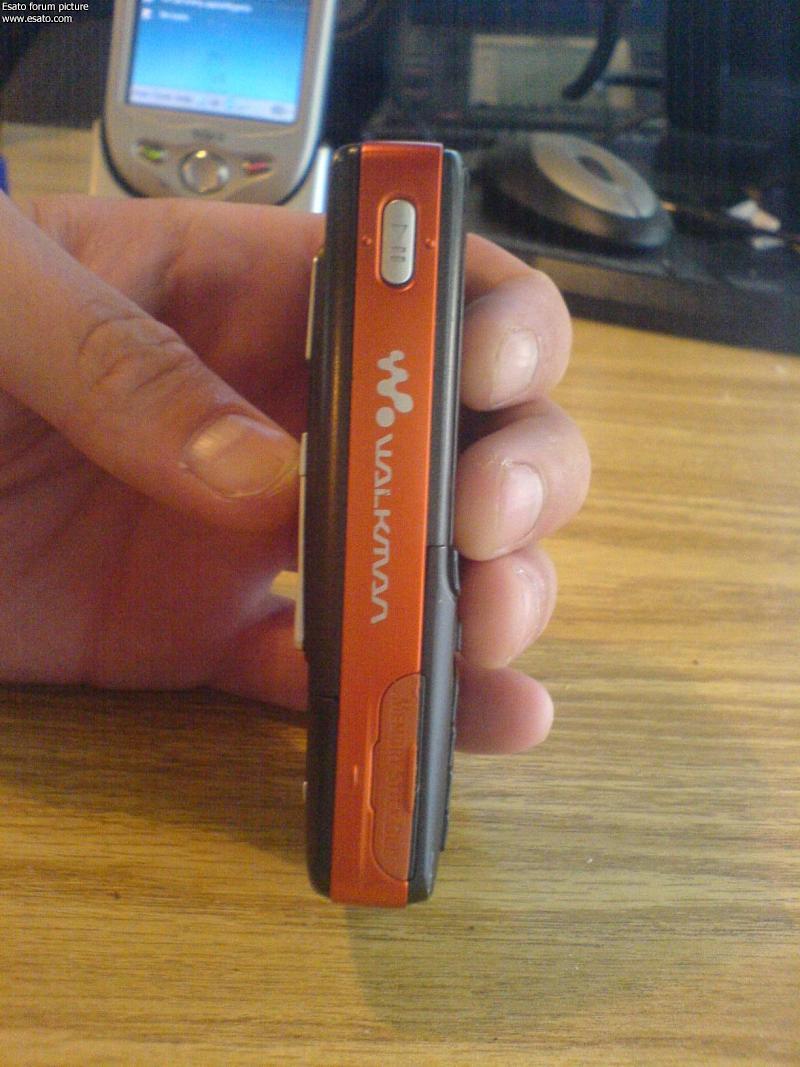 [ This Message was edited by: tkshinobi on 2007-06-16 10:03 ]
---
Posted by
belialwafu
"Sony Ericsson's line up of Exchange ActiveSync® enabled phones includes Open OS smartphones such as the P990, M600, W950, the recently announced Sony Ericsson P1 and today's Symbian-based W960 Walkman® phone. In the feature phone segment of the portfolio the line-up includes the Z750, the K850 Cyber-shot™ and the
W750 Walkman® phones
. All these models provide secure wireless and Direct Push synchronization of corporate email, calendar and contacts from Microsoft® Exchange Server 2003 SP2 and Exchange Server 2007." Hmmm...
---
Posted by
tkshinobi
Is this some official comment?
If so, i can`t see the point of this W750.Show me the specs, and i`ll belive it`s true.Just my 2 cents
---
Posted by
>500
omg people, obviously thats just a modded k750i, no need to say w750i is a fake, mok up, its not an actual w750, some one just called their k750 that

....... the statement is from a

press release. so could very well be true....
im guessing it will be a

clamshell......
---
Posted by
Aware
....a Walkman'd Z750, maybe??

(if so, I say it'll be
green
...)

---
Posted by
belialwafu
they say it is a flip top phone
---
Posted by
k_a_v_z
i think w750i is not a modded k750i!
it real! see the thread about SE 2007 portfolio! it says there, that it is a high-end clamshell walkman phone. may be a w710i sucessor! and maybe by accident or intentionally SE have put it on the list of their press release. or maybe this is a marketing strategy like what they did to w880i. remember? they release some official photos before the official announcement to keep us all excited. SE is giving us a lot of surprises! they did this so that their name will always be the topic on tech sites like this, to attrack consumers. and i noticed that, it is only SE who have a lot of leaked photos of their unannounced products, as well as the features of it. unlike other companies, maybe this is a part of their marketing strategies, maybe they are the one responsible for this leakage too. hehehe... all of the rumored SE phones are true, isnt it? so, this is for real! SE wont put a non-offical phone name/s on their press release. just like the modded k750 for example, they wont call it w750, because its not its official name. right? its still a k750i just in different casing. so, there is no way that the company (SE) would acknowledge it as a new phone or call it in different name. just think about it, SE wont acknowledge new names for they're modded phones, nor want they're phones modded. w750i for sure is true! just wait for it to be announced... there are lot more to come! 40 units to be announced this year! start to count!
---
Posted by
Andresin
Can you please try and realize that the 1st and 3rd posts are by different people saying different things. It's really hard to read this forum as it is, don't make it harder.
---
Posted by
WhiteEye
kavz, totally agree with you. I wonder if SE will bring the Jap SO903i to global and index it W750. Hmm...let's see.
---
Posted by
kenx3000
I got the information from a reliable source that W750i was supposed to be W910i's first name before announcement(I think someone in this board could check with the insiders if I lied or not). SE changed the name at the last minute before it was announced so basically W750i is just W910i. It is indeed a typo.
---
Posted by
Daedalus85
Hmm, but would that explain this?
I can't believe it didn't see it earlier, but it's been literally staring me in the face for a few weeks now. It's on the side of my DS200 stereo bluetooth headset box thats about 8 inches from my head when I'm at the computer.
And is has THIS on the side of it!
Now, did the change the name of the W910i BEFORE or AFTER this was produced? Hmm....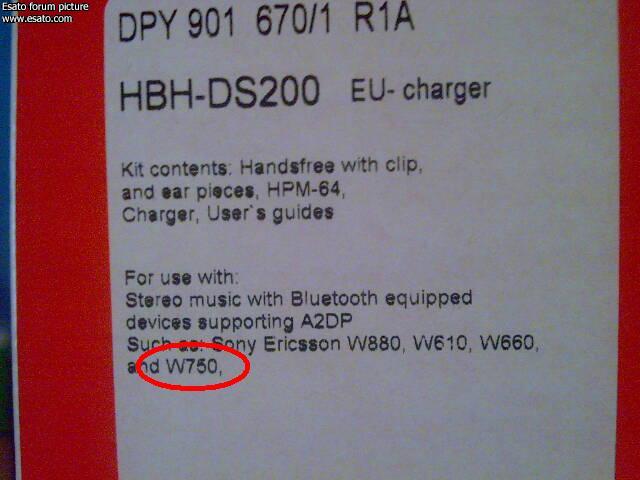 ---
Posted by
Hmyzak_SE
This site is now dead, is it the same to you?