Amazon announces four new Kindle tablets
29 September 2011 by Olav Hellesø-Knutsen
Amazon today announced four new Kindle tablets. The monochrome Kindle, Kindle Touch, Kindle Touch 3G and the Kindle Fire with colour touch display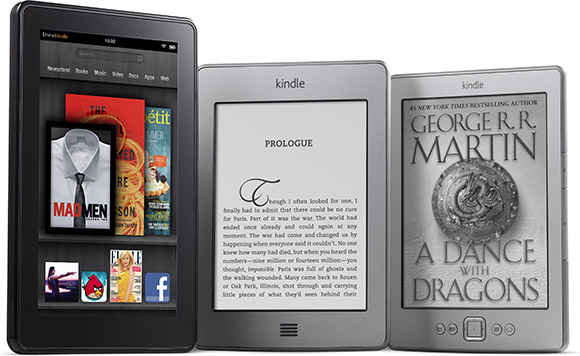 The Kindle E-readers is a large part of the the Amazons success story. Amazon has never revealed any sales figures, but it is estimated that close to half of all e-readers sold worldwide are Kindle devices. The market share will probably increase a lot when the four new models becomes available in middle of November. The advantage of the monochrome Kindles are excellent readability and the 30+ days of battery time. Amazon offers books, newspapers, magazines and games for those devices and the new colourful Kindle Fire also can be used to view movies and TV-shows.
Amazon also announced a new web browser for the Kindle Fire today. It's called Amazon Silk and the company are using this new browser in a way to promote its Amazon Elastic Compute Cloud (EC2) service. The Internet browser are using the power of the cloud to render, shrink, formatting web pages before sending optimized pages to the requesting Kindle device. This is a similar feature earlier offered by Google for desktop browsers which was called Google Web Accelerator. The popular Opera Mini browser for mobile phones are also doing the same thing, so this it not a new idea. Amazon is taking this a step further by prefetch pages the user are likely to request.
All four Kindles has Wi-Fi connectivity and the Kindle 3G have additional 3G connectivity. 3G connection is already set up when the device is purchased and the Touch 3G has no monthly fees or commitments. Amazon will pay for the wireless connectivity. That is not entirely true, because the owner of the Kindle pays for the connectivity indirectly when he/she buys a Kindle and content for it.
The Kindle Fire is not compatible with Android Market but Amazon has its own App Store where you can find a few Android apps. Just like Apples App Store, apps submitted to the Amazon Appstore must be approved by Amazon before they are being available for purchase. The Amazon Appstore is only available to customers located in the U.S.
Amazon Kindle highlights
Size: 166 x 114 x 8.7 mm
Weight: 170 gram
Price: $79
Connectivity: Wi-Fi
6 inch E Ink Pearl. 600 x 800 pixel resolution
5-way controller interface
Battery life: 1 month
Storage: 2 GB for 1400 books. Unlimited cloud storage for Amazon content
USB 2
Amazon Kindle Touch / Touch 3G highlights
Size: 172 x 120 x 10.1 mm
Weight: 213 gram (Touch), 220 gram (Touch 3G)
Price: Touch $99, Touch 3G $149
Connectivity: Touch has Wi-Fi, Touch 3G: Wi-Fi and 3G/HSDPA/EDGE/GPRS using AT&T net in the US
6 inch E Ink Pearl
Touch screen interface. Multi-touch, 600 x 800 pixel resolution
Battery life: 2 months
Storage: 4 GB for 3000 books. Unlimited cloud storage for Amazon content.
USB 2
3.5 mm audio jack
Amazon Kindle Fire highlights
Size: 190 x 120 x 11.4 mm
Weight: 413 gram
Price: $199
Connectivity: Wi-Fi
7 inch IPS colour touch display, 600 x 1024 pixel resolution
Battery life: 8 hours reading or 7.5 hours video playback
Storage: 8 GB for 80 apps plus either 10 movies or 800 songs or 6,000 books. Unlimited cloud storage for Amazon content.
USB 2
3.5 mm audio jack
OS: Android
TI OMAP 4 dual core processor
---
Alternatively post this in the Esato forum
Please sign in to your Esato account to leave a comment regarding this article
---