Entry-level Android smartphone HTC Explorer announced
29 September 2011 by Olav Hellesø-Knutsen
HTC today announced HTC Explorer. An entry-level Android smartphone with a 3 megapixel camera and 3.2 inch display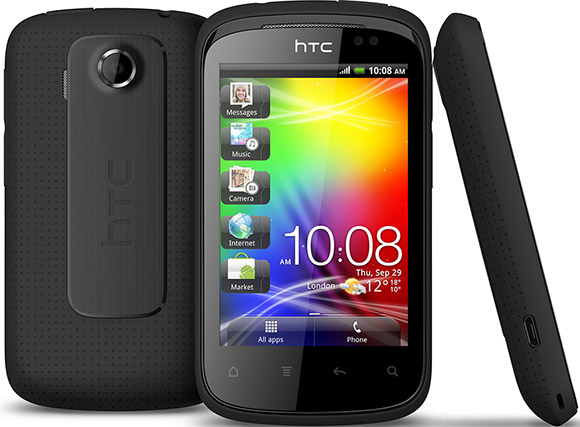 The HTC Explorer is an entry-level Android smartphone with a 3.2 inch display, 3 megapixel camera and 600 MHz processor. For those not in need for, or wanting to spend savings on a dual core 4.3 inch smartphone, the HTC Explorer might be the perfect choice. We have seen it before that very cheap smartphones from large brands are perfectly capable of doing most of the same things you expect from flagship models. The smaller display and resolution requires less computing power for the processor which makes the need for a quick processor less important. The 1230 mAh battery are giving the HTC Explorer 460 minutes and 485 hours of talk time.
HTC Explorer highlights
Weight: 108 gram
Size: 102.8 x 57.2 x 12.9 mm
Networks: GSM/EDGE 850/900/1800/1900, WCDMA 900/2100, HSPA 14.5/5.76 Mbps
Wi-Fi b/g/n
3.2 inch touch display, 320 x 480 pixel resolution
3 megapixel camera
A-GPS
Bluetooth 3.0
600 MHz processor
512 MB RAM. 512 MB storage where 90 MB is available to user. Expandable with microSD card
3.5 mm audio jack
USB
Android operating system. HTC Sense
Sensors: G-sensor, proximity and ambient light sensor
1230 mAh battery
Standby time: 485 hours
Talk time: 460 minutes
---
Alternatively post this in the Esato forum
Please sign in to your Esato account to leave a comment regarding this article
This is actually a cute looking
Handset but I think it's abit overpriced
If they started it at £79.99 instead of £149.99
which they want For it then I might of thought about
Getting one as a spare knockabout

now that its 4 months later, you can pick one up for around £100 if you're really interested
lol but Masseur you can buy the HTC Desire or Desire S for a bit more then £100 on fleBay
these days this isn't worth the money its a HTC Wildfire

Seen this in the shops
whats your verdict on it?

Its a cute little device gets the job done
Lol yup I said its cute to
Saw it browsing out of the blue weeks
Ago just occurred to me if laffen had posted it
Which he had

I think it's overpriced though
It needs to be about £69 to £79.99
On prepay at least

Not as pricey as Wildfire S
Is this comming with 2.3 or what?
Bonovox will find out tranced lol
http://www.gsmarena.com/htc_explorer-4102.php
See specs here & yes it does. I think no new Android handsets should come with anything lower now. The Wildfire S had same specs except camera was 5 megs & it was a solidly built reliable phone.
[ This Message was edited by: Bonovox on 2012-01-19 15:32 ]
---