---
Posted by
masseur
This thread is for T630 reviews only. Feel free to post your T630 experience here. "Irrelevant" remarks will be deleted without notice. And it is up to the moderators to define irrelevant. The intention is to start one single review thread for each new model. Feel free to start other threads in the Review forum.
Comments about the reviews should be posted in other threads.
________________________________________________________
There is not alot to say really as the T630 really is just the same as the T610 except for the fantastic screen and "my friends" on the menu.
The build quality is fantastic, the keys are the full width between each other compared with the T610 which have a gap between them, and they feel a little bulbous, i.e. they rise from the sides to to centre. I prefer the feel of these keys
Although none of the carriers I use are ready for "my friends" it is not totally useless as you can still put your most often called numbers, i.e. your friends and family, in there and use it as a quick way to dial those number. The more menu in "my friends" has two options, accounts and lock keys. You define your providers "my friends" setup details in the accounts section and the lock keys allows you to remain in the "my friends" screen with the keyboard locked, presumably so you can keep an eye on the changing state of your friends.
Joystick up on the T610 used to take you to "internet services" but now on the T630 it takes you to "my friends" and "internet services" is now accessed only by choosing the top middle icon.
With the addition of "my friends" in the desktop icons the shortcuts menu is now moved into the settings menu and the joystick left still defaults initially to write new (text message)
The sounds seem to be as loud as on the Z600 which should please many people, and no, you still cannot set your own sound for message alert

That about sums all all the differences I can find so now just some pictures...
sample picture taken in CIF (288x352, 28kb)
and the same picture taken in "Extended" VGA (480x640, 62kb)
A few general pics...
_________________
...Unless I'm very much mistaken
[ This Message was edited by: masseur on 2005-09-04 14:12 ]
---
---
Posted by
Guy89
thanks for your review masseur!! really beautifull screen!!
---
Posted by
vinnieza
thanx mass, for some reason the T630 looks bigger than the T610 in those pics, maybe it's because the T610 has a black strip on each side

---
Posted by
tommasoformato
What about the recsption? Is it better than the T610? I really hope so.....
---
Posted by
boodsmaster
I have had a T630 for a couple of days now and i have been very impressed. My last phone was a nokia and i do not think i will ever go back to them. Compared to Sony Ericsson's they are so boring and all Nokia's are the the same. I love the fact that you can customise the phone. I have now got a imac theme and a super mario ringtone. I cannot espress how much i love this function. The phone is a work of art. The phone is white ( i don't think its silver) , looks like an imac and is the right shape and weight. It looks unique compared to other phones in the market, i mean are there any other white phones out there? The keys are the right size for my fingers. The UI is great, I had a ericsson A1018s years ago and it has changed soo much, its much more user friendly now. Yes the joystick is unresponsive from time to time but for now i can forgive it for that, The screen is really nice and colourful, its much better that the T610 which my mate has. As everyone knows the camera is poor but i'm sure that the T650 will fix that. I cannot think of anything else which is wrong. In conclusion, the phone is brilliant and is the best phone i've ever had. I'm a SE addict now and cannot wait for the T650.
---
Posted by
Memzee
masseur
In your pic showing the two screens of the T630 and the Z600, the Z600 screen seems to be slightly bigger, but brighter too. Is this the case? Or is it because the T630 is facing away slightly?
---
Posted by
50Cent
the plastic screen on the T630 does dull the screen down a bit, otherwise they are the same spec
---
Posted by
masseur
The Z600 screen
is
slightly longer and wider than the T610 and T630 screen although it is the same resolution, and it is definitly brighter than both (and the T630 is brighter than the T610)
_________________
...Unless I'm very much mistaken
[ This Message was edited by: masseur on 2004-02-22 21:22 ]
---
Posted by
tonedebone2003
I love the phone:-D the TFT screen is so vibrant and i like the silver trim around the screen. The sound is louder and speed of the phone is quick compared to early T610's that havent got the latest software. V rally 2 is included on the phone already. My only complaint is it still cant veiw attachments, id like to be able to view them. Otherwise a brilliant phone!
---
Posted by
dmb2000uk
Hey, i have the T-Mobile T630, the black one, and yes it does look mint, but it doesnt appear to have "my friends"!
There is an extra menu icon instead of the my friends; "downloads", "T-zones" and "my shortcuts" are the different icons on the top row.
So it looks like i dont got it, ):
btw, v rally is only the first 3 levels, and 2 cars, you have 2 buy the rest... get u hooked and then charge u for the rest, lol.
Minigolf is gud tho.
Get sum pics up of it if u want??? or every1 bored of them already?
[ This Message was edited by: dmb2000uk on 2004-02-22 22:17 ]
---
Posted by
gforce23
I had the T630 for a few weeks. The only dissapointment in this wonderful phone is the limited memory of 2MB.
---
Posted by
TimLarsson
Ok. I've had the T68i and Z600 lately. Bought the T630 (white) cause i liked the format. The basics of this phone has been covered thosands of times before, so il get right to the point.
The T630 is pretty much a Z600/T610 (although with better screen than T610) but in different format. The size is excellent, and if you think about the features its amazing that they can cram in everything into it.
The build quality is excellent. And i do mean it. Z600 was good, but this phone is the most solid one ive ever laid my hands on! Buttons are great, no squeaks or nothing.
Looks are also much better than i pictures. I was intressed in the black one but chose the white any way. And it was no misstake. it looks good on pictures, but in real life its truely beautiful!
Now, i could go on and on about this phone.. But, if you want a phone with all the features you need (camera, IR, bluetooth etc), in a good format with good build quality, this is your choice. If you like clam-shell, pick the Z600, although i found it a bit to thick. But on the other hand you dont have to worry about key-lock.
All in all - a great phone!
---
Posted by
meeezz
Very happy with my T630 except I can't change the sms/alert tones to my downloaded tones, have to use SE predifine ones.
---
Posted by
scotsboyuk
Quote:
---

On 2004-02-22 23:11:15, dmb2000uk wrote:
Hey, i have the T-Mobile T630, the black one, and yes it does look mint, but it doesnt appear to have "my friends"!

There is an extra menu icon instead of the my friends; "downloads", "T-zones" and "my shortcuts" are the different icons on the top row.

So it looks like i dont got it, ):

---
I also have the T-Mobile version and, like yourself, I don't appear to have the 'my friends' option. Could someone with the normal version please post what their menu options are? As far as I can see from one of masseur's pictures, the top thre eicons and the middle right icon are different from those on the T-Mobile version.
---
Posted by
masseur
row 1: sony ericsson, internet services, Entertainment
row 2: Camera, Messaging, My Friends
row 3: Pictures & Sounds, Phonebook, Calls
row 4: Connectivity, organiser, Settings
---
Posted by
BobaFett
I would prefer the shortcut instead of the my friends menu. The keypad is much better than at t610.
---
Posted by
scotsboyuk
The keypad is better than the T610's, although I think SE should have upgraded the camera, even if it was only a minor upgrade.
---
Posted by
Turistapt
Till a few months ago i was an "Siemens Fanatic" i had an S6 an S10 an S25 an C35, an A36, an S45 and an S55...

But the new T630 changed my prespective and i "gaved" a chance to SE so i bought it!
Till now i just have to say wonderfuls from this "little", is ellegant, light, with a large and colerful display, the battery (with an utilisation of +/- 30 min. talk/day, 30 min GPRS/day and 20 sms/day and some play time) handle about 3 days, thats very good. Other great point is the perfect syncronization with Outlook, and a good memory (schedule, data) makes him a great companion on bussiness. The GPRS acces is very effective and reliable and also bluethooh works perfect!!
The only negative thing is the quality of the pics... i don´t like nokia´s, in fact i "hate it"

but i need to say that nokia mobile cameras are pretty much better!! The T630 at night and low light get´s crap shots and the night mode is very bad... But ok, this is not an camera, is a mobile!!
In a grade of 0-20 i gave to this phone an 17!!!

---
Posted by
BobaFett
my only problem is the weak vibra function. interested, how long the battery will last ( made 04w04. ). at the first use i could surf on wap 4 hours before i had to recharge it.
---
Posted by
scotsboyuk
@bobafett
I'm amazed that you would want to surf on wap, on a T630, for four hours!
_________________
"I may be drunk my dear woman, but in the morning I will be sober, and you will still be ugly." WSC
[ This Message was edited by: scotsboyuk on 2004-05-15 18:08 ]
---
Posted by
tbjergli
I've had my t630 now for a week or so, and I love it. I upgraded from my t68i, which I still have, and I will never quit using SE.
My first phone was the Nokia 7110, that one broke/ froze all the time, then to a nokia 3310.. I bought my t68i summer 2001, and now I have the t630 and will never quit SE products! =) They are simply the best.
Another Q; What is this "My Friends" menu?
---
Posted by
BobaFett
Access to a virtual village on the web, for example yamigo. Pls use the search here for more infos.
---
Posted by
Raen
I own a T630 (Black but Unbranded, woo!) and it has worked fine for me. Although it does not seem to have a My Friends menu, I know that Vodafone NZ doesnt support it, so I dont actually give a damn. The screen is Fan-Damn-Tastic and is a major improvement over the T610. And now when u move the phone when taking a photo, the image atually follows your movement.Also, the reception issues that seemed to plauge the T610 have been resolved, I have had no problems with lack of reception where my mate said that he got with a T610. But the Extended mode is crappy, it is better to just blow up a normal "large" photo, and the extended takes forever to save and uses too much space (which there is'nt much of). But otherwise, it is a very good phone I am very happy that I purchased it.
---
Posted by
kenski
I have both t610 and t630 and I can say t630 has a much better screen that that of the t610 . The cam's fps is a lot faster than t610. Other than that they're almost the same..Cant wait for the s700

---
Posted by
Louie Talan
I've had my Black T630 (unbranded, r6c) for a week now. Compared to my previous phones (t28, r380, t68, t68i, t610), menu response was a lot quicker. In my opinion (even if no one asked for it), SE should have retained the 'my shortcuts' and removed one of the SE WAP/GPRS connection (icons 1 or 2) then added 'my friends'. I find the existing 'my shortcuts' inadequate compared to t610.
The screen is more vivid compared to t610. Using Theme Creator Pro 3 will produce a lighter output that expected (partly because it wasn't designed for TFT screens). I miss the contrast adjustment at the service menu. I find it more useful and accurate than the one located at the settings menu.
The joystick feels a little rigid which makes it more accurate (no accidental taps) though it requires a bit more effort.
The keypads are big, well-lit and arched. Good for people with big hands like me. I'm just a little concerned of the dirt that might get stuck in the space between the keys.
The fascia is solid and elegant (haven't had problems regarding dust on the screen--yet). I would advise owners to put a screen protector and include the logo in doing so.
The camera is the same as the t610 but with 640x480 interpolation. Proper lighting and steady hands can produce wonders with the camera. The built-in mirror needs a bit of getting use to.
The memory is still limited to 2MB (Depending on what tweaks--i.e. 13 second trick--you do).
Battery life is 2 and half days with normal use (I can't see 'charging full' at off state).
The polyphonic is louder and clearer, but you still can't customize the message alert (I wonder if SE really listens to the consumers?!).
WAP via GPRS supports up to ihtml format (no database).
Bluetooth and infrared connections are better compared to t610 (especially when synchronizing with Outlook, etc.).
Messaging though text is still a long process (1 step less compared to t610). MMS is excellent (depending on the provider). E-mail can send attachments but cannot receive one (I suggest you configure MS Outlook the same as your t630 to receive attachments).
All in all, the t630 is one small phone packed with features. If you want better, I suggest you get the k700i but wait for the final software upgrade. If you want a smartphone, get the p910 or s700 (the black edition look good). Just assess your needs before buying a phone so you won't be disappointed when it's already in your hands and paid for.
_________________
RZRBK
[ This Message was edited by: Louie Talan on 2004-08-16 08:15 ]
---
Posted by
se-newbie
I recently bought a SE T630, my first SE after a string of crap Nokias. Mine is on "O2 - IRL" and the top left icon is an O2 icon that links to the O2 Active service. I don't have a "My Friends" icon, I don't think it is available outside the US. Does the T630 support AIM?
---
---
Posted by
whytoi
Finally upgraded my T68i to T630 black model from eBay at a bargain price. Reception and sound quality are both great. There's been no funny events so far with firmware R7A011 (I guess it's end of the line for this model). Disappointed with the camera quality though. It really is not that useful unless it's an absolutely emergency or just for a mug shot to be included in the phone. As for the new screen, transferred a decent image from my computer, but despite being TFT, it's still too washed out and can't compare with my laptop. Other than the camera (which wasn't the reason for my upgrade), it's another great SE phone.
In terms of built quality, this is just a tad behind T39m and miles ahead of T68i.
---
Posted by
Residentevil
Ditto
---
Posted by
mcrosser
I just got my T630 some days ago, updated from my T226. The keyboard seems a little hard to press, perhaps coz I'm not used to it. Overall great phone and fantastic screen. Although there is a problem, the files that are on the T630 memory occupy more than on PC. with just 2MB it fills faster that way. The menu seems pretty easy to use. the camera is not so good, but you can adjust the brightness and contrast with the joystick, resulting in better colored images. you can edit some images or draw your own in the picture editor and also make your own ringtone with music DJ, wich is very interesting. I still haven't tried bluetooth nor irDA since I havent got the adaptors for my PC yet. Here is a sample pic of the box.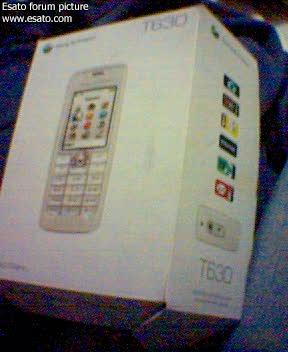 _________________
optical zoom that doesn't move the lens but still zooms?
[ This Message was edited by: mcrosser on 2006-01-13 05:56 ]
---
Posted by
redfish
I wanted to buy a new phone. I still love my t68i though, I can't let go of it. I like T630 when it first came out. Does this have the unlock keypad pin like some of the Nokia phones? I want that feature coz I hate people who secretly uses my phone and even reads my messages argh! I don't want nokia phones though, it looks the same to me in terms of its functions and just changes its appearances. Is there a SE phone that has the keypad unlock pin feature?
---
Posted by
biblebasher
i had one of these phones before i got my k750i . It is built to last. The amount of times i dropped it in pubbles ect. It still worked after giving it a bit of time to dry out. This phone is great for someone who is clumsy as its very hard (if not impossivle) to break!
---
Posted by
redfish
Finally, I got myself a T630 after years of using T68 which I still have. Since the first time I saw T630 I already wanted to have one. I even bought both black and white T630 since I can't decide which of the two colors will I use. LOL!Ü At first, I like the white T630 due to it being unusaul but this will accumulate dirt. After a week of having both black and white, I decided to use the black one matched with the viao orange theme. Cool! I then sold the white one. LOL!
What I like about it are
- Classy black look
- Small, boxed type dimensions
- relatively cheap considering the style and the functions in it
- still have the important features I use in T68 like bluetooth
**Well SE is very kind in giving out most of the phone functions. Other phones like Nokia removes the IR or Bluetooth features even in their latest models. Duh!
Anyway... Here's what I don't like about it.
- My Friends icon doesn't seem to be that helpful for me. I prefer to have
My Shortcuts like the one in T68
- Very low memory of 2MB
- Sometimes the joystick doesn't respond due to dirt maybe (Is there
something to apply in it to avoid this?
- still poor camera. needs enough light
- doesn't have the "read next" option on the inbox like what the T68 have
Despite the difficiencies, T630 is still a good pick. Ü
---
Posted by
JuanPablo
Ah, I loved that phone, one of my first SE's

---
Posted by
Rivet
The T630 was my first phone at the age of 15 or 16, following suit of my older brother who first owned a T610. I fell easily loyal to SE but after a year or so the Joystick began to get really sticky - the down function first, then just recently the left and right ones.
This saddened me because I loved using the Joystick to play V-rally

However, I need a new phone - Torn between staying with SE and their beloved Joystick and moving to another brand.
Until! The birth of the T650i

This is my saviour.
---
Posted by
jesal
was a decent candy bar phone but dint really dig the camera nor the screen even though it was a 65k color screen
---
Posted by
SE_4LIFE
ive had the T637 (North American Version) for 3 years now and its finally showing the wear and tear. the joystick doesnt work anymore =( so now im looking at getting the lg prada
---
Posted by
goldenface
There are fixes for the joystick problems on the T630, if you were to do a quick search on here. Then you could keep it as your back-up phone.