Nokia and Microsoft to form strategic partnership - Nokia mobile phones to run Windows Phone 7
11 February 2011 by Olav Hellesø-Knutsen
To giants in the software and hardware industry today announced that they are forming a strategic partnership. Who would thought this would ever happen just one year ago?
It didn't take long for the former Microsoft executive Mr Stephen Elop to make waves in Nokia after he got appointed as chief executive of Nokia. Today, he shaked hands with his former boss Mr Steve Ballmer after a suprisingly announcement. Nokia and Microsoft join forces and forms a strategic partnership. Will the two North Americans be able to turn around both Nokias and Microsofts falling market share? It remains to see.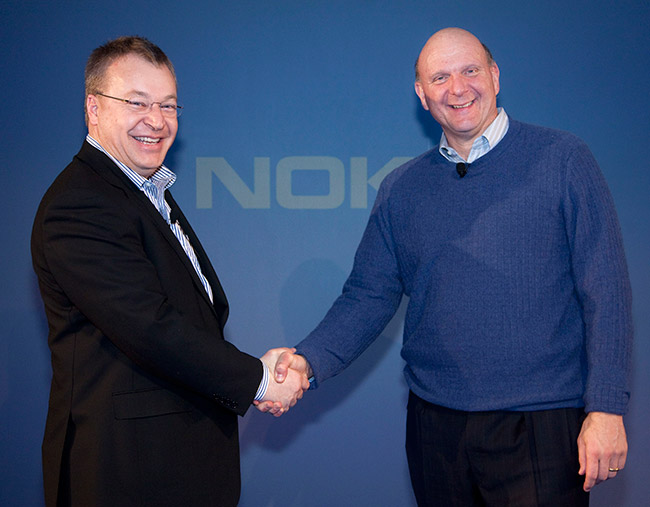 Ballmer said: With the partnership with Nokia, Microsoft bring its Windows Phone software and the brands that mobile consumers whant. Like Bing, Office and of course X-Box Live. Do we want Bing on our phones? Is that what we have been missing? We do not think so. We am fine with Google search, and Office is here allready, but expanding the gaming experience to the phone platform is not a bad idea. This is what Apple has done to the iPhone and what Sony Ericsson Xperia Play will do for Sony Ericsson and Sony. It takes 1-2 years to have a fully functional mobile phone out on the market. Nokia needs to build up internal competense on Windows Phone 7 before that can happen. Today, they have a large workforce dedicated to the Symbian platform which needs to be transformed from Symbian evangelists into Windows Phone followers. This is not done in a day. Nokia expects 2011 and 2012 to be transition years.
When entering a new market, it does not matter if you are a little late. But you can't be too late. Apple release the iPhone as late as 2007 six years after Sony and Ericsson joined forces. The X-Box was released several years after Nintendo and Sony PlayStation was established as market leaders in the game console market. As we know, the X-Box is doing fine, and so is Apple with its iPhone so it is hope for Nokia and Microsoft as well.
Nokia do not want to provide annual targets for 2011 at the present time. Instead, a longer-term targets are revealed:
Device and Services net sales to grow faster than the market

Devices and Services non-International Financial Reporting Standards operating marging to be 10% or more
Nokia expect overall industry revenue to grow slightly in 2011 compared to 2010. But Nokias growth is expected to be offset by declines in certain areas and a continued challenging competitive environmet.
What will the strategic partnership with Microsoft result in?
Nokia will adopt Windows Phone as its primarty smartphone strategy

Nokia will contribute with hardware design and language support to Windows Phone

Microsoft and Nokia will collaborate on development, joint marketing initiatives and a shared development roadmap

Bing will be Nokias perferred search engine

Microsoft adCenter will provide search advertising on Nokia's devices and services

Nokia Maps will be a core part of Microsoft's mapping service

Nokia's operator billing agreements will make it easy for consumers to buy Nokia Windows Phone services in coutries where credit-card use is low

Microsoft development tools will be used to create apps to run on Nokia Windows Phones

Nokia's content and app store will be integrated with Microsoft Marketplace
The official Nokia blog posted a couple new company busswords. We agree with the last one. From idea, to development, to availability in the marked is a success factor these days. Hopefully Nokia will be able to follow up on this one.
There are other mobile ecosystem. We will disrupt them.

There will be challenges. We will overcome them

Success requires speed. We will be swift
Will the partnership with Microsoft bring Nokia back as an leading manufacture in the mobile industry? Feel free to leave your comments below.
---
Alternatively post this in the Esato forum
Please sign in to your Esato account to leave a comment regarding this article
Good bye nokia !
This is the worst decision ever and a Epic Nokia FAIL they would actually be better off sticking to Symbian
I love it.With Nokia and Symbian I lost interest long time ago.Now Im vaguely interested to see how this plays out.Could be a breathe of fresh air.I like the look of Windows 7 and having a Mobile giant incorporating it into their ecosystem is mildly exciting.
Symbian has had it's day for high end phones. Even Nokia themselves can't make it work as well as what's on offer from other manufacturers.
Great move dropping Symbian, and i'm looking forward to seeing how this will go, cant wait to see those Windows Phone by Nokia smartphones.

This makes for an interesting read:
http://www.theregister.co.uk/[....]/nokia_microsoft_more_details/
I agree with julias, a complete disaster. No surprise since Elop worked for Microsoft and now hes dipping his toe back in their business. Hes probably taking a big back hander from Microsoft for delivering Nokia to them. I understand Nokia wouldnt want to jump into bed with Android, because it would be hard for their products to stand out among as massive Android army provided by many other phone manufacturers, but WP7 ?!?
I dont dislike WP7, but do i like it either ? not really. It is incredibly basic in its current interface. In a years time with Nokia devices on the market running WP7, will it be all that much more advanced ? probably not.
This stinks of Nokia had nowhere to turn but to WP7 which is a real shame. They're being forced by market trends into dumping function over fashion. Symbian even if rather old looking and outdated in its form offers much more to the user than WP7 does now and probably will within the next two years. Sadly, like Apple's iOS, Nokia is now choosing pretty looks rather than depth.
I was hoping Apple and / or Android will fulfill all those little gaps in their operating systems come my contract renewal date this October so i could happily try another OS. As of now, even if they dont, it feels like ill be forced to do so !
I still think Symbian is every bit as powerful as Android is today - but the shell the GUI layout design and how it all ties together has continually failed to advance - end users no longer like the complexity no matter how technical they are. Things just need to get done using it, not tinkering with it.
Android is becoming too close to being a commodity offering and design is becoming commonly the same throughout the manufacturer space - I see HUGE sales numbers for SonyEricson in 2011 if they can show their offering as genuinely superior for end user freedom.

sorry, but Symbian is now a legacy O/S and is being left behind by the new and totally redesigned O/S based around modern/contemporary needs, which are mostly data and community based.
Also, where is the high volume symbian based "app store"? Sure there are plenty of apps available but the man on the street has to hunt hard for them, unlike modern app stores. Also, given the variety of Symbian versions the average consumer can easily be confused by which apps suit which symbian O/S flavour. With iOS and Android this is much less of an issue.
Ne'er a truer word.
Nokia deserves this! They had a fighting chance had they acknowledged that Symbian UIQ was the way forward rather than S60.
The last UIQ version, which was still pre-production was every bit as modern as any of the current OSs. Nokia being Nokia thought they were bigger than SE and S60 had a larger following and so UIQ was sidelined, yes, I know about the 'elements' of UIQ that were supposedly incorporated into the 'new' Symbian which really was just talk.
I was one of those that kept saying SE should dump Symbian cause it was going nowhere and I was right. I wonder what the multitudes of Symbian fans who accused us of dreaming when we pronounced the demise of Symbian are saying now.
@etaab
How is Nokia going to look and feel different to HTC and Samsung cause you say Android was going to make them similar to other manufacturers? Windows phone 7 is worse than Android in that there is no possibility of differentiation as prescribed by Microsoft.
Well well well... a prototype Nokia running on 7 has already surfaced:
http://www.gsmarena.com/first[....]phone_7_revealed-news-2317.php
EDIT: Oops...masseur has already posted this in the other thread..

[ This Message was edited by: amawanqa on 2011-02-12 20:55 ]

On 2011-02-12 04:36:16, Prom1 wrote:
I still think Symbian is every bit as powerful as Android is today

Ive never thought any less, ive always thought it more capable in fact. Till Nokia themselves decide to sideline it
@ Dups! - I think the reason why Nokia never chose to go with Android was a simple one. If they used Android just like many other companies like Samsung and SE, their phones wouldnt be as appealing. It would be rather easy for SE to create a phone like the N8 running Android, as much as it would for Nokia to do the same. Therefore people would have very little choice in differentiating different manufacturers flagships.
The fact Nokia have chosen WP7 shows this, but also illustrates Nokia are still at a major disadvantage. WM7 is very nice to use and makes Android and iOS look rather old. But theres nothing behind the pretty looks, virtually nothing. No options, no settings, its an OS and interface which is WYSIWYG, because what you see is really all you get. Im actually wondering whether if this idea was all Elop's and if so, has he ever used WP7 ? its incredibly shallow.
Im sure Nokia phones with WP7 will stand out from Android phones and be able to compete, in looks anyway and capturing the publics attention will be rather easy. But will they keep the same customers like me who've used a highly evolved OS like Symbian. Probably not.
---