---
Posted by
themarques
Hey guys, it was my Birthday on the 13th (yes it was Friday).... and I got the new Sony DSC-T11 camera...(Well its in the post coming from Japan). Do any of you guys have this cam already and what do you think of it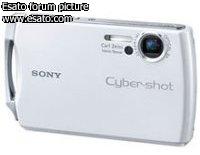 ---
---
Posted by
masseur
Happy birthday for last friday

My birthday is also on the 13th but I'm a scorpio...
For some months I have been using the Sony DSC-T1 which is much the same specs as that DSC-T11 with its 5MP quality etc
indeed all my recent review phone pics are taken with the T1. It has great macro ability for excellent closeups and also takes full video with sound though you will need a duo pro to take video at the best quality
I have 2 512mb Sony DUO PRO so no problem there

---
Posted by
mixin
well i use a Casio exilim Z4
great little 4mp cam

---
Posted by
mince-inside
Mostly use my phone for quick snaps, was using a CyberShotU for 'posed' photos, but recently treated myself to a P120: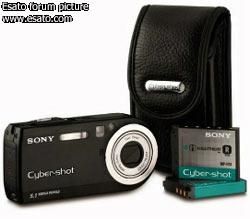 _________________
Real men don't use menus
Pictures in my head
[ This Message was edited by: mince-inside on 2004-08-18 13:14 ]
---
Posted by
themarques
@masseur Thanks, I feel the years creeping up on me now...quarter of a century has gone by in my life.
So you reckon the Pro-Duo will do well for video shots? how about posting a little video clip for us to see if you dont mind? I also just found out that the T11 has been recalled due to the paint peeling off on some models.... not good.
---
Posted by
masseur
qtr century? wait till you get "over the hill"

I would post some video but even 10 seconds on highest quality consumes 13MB and I have nowhere to put that at this time!
btw you can take 640x480 video with "standard" quality on duo but you can only take 640x480 video with "fine" quality on duo pro
---
Posted by
themarques
What is over the hill man..... 50... scary
---
Posted by
masseur
oh, I got confused... I'm just after where life begins

, and the answer to life, the universe and everything...
42
---
Posted by
JiggyJaggy
I use a P120 Sony with a Carl Zeiss lense. Brilliant camera quality, small sleek and an awesome battery life! cant go wrong really, but use my p900 during the day.
---
Posted by
plasmadog
i'm using a fujifilm A30i... i think. its an old one.
also, my sony handycam DCR HC30E can take still digital photos.
happy b'day on quarter century...
i'll be there next year.. not really looking forward to it either,
lol..
but.. for now.. eat, drink and be merry!
cheers
---
Posted by
boto43
Happy birthday 2 u. 13 is very happy number. I have Olympus C 4000. :-)
---
Posted by
p900 lover
i got a DSC-120 2 weeks ego and went on holiday
very small and the battery life is just great, i took 200 pics on 1 battery charge, and u get 2 batterys in the box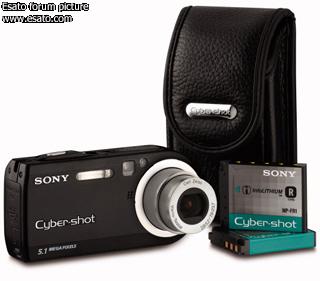 ---
Posted by
themarques
Thanks guys, and sorry Masseur sorry for the mmm cough cough extra years I added to you.
---
Posted by
tranquil
Sony F-828 here

---
Posted by
Grimslade
I've got a Canon Digital Rebel, or 300D as it's known in Europe. But I want a 20D. Both DSLRs.

[ This Message was edited by: Grimslade on 2004-10-25 16:17 ]
---
Posted by
SnowBear
Minolta Konica G400
---
Posted by
RichLok
P100 (me thinks). It looks like the p120 but in silver, 5.1 megapixels w/ Carl Zeiss(?) lens..
[ This Message was edited by: RichLok on 2004-10-25 17:36 ]
---
Posted by
djole89
Olympus C5060 Wide Zoom for my professional hoby (spent on it 800euros :eyes:), and Nikon Coolpix 3200 as family camera.
---
Posted by
SnowBear
sorry if this is off topic but tell me why did you buy just that camera you did.. ? i bought mine because it the fastest camera from off to taking a pic to set camera to off againe in 1.5 sec
---
Posted by
apotts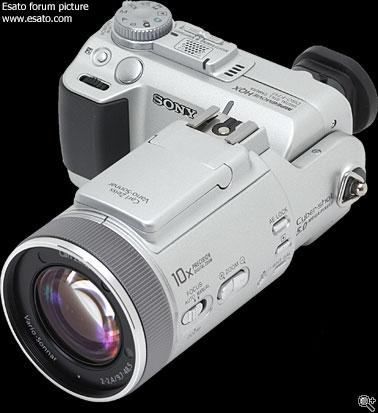 ---
Posted by
riflogic
Thinking of getting this one....
... but till I do, I have to depend on the

P900

[ This Message was edited by: riflogic on 2004-10-25 21:39 ]
---
Posted by
govigov
I would love to own the 24x optical zoom video recorder from panasonic. But sadly i dont have money and right now use the one and only yours truly, you know which phone.....
---
Posted by
Sammy_boy
I did use my K700's camera for taking holiday photos this year, and it did remarkably well! The panoramic photos were excellent.
However, I could really have done with a proper digital camera - which I got at a bargain £45 secondhand off a seller on Esato! It's an Olympus C-300 zoom, 3 mega pixels, takes pretty good photos!

---
Posted by
Sir-SonyEricsson-man
heres my digital cam
Its a Fujifilm F810
---
Posted by
johnno
i have a throwaway camera from tescos rrp.£7.99....beat that
---
Posted by
Davo_169
@appots- a beutiful camera that one, my dad has one. too bad it doesnt have bluetooth
---
---
Posted by
Leks
My family have a Olympus "mju" 4.0 mpx
---
Posted by
tranquil
Yeah, yeah, yeah... I know I've replied here once before, but everyone is adding pics of their cameras so I fely like doing it too.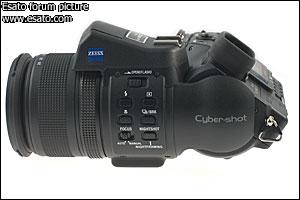 And
here
you can have a really good look at it from all angles

Specifications
• Imaging Device: 2/3" 8.0 Megapixel Effective Super HAD™ CCD
• Recording Media: Memory Stick® Media, Memory Stick PRO™ Media, Microdrive and CompactFlash® Type I/II Media
• Zoom: 7X Optical, 2X Digital, 0 - 5X Smart Zoom™ Feature1, Up to 35X Total Zoom1
• Filter Diameter: 58mm
• Focal Length: 7.1 – 51mm
• 35mm Equivalent: 28 – 200mm
• Aperture: f2.0 – 2.8
• Focus: 5 Area Multi-Point AF with Manual Select
• Minimum/Macro Focus Distance: 19.7" (50 cm)/ 3⁄4" (2cm)
• Aperture Range: 13 Step, f2.0 – f8.0
• Shutter Speed: Auto (1/8–1/3200 sec), Program Auto (1–1/3200 sec) Shutter Priority (30–1/2000), Manual (30–1/3200)
• Manual Exposure: ±2.0 EV, 1/3 EV Step
• Color LCD: 1.8" 134K Pixels Low Temperature Polysilicon TFT2
• Eye-Level Finder: Hi-Speed TTL 0.44" 235K Pixels Precision TFT LCD
• Flash Modes: Auto/Forced On/Forced Off/Slow Synchro
• Red-Eye Reduction: On/Off
• Flash Effective Range: 19 3⁄4" - 14' 9 3⁄4" (0.5m - 4.5m)
• White Balance: Auto, Daylight, Cloudy, Fluorescent, Incandescent, Flash, One-Push Manual
• Picture Effects: Solarize, Sepia, Negative Art
• ISO: Auto, 64, 100, 200, 400, 800
• Scene Modes: Twilight, Twilight Portrait, Landscape, Portrait
• Self-Timer: Yes, 10 Seconds
• Video Output: Yes, NTSC/PAL Selectable
• Still Image Modes: JPEG (Fine/Standard), TIFF, RAW, Burst, Auto Bracketing, Email, Voice Memo
• MPEG Movie Mode: MPEG VX (640 x 480 Standard, 16 fps/Fine, 30fps) with Audio, Video Mail (160 x 112, 8fps) with Audio
• Microphone/Speaker: Yes/Yes
• USB Terminal: Yes, Supports USB 2.03 High Speed
• PictBridge™: Compatible with PictBridge™ capable devices
• Memory Stick PRO™ Media Compatibility4: Tested to support up to 1GB media capacity; does not support Access Control security function
• Battery Type/Capacity: InfoLithium® NP-FM50 1180mAH Rated
• Supplied Software: Pixela ImageMixer™ Software for Sony v1.5, RAW Converter Software, USB Driver
• OS Compatibility: Microsoft® Windows® 98, 98SE, 2000, XP Home and Pro, Me,; Macintosh® 9.1/ 9.2, and OS X (10.0, 10.1, 10.2)5
• Supplied Accessories: NP-FM50 InfoLithium® Rechargeable Battery, AC-L15 AC Adapter/In-Camera Charger, A/V and USB Cables, Lens Hood, Lens Cap with Strap, Shoulder Strap, Software CD-ROM
• Dimensions: 5 5⁄16" x 3 9⁄16" x 6 3⁄16" (134.4 x 91.1 x 156.7mm)
• Weight: 2.12 lbs (955g) with accessories
Oooh yeah! I enjoy playing with that thing!

---
Posted by
knight4led
3 year old Olympus C-3040 3.2 MP
---
Posted by
Miss UK
I don't have a digital camera but ive got a Canon Sureshot camera with zoom and flash does the job :-) .. I use myphone also for snapping pics ;-)
---
Posted by
Sammy_boy
@tranquil - you show off!!!



Very nice camera though!