Themes Creator for Sony Ericsson P900 now available
6 February 2004
Sony Ericsson has released an updated version of their Themes Creator. The update includes support for the P900 series.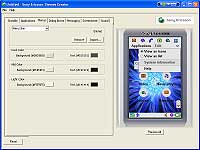 The previous version og this application had support for models T68i, T300/T306, T310/T312/T316, T226, T230/T238, T610/T616/T618, T628/T630 and Z600.
New in this version is the support for Sony Ericsson Z1010 and the P900 series.
With the Themes Creator, owners of Sony Ericsson phones can easily change the colour and images in menus, dialog boxes, screensavers etc. In addition to the visual effects, you can also assign sounds to messages, email, reminder, ringtones etc. to P900 themes. The application is free of charge, and can be downloaded from the Sony Ericsson developer web site http://www.sonyericsson.com/developer/ (requires registration)
An alternative to the Theme Creator is the ThemeEditor for SE P900 by Vito Technology ($49.95, but freeware for non-commercial use)

---