One million Samsung Galaxy Note shipped
29 December 2011 by Olav Hellesø-Knutsen
Samsung today reported that the huge Android smartphone Galaxy Note has been shipped in 1 million units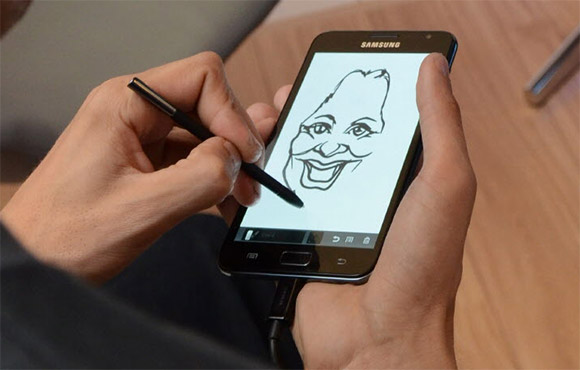 Samsung Galaxy Note is a smartphone with one of the largest display we have seen. With a large 5.3 inch touch screen and a 1280 x 800 pixel resolution a new category of smartphones was born. The Galaxy Note is something between a smartphone and a tablet. The Galaxy Note is running on Android 2.3 Gingerbread and it has a stylus included which makes it easy to write handwritten notes and sketches.
Samsung today announced that the company has shipped over one million units of the device. Not bad at all for a smartphone too large to fit in a normal pocket. The Galaxy Note was announced in September and was available in stores in November. As a comparison, one of Samsung's most popular smartphones, the Galaxy S II has sold in more than 30 million units. Galaxy Note sales are on the rise in Europe and Asia and the sales figures are expected to increase noticeably in 2012 when the Galaxy Note becomes available in the US.
Samsung Galaxy Note higlights
Size: 145.85 x 82.95 x 9.65 mm
Weight: 176 gram
5.3 inch Super AMOLED touch display with a 1280 x 800 pixel resolution
Networks: GSM/EDGE 850/900/1800/1900, WCDMA 850/900/1900/2100, HSPA+
Wi-Fi b/g/n, Wi-Fi Direct
Bluetooth 3.0
USB 2.0
A-GPS
8 megapixel camera, LED flash
2 megapixel front camera
1080p HD video capture @24-30 fps
1.4 GHz dual core processor
Android 2.3 Gingerbread operating system
3.5 mm audio jack
FM Radio
NFC (optional)
Accelerometer, proximity sensor
16/32 GB. Expandable up to 32 GB using microSD card
---
Alternatively post this in the Esato forum
Please sign in to your Esato account to leave a comment regarding this article
So its amount shipped not sold??
Correct. Wait for the "One million Samsung Galaxy Note sold" article.
This one will be ok for those who can't afford a tablet.
Great smart phone. Will those old application developed on andriod 2.3.5 compatible with 4.0? Will those NFC battery be sold as accessory in future?

Very nice

One of my friends got this a month ago and she's loving it, its an excellent phone for those who dont want a tablet but want a phone with large screen, looking at the Engadget comments on this earlier it seems many who bought it love it to.
Wow~if I Just can buy one..

@Tranced, the note is not cheap. Buying it is like buying a top end tablet.
This is now more expensive than Sony's Tablet S is it not? Great spec list.
It's around the £600 mark
For a phone like this you need a handbag ... and I do not think it will fit me

Handbag?? More like brief case

You just need a deep enough pocket to put them in

---