Nokia announced Euro 34 mobile phone X1-00
8 March 2011 by Olav Hellesø-Knutsen
Nokia today announced an entry-level phone which are expected to cost only 34 Euro
The Nokia X1-00 is the first phone announced by Nokia this year. Usually Nokia announced 6-7 new models before March, but this year is a little different. The first mobile phone is a very cheap one. At only 34 Euro, it is one of the cheapest phones available. The X1-00 is a candybard model with 128 x 160 pixel colour display. It has a FM radio and a slot for microSD memory card. A 2 GB card is included in the package, but it is upgradable up to 16 GB.
The feature phone does not have a camera or any other advanced features, but its battery life is claimed to be 1464 hours. That is up to 61 days of standby on a 1320 mAh battery! Other features include a MP3 player, 3.5 mm audio jack and lowd speaker. A Nokia WH-205 stereo headset and charger is included in the sales package.
X1-00 has five phone books convenient when sharing the phone among friends and family.
The X1-00 technical details are:
GSM/EGSM 900/1800 and 850/1900
Size: 112.2 x 47.3 x 16 mm
91 gram
128 x 160 pixel display with 65000 colour TFT
Hot swap microSD card slot
FM-radio
Talk time: 13 hours
Standby time: 61 days
Music playback time: 38 hours
Three dedicated music keys
3.5 mm audio jack
Flashlight
Preloaded games
Series 30 operating system
Nokia X1-00 will be available in Orange, Ocean blue and Dark grey colours, and it should be available in Q2 2011.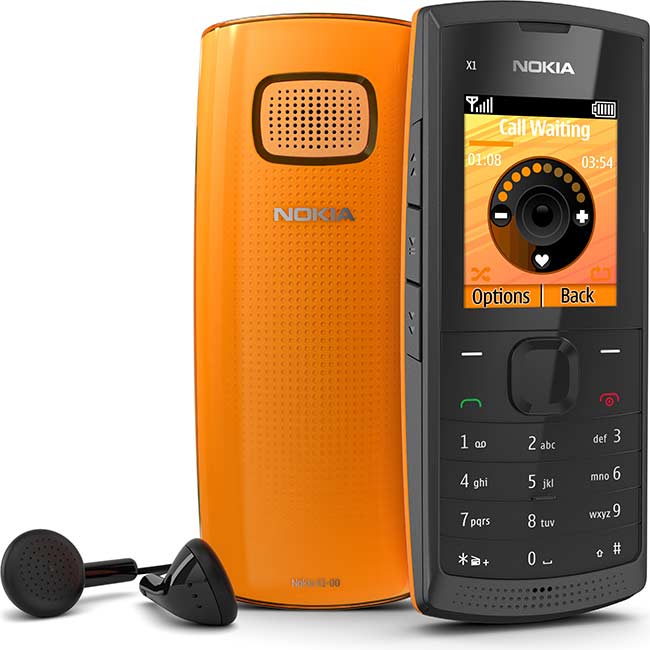 ---
Alternatively post this in the Esato forum
Please sign in to your Esato account to leave a comment regarding this article
Seems like a good back to basics phone if you want to keep it simple
It's a smart move from Nokia. They're aiming for a different market segment as their high end marketshare is declining.
Very clever. Look at the battery life

2 months

I'll get one for my "in-laws" as they always turn theirs of to save energy. No need for that with this one

Great design, one of the best I've seen from Nokia in a while.
Human Curvature forms?
I thought in the Elm when I first saw it.
ya completely copied Elm design language
they may called it nokia curvature lol

Wow cutting edge not !
Rip nokia
---