In Barcelona: Olav Hellesø-Knutsen


Nokia N96 announced - Esato Special
News Articles:

Related

Technical details:

Wallpapers:

Nokia today announced the successor of the popular N95. The Nokia N96.

12 February 2008
Nokia announced a couple of new deviced and services this week. We should be able to say that is was nothing out of the ordinary. The older N95 are allready packed with nice features so it is diffcult to beat that one The announced phones were N96, N78, 6210 Navigator and 6220 Classic. The most anticipated device was probably the Nokia N96. N96 is not a revolutionary new device but a small improvment over the Nokia N95. In addition to the slightly smaller size, some of the improved features are larger display and expandable memory.
BTW. The kickstand you see on the third photo will not break if you drop the phone or bended in any way. It is detachable and will just fall off if it is receiving too much preasure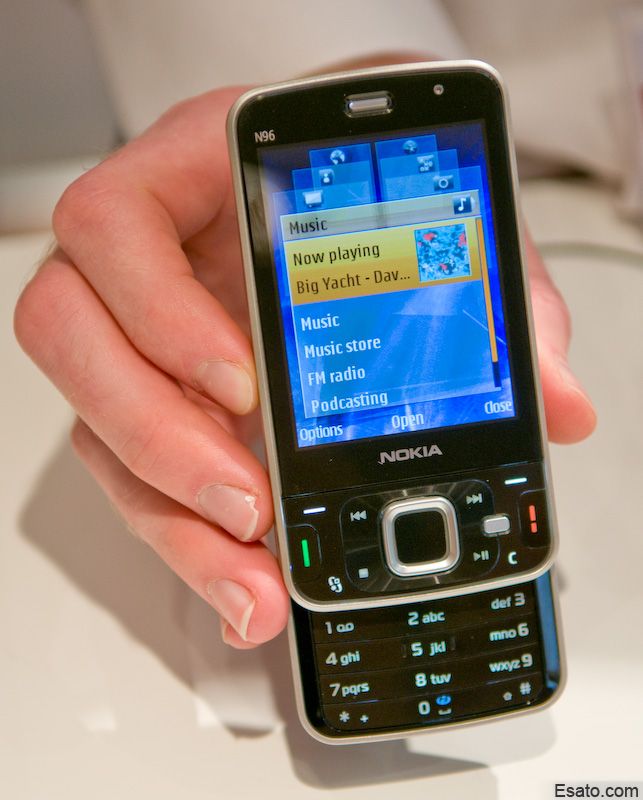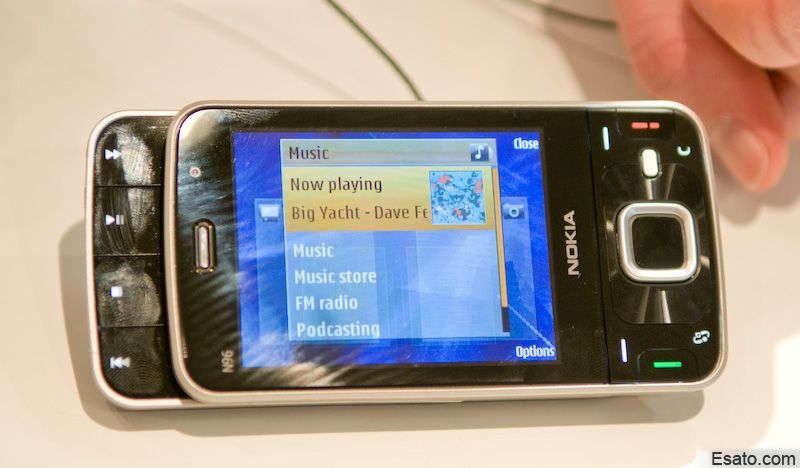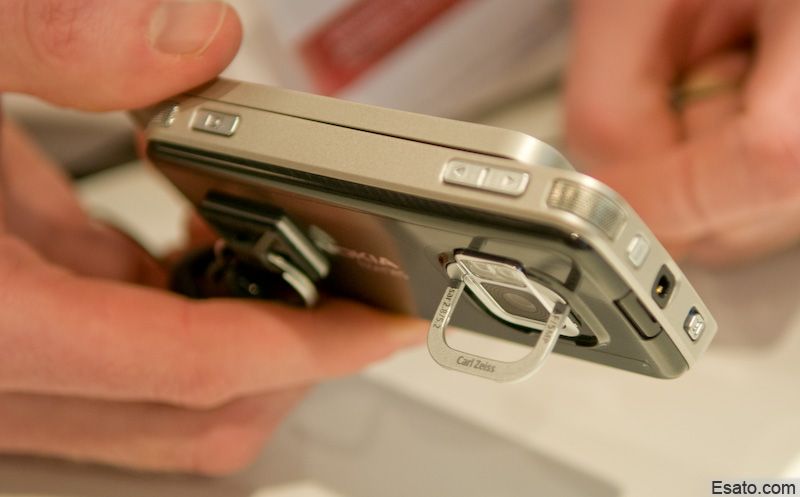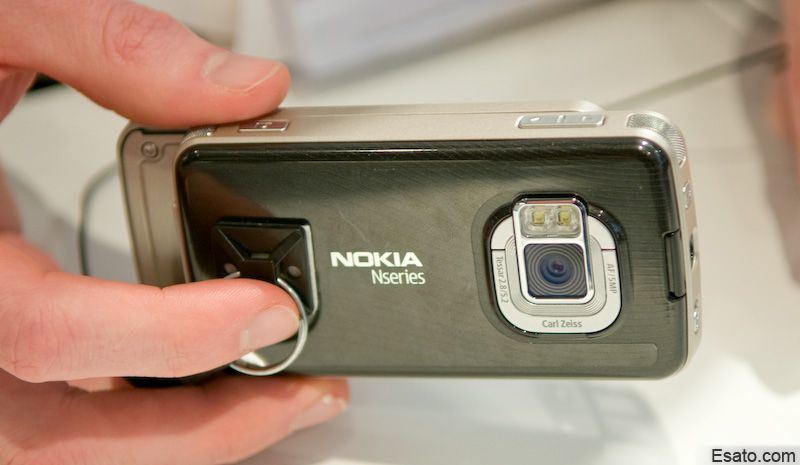 Press release:
Most advanced multimedia computer optimized for entertainment

Mobile World Congress 2008, Barcelona, Spain/Espoo, Finland - Nokia today unveiled the Nokia N96, a multimedia computer truly optimized for video and TV. With a large 2.8" screen, 16 gigabytes of internal memory and support for high-quality videos in a wide range of formats, the dual-slide Nokia N96 represents an exciting new chapter in mobile media. The Nokia N96 multimedia computer is expected to begin shipping in the third quarter of 2008 with an estimated sales price of approximately 550 euros, before subsidies or taxes.

"In 2007, the Nokia N95 became an icon of convergence of Internet and mobility. With over 7 million units sold to date, the N95 has changed the way people use their mobile device. The Nokia N96 we introduced today builds on the success of N95, further enhancing the experience," says Jonas Geust, who oversees Nokia's Explore category. "Through the power of the Internet, video and TV are becoming even more prevalent in people's lives. With its large, bright screen, and a range of high-speed connectivity options and the enhanced Nokia Video Center, the new Nokia N96 is a personal window to entertainment."

Accessing internet videos is quick and simple. The Nokia N96 supports common video formats including MPEG-4, Windows Media Video and Flash Video, making favorite videos easy to view. Transferring and accessing videos is even faster with the high-speed USB 2.0 connection and WLAN and HSDPA support. In select markets, the integrated DVB-H receiver offers live broadcast TV with an automatically updating program guide. The massive memory can store up to 40 hours of video content. The storage capacity of the Nokia N96 can even be further expanded with an optional microSD card, such as the new Nokia 8GB microSDHC Card MU-43 which increases the available memory of the Nokia N96 to a total of 24 GB. For added convenience, the Nokia N96 features a 'kickstand' on the back cover that allows for hands-free viewing.

The Nokia Video Center offers one place to discover and access a variety of mobile content ranging from movie trailers and comedy to news from world-leading content brands such as YouTube, Reuters, and Sony Pictures. The catalogue of internet video feeds is continually expanded with more regional and country specific content.

For a superb music experience, the Nokia N96 features media keys, a 3.5 mm headphone connector and built-in 3D stereo speakers. The Nokia Maps application offers richer maps with urban details and satellite views and has upgrade options such as City Guides, turn-by-turn pedestrian mode and voice-guided car navigation.

The Nokia N96 boasts a 5 megapixel camera with Carl Zeiss optics, flash and video light. It allows DVD-like quality video capture at 30 frames per second. Further, with the integrated A-GPS, consumers can now 'geotag' their pictures with location data and share them with their online communities.

The Nokia N96 naturally supports the Ovi family of Nokia internet services, including maps, music, media sharing and more.
User comments:
Looks like my future new phone... SE drop death!!
By txmrolf on 5 Mar 19:11

good mobile i want price
By irfan on 5 Mar 08:00

SE has no real 640x480 30fps video, no real sequriti protocols for net surfing and many many other things. now i use n95 and think that its much better than k850. i love se but se new managemant doesn't love me :)

concl...: Show model of SE which is better n95 or n82 and i will buy it


By TSendeross on 2 Mar 16:34

Nice phone,how can I get one for free?Be nice to your friend.
By AponbiedeOluwatoyinA on 1 Mar 13:34

best phone
By shafi on 1 Mar 07:24

its too large need some compact features
By preetha on 29 Feb 07:27

no xenon no fun and hoping for a 6 mp power
By jash on 26 Feb 06:40

it is one in a million. a combinatn of n95 nd n81 which made an ext look, a kickstand, 24gig total, plus e.t.c. please is there anyfink better.
By THESICKNESS on 25 Feb 11:07

Being a normal mortal I couldn't afford a n96 even in my wildest dreams..I mean look at the price tag..starting from 550 euros..I'll stick with my SE k800 :P
By criss on 24 Feb 17:15

It is amazing
By Aleksandar on 24 Feb 14:48

my phone can not browse the net even when gprs is on can motorola pls help me out i use motorolac975
By elijah on 21 Feb 21:10

I don't get SE can't put in 5 mp camera for the X1 or for their newer music phones while Nokia can. This is a really good phone that I would have a hard time choosing if it was down to the X1 or some other new walkman phone .
By mike on 20 Feb 07:19

Who wants an Sony Ericsson, me for one, the X1 is slick, and actually has usable 3G, I won't have to wait 6 months for Nokia to throw American 3G into the N96
By TommyDietrich on 20 Feb 03:56

Nokia, change your font NOW! bugs me out, there must be a better looking font...plz

Looks good otherwise
By HAJLAJ on 18 Feb 18:18

where is the java games?
By robin on 18 Feb 08:41

thank you
By christiandodoo on 16 Feb 10:01

Like the new styling and new D-pad. Lots of little improvements is what I expected. 16 GB + expandable memory - thats a swipe at the iPhone/iTouch for sure. Nokia's lead over SE in the high-end just got bigger. Who still wants a W960i now? :-(
By carkitter on 16 Feb 07:08

the same sluggish user interface
looks like n81
useless technology for most of the world
By bkm on 15 Feb 18:31

This is one step ahead of the N95
By Anonymous on 15 Feb 04:22

Nothing much impressive,as most of the features of n96 are already in n95.
By sakib on 14 Feb 22:52

It is an impressive phone and I like the design, but there's nothing here that makes me want to upgrade from my N95.
By laurenke on 12 Feb 16:12

another atillathehunch comment (a nice critical one :P),

ok, where to begin... xenon flash?.. hahahaha

secondly on a more serious note, the kickstand...why? if a user is to watch a video on the relatively small screen, then you would need it reasonably close to the face, not resting on a table. im not keen on the plastic dedicated music keys. I have a samsung YP-P2 media player which has fantastic scratch resistant glass. this (as with the type of reflective covering on the music keys and face of the phone) picks up fingerprints and they stick like glue!

i am impressed with the figures, once again the 5 MP camera, but i'm concearned about the non- xeon flash (yay YelLoW-ViSiOn!!) and the "DVD-like quality video capture"...somehow i doubt that.
By atillathehunch on 12 Feb 13:04

No xenon because the battery dosent support it :))
By Steve on 12 Feb 12:34

it seems that it has one weak aspect... the kickstand... it looks so flimsy
By keight00i on 12 Feb 10:39

do you think he snapped his nail trying to open the kick stand ? :-P
By paul on 12 Feb 08:09

yah its like n81 only slimmer!
By belialwafu on 12 Feb 05:52

looks fugly. no xenon flash? wtf.. n82 has one. why not this phone.
By mj on 12 Feb 05:37

It seems to look nicer in these images than in the leaked images from a while ago. I'm not a big fan of how many of the new Nokias are looking the same though.
By MuhummadOli on 12 Feb 03:29

---
This article is closed for new comments.