News from CEBIT 2006
Visiting CeBIT: Olav Hellesø-Knutsen
The new Sony Ericsson W950 is a phone model which runs on the Symbian OS. This means that it should be possible for third part developers to develop applications for the device. The include stylus makes it enjoyable to scroll down the music file list. W950 lacks camera and expandable memory. The included 4 GB should be enough for everyone anyway. The missing camera might be the reason why Sony Ericsson has created a very thin phone.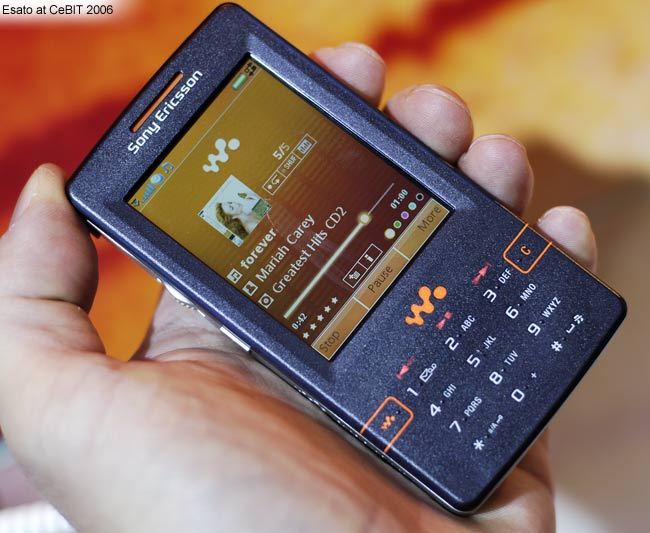 User comments:

Well,i asked Sony as a game programmer for mobile phones ... they told me the w950i (i own one) as no cam because it had to pass security procedures in some huges companies as it as not to be a 'spy cam' .... wow a smartphone like this should have this option .... hum if everybody knows about a cam for this phone (why not a bluetooth one ?) please contact me at cryoangel@hotmail.com, for me it's the best phone i ever own,4Gb hehheheheh a mix between an ipod nd a pda, just miss the cam..... see ya

By Cryoangel on 21 Jun 01:16

Hey people, if you want a camera, buy a digital camera. Digital cameras will always take better pcitures than phones. For the business minded person who wants to own a phone that doesn't need charging everynight before going to sleep, get this phone. Well, I guess it depends on the user anyways so for the people that want a good phone with a good camera, get the K800i. For the business minded person who wants a smartphone with a camera, get the P990i. All in all, SE has everybody's needs covered with an abundance of choices. Good times SE
By optimus on 9 Apr 09:52

there is a fone comming out it will be the w950 but with a cyber shot camera i work for 02 and its gunna b well gd fone wen its out
By qassim on 4 Feb 20:16

Its an EXCELLENT Phone.The best ever i think.But nowdays camera phones are essential to everyday.Im frankly disappointed with the w950i.Otherwise is very neat & brilliant
By Jordannawa on 2 Feb 17:46

I WANT A IPOD WITH CAMERA. THATS A GOOD IDEA.
By XHCSXJHX on 22 Dec 21:30

add camera of 3 mega pixel atlesat with all v have in w900i... without changing thickness... i use only sony erricson phone... motorola and al r thin phone with camera... include it... i wish to buy it...
By vargs on 4 Dec 14:28

The w950 is amazing it has no camera because it does not need one if u want one buy a high quality digital camera the ones u get in phone are all poor.

I have owned this phone now for 3 weeks it floorless the interface is spot on if u want to do anything it will let u no silly menus everything is where u would expect it to be.

The number keypad is very easy to use, u canít really press more than one button it is just a seamless keypad.

The multitask features I was a bit worried about as most phones donít handle this very well but I must say Sony have pulled something out of the hat with this no problems at all. It even has a task manager so u can have 10 programs loaded and swap and change between them with out closing anything.

The web browser on this is a live browser and is easily navigated with the stylist.

And as for music leave the ipodís at home this is much better plays loads of music formats and acts as a 4g flash drive when connected to any pc (it does not need a cd).

All in all I would recommend this to everyone as I work for o2 and have a chance to try all phones when they come out. But this is the one I now own

By Neil on 3 Dec 00:22

Sony ericsson has stated that the phone is made for music and that if u want a camera choose the W850i. if it had a camera i would snap 1 up immed.!!!!
By Phoenix on 28 Nov 16:43

omg it dnt even has a camera ....i personally think the k800i which ive gt is beta as i can add memory and the only main thing i dnt have which the w950i has is the touch screen but owell i suggest ppl to get da k800i!!
By jassi on 28 Nov 15:11

needs a camera now
By nemo on 20 Nov 15:56

Yo, this cool piece of machine..NEEDS A CAMERA, hello guys (sony erricson ppl)...u guys fell asleep while building the phone model. Great phone would have got it if it got the camera. alright. imma gonan bounce now
By dude on 16 Nov 14:01

how stupid can the peopke at sony ericsson get? the w950i has everything- touch pad, 4gb flash drive and yet no sign of a camera not even a 2 megapixel one. i think they have kept it this way to keep the phone slim, and more importantly so they can improve it on a later model.
By phonecollector on 25 Oct 16:54

must have at least 3.2 mp camera .i am not impresed
By prateekchouksey on 24 Oct 17:00

The SE W950i dos not have a camera built into it! it is a pda phone and like most pda phones i.e. the Rim Blackberry 8700g it dos not include a built in camera. But i like the fact it has a 4GB built in memory and version 2.0 of sonys walkman player.
By LW1 on 2 Oct 20:32

with out 3G camera too bad..... CAMERA PLS
By azizrasheed on 27 Sep 22:32

Great phone but lacks a camera, can someone please tell me a reason for not adding a camera to this please its just insane?
By Gurveer on 21 Jul 19:22

Brilliant - a neat phone without a camera. Don't spoil it and add a camera - majority of people don't want/use them anyway - we are forced into having large bricks for no reason.
By RobL on 10 Jul 19:21

Add a Camera and it could be ''The Perfect Phone''. Word.
By renesis on 7 Jul 18:55

Camera is essential nowdays in all the phones ,so better wait for the next launch with a reasonable MP.
By santhosh on 4 Jul 18:57

At last a good phone w/o a stupid camera. YES!!!!!!

You have a million phones with attached cameras. Why do you ask for a camera on this one? Do you want ALL the phones to have cameras? What about some poor chaps that don't want a silly pice of glass on the back of a (otherwise) nice phone?
By wrench on 22 Jun 20:56

agree with comments made about needing a camera, stick with w800i for that reason.
By mick7100 on 2 Jun 23:43

at last something that is without a camera and looks good
I am a tad worried about the issues with copyright and staff. I own network HD Wallkman and I don't like at all this software SonicStage-Connect it's slow complicated and this limitations on what do I do with my music are just plain stupid.I wish Sony at last made up it's mind is it a hardware or content company.For know I weep for their shareholders.
By zaharizahariev on 19 Apr 21:11

Hi everybody, Guys, plz let me know how much will it cost? It is so AAAAmazingggg....
By beobeo on 15 Apr 15:31

the only bad thing is that IT doesen't have a camera
By djchuk on 3 Apr 22:16

When is this phone available on the dutch market? Can anybody tell me?
By BC on 29 Mar 12:47

I can't wait to get one of these. I certainly won't miss the camera. I hardly use the one in my present phone. I like the mature, business like look. Reminds me of the days when Sony ruled the world of small gadgets with the Clie
By okstrea on 26 Mar 18:55

I want to CAMERA ON THIS PHONE PLS !!!!!
By bryan on 24 Mar 17:02

i doubt if this phone doesn't sell, since many concern about it doesn't have an integrated camera. i can't wait to try it out, especially to find out how the keypad feels like!
By mucus on 24 Mar 16:20

Damn neat phone... just I wish that the "paint" finish is made to look better then the somewhat dull sheen it has in the picture. Also MUST HAVE is a camera... even if its a VGA!!!
By Sups on 13 Mar 13:01

I'd buy this one if there was a CAMERA!! argh this one looks soo good.
By Tom on 11 Mar 23:36

The keys looks sooooo nice ...
By sonyericssonman on 10 Mar 20:55

thats quality, really a good phone.It's a shame coz no camera.Bring out a phone just like this but with a camera phone.
By LawrenceFernando on 10 Mar 20:24

I really hope this one comes in more colours. Don't like the orange.
By Vic on 10 Mar 18:41

Very good Laffen!!
Will be nice to hear more about CeBit when you are back home.. :)

K.

By Hektor on 10 Mar 12:11

Great looking piece of kit. I love the keypad.
By methylatedspirit on 10 Mar 12:06

Very stylish keypads. The walkman play-pause/back/forward buttons lights up only when you use the walkman features. Very nice :) This is a good replacement for the IPOD VIDEO.
By steele on 10 Mar 05:36

Well, I use a Nikon D70 with a couple of light sensitive lenses for the pictures found here. The pictures in the mobile blog at http://www.esato.com/news/moblog.php is captured with a W900 and uploaded a minute or two after they are captured.
By laffen on 9 Mar 18:59

in this thread http://www.esato.com/board/viewtopic.php?topic=117192 Laffen said he is using a W900. The pics are great i must say if this is the case.
By ryanmachin on 9 Mar 18:25

What camera is used?
By Vic on 9 Mar 15:40

i hate the buttons. Looks like there are raised dots for each button so you can 'find' them... Am i right in saying people complained about the K600 keypad being annoying to text with because it was flush with the housing?

Other than that...an amazing phone indeed... And may i say great pictures Laffen!
By ryanmachin on 9 Mar 13:31

indeed thats quality,,,,i am likeing this phone more and more,shame about the camera though!
By axxxr on 9 Mar 13:09

Quality Pics mate, keep em coming!
By PeterKay on 9 Mar 13:06

Funny how all the buttons blend together...

You're a champ, laffen, keep it up.
By jasond on 9 Mar 13:02

---
Add your comments to this image
Feel free to comment this photo. HTML characters are removed. Back to CEBIT news
Visiting CeBIT: Olav HellesÝ-Knutsen
Check out the mobile blog