An 'Origami lens' for your Camera Phone
1 February 2007 by axxxr
Your next camera phone might get a new kind of lens if researchers at the University of California at San Diego convince the mobile phones makers.

They have designed an 'origami lens' which will slim high resolution cameras. Today, their 5-millimeter thick, 8-fold imager delivers images comparable in quality with photos taken with a compact camera lens with a 38 millimeter focal length. In a few years, these bendable lenses could be used in high resolution miniature cameras for unmanned surveillance aircraft, mobile phones and infrared night vision applications.
This research project has been conducted at the UCSD Jacobs School of Engineering and led by Eric Tremblay, an electrical and computer engineering Ph.D. candidate under the direction of Joseph Ford, a professor of electrical and computer engineering. Here is what Ford says about this new lens.
"This type of miniature camera is very promising for applications where you want high resolution images and a short exposure time. This describes what mobile phone cameras want to be when they grow up," said Ford. "Today's cell phone cameras are pretty good for wide angle shots, but because space constraints require short focal length lenses, when you zoom them in, they're terrible. They're blurry, dark, and low contrast."
below are three images of this 'origami' lens: the diamond-turned optic before coating (left), the silver-coated front surface with ring-shaped entrance pupil (center) and the coated back surface of the optic (right). source:zdnet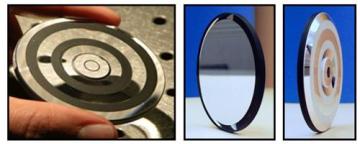 ---