---
Posted by
Hobbs
Garlic-fried rice and fried egg,with beef. Is that correct?
---
---
Posted by
amawanqa
Ya the beef (tapa) jerky being kinda like our biltong, but then fried (I think). I'm sure Jojo will verify.

---
Posted by
Hobbs
Jojo
Casio G-Shock GW-200Z-1DR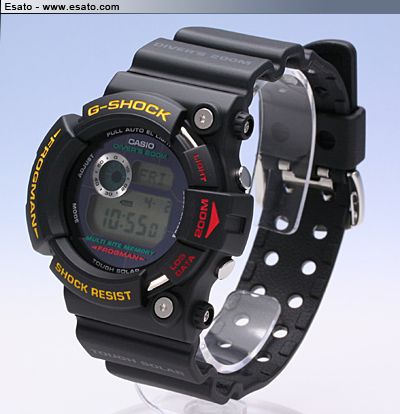 R5500 (31,222.36 PHP)

Are you gonna get one of these?
---
Posted by
*Jojo*
@Ama - He he he . . . really great of you to know some of the foods we eat at my end

.
@Hobbs - Yup, nice breakfast. Casio Frogman is one of the most expensive rubber-strapped out in the market, though I can get me a brand new for just around US$ 350.00 - online. Of course it's more expensive if you are to buy it in Casio Shops (authorized dealer). I am not much into - swimming, Frogman are for diver's, it is equipped with computer data-log that's why it's expensive.

G O O D M O N D A Y M O R N I N G

---
Posted by
amawanqa
So the iPad 3 is launched, with some expected improvements. Still can't see myself with one of these.. My boss at work uses his iPad 2 heavily though.
Maaaagandang umaga, Jojo.

How many Casio G-Shocks have you got, matey?
[ This Message was edited by: amawanqa on 2012-03-08 12:57 ]
---
Posted by
gola
Hi all

Hope everyone is well, i still hate Android.
Lol @ "The New iPad" just had to get that off my chest.
Wanqs
Sweet Mini photo there, looks like something Tsepz would roll with.
[ This Message was edited by: gola on 2012-03-08 12:00 ]
---
Posted by
amawanqa
Better late than never,

:
http://www.esato.com/board/viewtopic.php?topic=203399
@ gola:
Ya, sure can see Tsepz rolling in one of 'em too.
---
Posted by
Tsepz_GP
Wanqa
Yah, these tablets aren't a necessity like e.g. a PC or laptop, more of a nice device to have to complement your smartphone and laptop, as it is the huge 4.3" of my GS2 is more than enough, but I do use the tablet now and then for YouTube, editting an assignment before printing at uni, browsing etc.. but if it were to disappear tomorrow I would not feel a major loss in terms of data and all that like I would if i lost my phone or laptop.
Gola
I hope the Xperia Arc S itself is good though e.g Camera, call quality, music quality etc... Android is definetly not for everyone.

Thanks guys, wish I wish I had one of those, I've got a thing especially for that exact model, the John Cooper Works, pure motoring heaven that little thing.
---
Posted by
*Jojo*
@ama - Good Sunday morning. Right now I only have (2) Casios. A Patfinder/PROTREK PRG-80 and a GDF 100. Sold my (2) GA 100s last month (online) so I can get me a MUDMAN 9300 - soon ! These Casio watches are FUN to wear when malling, going outdoors etc. Just pair them with your: jeans and rubber shoes. Though I am seeing some executives (here and abroad) wearin' Casio G-Shock watches with their suits or office attires . . . cool. Majority of the peeps who wears Casio watches are those teenagers or yuppies that pair their - COLORED watches with the dress they are wearin'. Casio watches comes in different colors . . the weird looking ones have the "rainbow" colors in just ONE watch

they call that model the: FRUIT SALAD-edition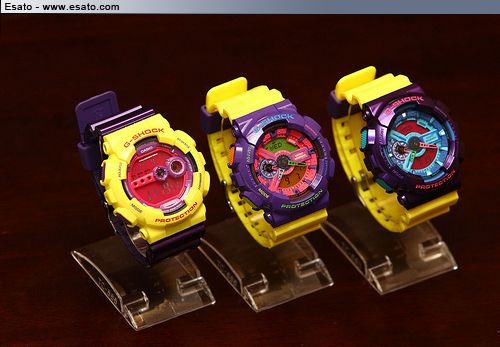 ---
Posted by
Hobbs
I don't think I have anything in my wardrobe that can go with any of those G-Shocks

---
Posted by
Tsepz_GP

woah, talk about colour blocking

---
Posted by
amawanqa
Fruit Salad Edition.. methinks it should be renamed 'Fisher-Price Edition', LOL.
---
Posted by
*Jojo*
@ama - ahahahaha . . you are right ! some peeps call it - Fisher Price. I have a friend here in MNL who owns a Ducati (he's the guy who had the R1 which I posted here in 2007, upgraded his bike to a Ducati now) . . he wears a Casio Illuminator while - riding his bike.
My friend's: Ducati 848

---
Posted by
amawanqa
I remember the R1, Jojo.

The Ducati 1198 and 848 are truly beautiful bikes, and that deep, droning sound of their high-performance v-twin engines adds to their appeal.
I've got to fit some noisy performance exhausts on my one once it's run in; at the moment it sounds like a wet fart with all the baffling etc in the standard road-legal exhausts.
---
Posted by
amawanqa
Acer's Liquid Metal smartphone (running on Gingerbread) is ridiculously cheap now:
http://www.expansys.com/acer-liquid-metal-brown-209791/
---
Posted by
*Jojo*
@ama - Yup. Ducatis are the Ferrari of Big Bikes as they say

Happy weekend to all

---
Posted by
Hobbs
Swapped my HP Mini NetBook for a Vodafone Smart Tab 7 running Android Honeycomb 3.2.Quite a capable little tablet.Dualcore 1.2GHz,1GB RAM,16GB internal memory ect
I never needed a tablet but I got to admit this thing is growing on me.7" inch is perfect.
Honeycomb 3.2 has got to be my favourite Android release.
---
Posted by
Tsepz_GP
Congrats Hobbs!
Welcome to the world of Honeycomb

Some app suggestions:
Dolphin for Pad web browser
File Manager HD
TweetCaster HD and or Plume for tablet
QuickOffice HD
CNN for Android Tablets (the widget is just awesome!)
Aldiko for ebooks
Pulse
Opera Mobile 12
and Adobe Flash11
[ This Message was edited by: Tsepz_GP on 2012-03-23 11:32 ]
---
Posted by
Hobbs
Thanks Tsepz.It's perfect for Web browsing.My poor G2 is been very neglected.Especially considering how small and mobile a 7inch is.Biz with me everywhere.
---
Posted by
Tsepz_GP
Freaking awesome for browsing, I use mine in landscape whenever I use it like now, some days I just use it, but most of the time I'm on my GS2 because its faster and more compact.
Awesome thing about tablets is their ridiculously long battery life, smartphones, laptops/net books simply can't touch tablets at battery lifetime, I sometimes forget to turn off my Tab, and I comeback to it 5days later and its still sitting there with 35% battery, its madness, they take quite a beating, constant use I can get a good day or two, I've never managed to get it to die between charges from 100% to 5% in a day.
---
Posted by
Hobbs
True.And even longer if you activate Flight Mode when you not using it.Great battery life.
---
Posted by
Hobbs
Have a good weekend y'all.
[ This Message was edited by: Hobbs on 2012-03-24 05:03 ]
---
Posted by
Hobbs
Tweetcaster HD and CNN looks cool on a tablet.
[ This Message was edited by: Hobbs on 2012-03-25 08:23 ]
---
Posted by
Hobbs
Tablet Market is a cool app.These apps made for Honeycomb just look so damn good.Loving it.
---
Posted by
amawanqa
Quiet around here, peeps.. hope you're all having a keewl Easter long weekend.
Nokia Lumia 710 now just £129.95 (approx R1400!) on PAYG

:
http://www.carphonewarehouse.[....]le-phones/NOKIA-LUMIA-710/PPAY
---
Posted by
Hobbs
Hope everyone had a nice Easter.I don't really celebrate it anymore.The 2 days off work are always welcome though.
---
---
Posted by
zani_003
Hi all!
it's been a while, I trust everyone is doing well
I recently lost my laptop and I can now upgrade my contract. Which phone would you advice me to get on mtn since I don't have a laptop for the time being, my 2 year old HTC desire doesn't do it for me anymore
I'm considering the following current & future phones (though I must say, I can't wait any longer)
1. Galaxy Note (it's rather too big)
2. HTC one X (When it becomes available, anyone know where that will be?)
3. Samsung Galaxy S3 (When it finally gets announced lol)
4. Samsung Galaxy Tab 10.1 (No voice communication sucks, will be forced to keep the desire)
thanks guys!
---
Posted by
Tsepz_GP
Wait for the HTC One X to arrive...unless the GS3 arrives sooner, lol.
If you want something future proof for the next 2years you'll need to get one of the quad-cores.
---
Posted by
zani_003
@ Tsepz I don't think I can survive that long, especially with no laptop....I'm going to an mtn shop tonight... should be interesting...
---
Posted by
Tsepz_GP

Get the Galaxy Note then, if i was in your position i'd find it hard to pass the Note, that HD Super AMOLED display is drool worthy, you could then use both it and Desire, and it will be getting Android4.0 ICS with Premium Samsung Suit soon.
---
Posted by
zani_003
Tsepz you are right, I couldn't resist that huge HD display

super clear...I love it! I got the white version

[ This Message was edited by: zani_003 on 2012-04-12 06:02 ]
---
Posted by
Tsepz_GP

Nice! Congrats Zani!

That must look uber cool in white, my GS2 is the white one and im loving the way it looks.
Its quite a machine that Note, so the size hasn't been an issue then?
---
Posted by
zani_003
Thanks Tsepz! it's a beauty & a beast. I still have to put it through its phases

Size is a bit too much, but I'm fast getting used to it. the desire feels tiny already
I'm considering rooting it, I miss ICS (from the rooted desire) I can't wait for the official ICS

[ This Message was edited by: zani_003 on 2012-04-12 14:56 ]
---
Posted by
Tsepz_GP
Have you ran Quadrant or AnTuTu benchmarks yet? Ive heard it pulls some impressive scores.

root Root ROOT! Go wild with it, there's a lot available for it at XDA, including the leaked Official ICS ROM and custom ICS ROMs based on it.

---
Posted by
Hobbs
zani_003
Congratulations on your Note.Some pics please.
---
Posted by
zani_003
@Tsepz quadrant gave me 3516 and AnTuTu gave me 6433. I'm very impressed with battery life, it does pretty well given the screen on this thing. It was fully charged when I left home @ 6:30, after heavy heavy use (whatsapp, hours of music, taking & transferring pics, Facebook, internet browsing, calls and over 50 text sent & received and the display @ 20%) I still have 30% left. 11 hours 30 mins on battery. I'll root this baby tomorrow, my gf is already jealous of the amount of time I spend with it lol
@ Hobbs, thanks man! I'll upload pics 2mrw, the Desire's camera ain't good on this custom ICS rom
---
Posted by
Hobbs
For all the greasemonkeys in here.Friend of the families car.Is it any good?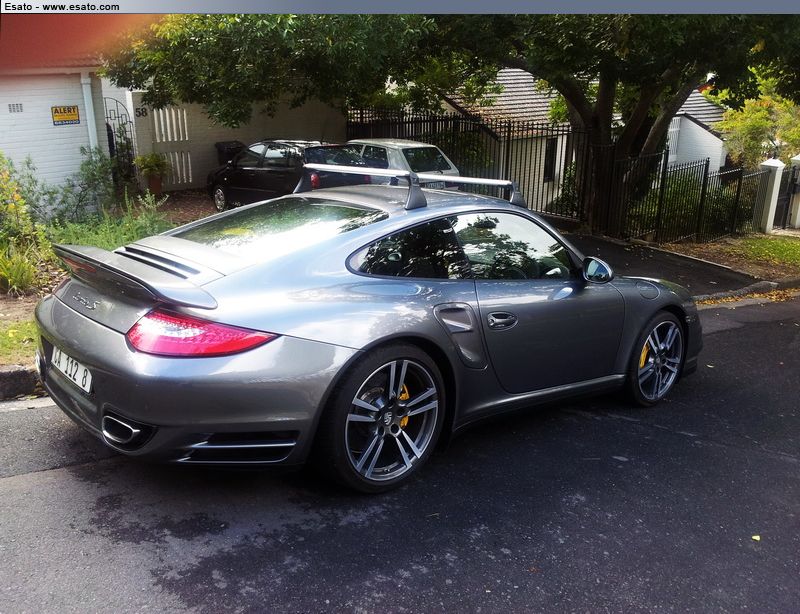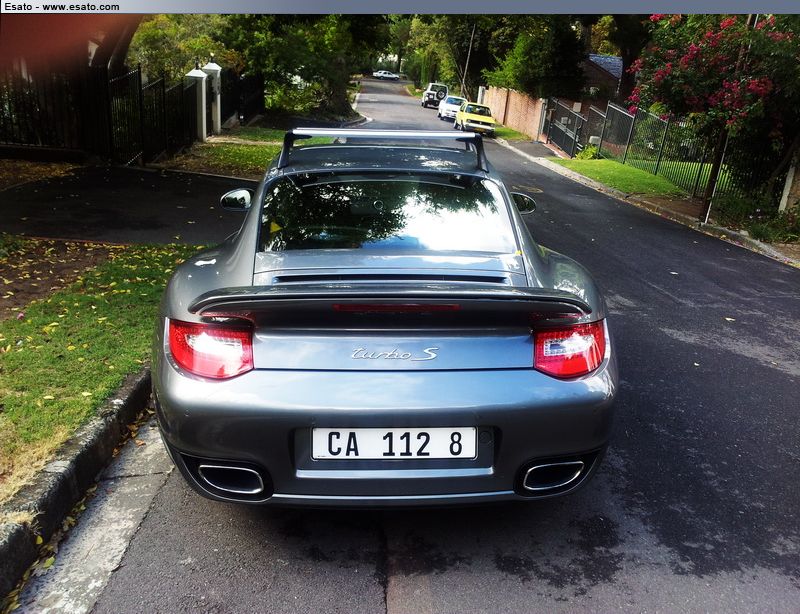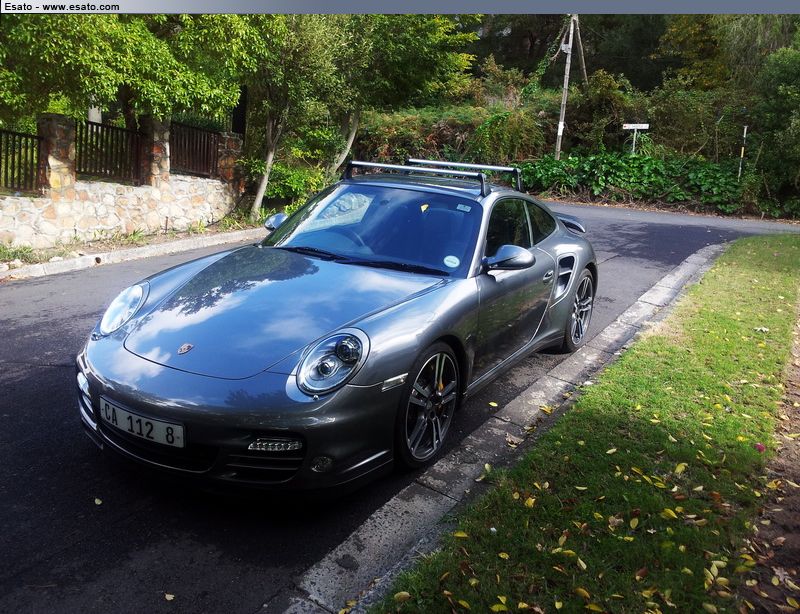 ---
Posted by
Tsepz_GP

Woooh! Thats quite a machine there Hobbs, did you get a ride in it?
---
Posted by
Hobbs
No Tsepz.I'm so not into cars.A Porsche,a Citi Golf,its all the same to me

Couldn't be bothered.
I've experience some serious death defying speeds on superbikes in my 20's as a passenger where the riders were high on drugs and fearless.Don't think a dash in a Porsche is going to give me any kind of thrill whatsoever.

---
Posted by
amawanqa
Lovely Porsche pics, Hobbster.

Seriously thinking of getting the Lumia 710 as it's at such a damn good price at the moment, but the 808 is due to hit the shelves here later this month...
Patience, O Wanqa, LOL.
---
Posted by
Hobbs
Wanga
Wait for the 800.Just my two pence.
---
Posted by
Tsepz_GP

Wow, talk about living on the edge Hobbs, the 20yrld you was one wild guy

me and bikes just dont mix, once got a lift on a friend's R1 and i was sh***ing myself at 80km/h, ive experienced some terrifying speeds recently in the Camaro but the driver wasn't high or drunk...thankfully, lol.
Wanqs
I agree with Hobbs, wait for 808.

---
Posted by
Tsepz_GP
Hobbs, how's the tablet? Done any modifying to it?
Mine recently go a update, running a lot faster and smoother now, I've gone back to using it more now, still haven't bothered to do any mods to it though, not even rooted.
---
Posted by
Hobbs
Tsepz
Got to be quite ohnest with you,I hardly ever use it ever since this Resurrection Remix rom started to take off and become quite mature and yummy

I seem to be constantly updating roms and Siyah kernels and customizing and customizing and customizing

I must look around to see if anyone is working on the Vodafone Smart Tab 7 because the last time I checked there was Nada.If you do by chance come across any development on this tab I would be extremely grateful for some feedback.

Regarding my 20's,yep I am extremely fortunate to have made it out of them alive and kicking.You be careful now and do the same.

[ This Message was edited by: Hobbs on 2012-05-05 12:05 ]
---
Posted by
Dups!
What's up fellas!
Been a while since I was last here, hope everyone's doing well. Other than the race row that's brewing in this country I am okay. Sad what apartheid has done to this beautiful country and the anger and resentment still linger on. My heart bleeds when I think about how 'heavenly' this country would be had the National Party treated everybody equally.
Okay, enough of the negativity!
I am still searching for my perfect phone even after all this time. Had a Razr but sold it after two months, the battery was woeful and I found it sluggish after loading some music and apps. The built quality was amazing, the reception wasn't too bad but wasn't the best and the call quality was superb. I hated the Motoblur skin, if I didn't sell it I was going to get rid of that rubbish skin.
One thing that is certain is that touch only phones are definitely not made for me, I tried and tried to enjoy the Moto but I couldn't- I know it was just two months but I just missed the physical keypad. I also had my brother's N8 (second time around) for a week after that and it just felt wrong.
I am now back to my trusty P1i and my Razr V8. I have been following Blackberry's BB10 and thus far it isn't looking bad but also not great in terms of their progress on the OS. I am definitely going to get me their BB10 phone with a physical keypad of course. I am going to get myself a touchscreen phone also for my secondary/business line.
@Hobbs
That is a mean machine, love them Porsches. Last week I was in Midrand and a white Turbo S was going the opposite direction, I felt like following the owner and asking for a test drive.
[ This Message was edited by: Dups! on 2012-05-11 13:14 ]
---
Posted by
Tsepz_GP
Hi Dups, good to see you around here again.
Yah, the whole Jessica Leandra drama is shocking, what makes it worse is the girl who replied to her trying to fight fire with fire, a part of me though is glad it happened because it has brought to the nations attention that there are race issues still around even amongst us 90s kids who were born/grew up out of apartheid, its something we can't escape until its dealt with correctly, we can't just try ignore it and hope it goes away.
Sorry to hear the Razr didn't live up to your expectations, unfortunately coming from a smartphone that was built at a time where feature phones ruled to any new multi core smartphone will take some getting used in terms of battery management, the standard of battery life has dropped significantly with all these big high resolution touch displays, large RAM chips and multi core CPUs and their power hungry GPUs.
Hopefully RIM build the perfect smartphone for you, maybe a Torch BB with multi core CPU and improved UI?
PS. I got to drive a BMW X3 3.5IS (225kw) today, from randburg to fourways, what a machine, that 3.5l twin Turbo motor is spectacular

very tempting to just pedal to the medal, unfortunetly Jhb traffic just doesn't such freedom, thoroughly enjoyed it though, it drove like a a small 2 seater sports car despite its size, reminded me of why I'm such a Beamer fan

---
Posted by
Dups!
Thanks, Tsepz, you know how excited I was about the Razr and the practical usage thereof was just not that exciting. Maybe I am getting old but I just couldn't tolerate the touch screen, I will still get a touch only phone as my secondary phone which I will most likely use for calls and the occasional web browsing.
I doubt RIM will use any quad-core processors on their BB10 phones, more than likely dual-cores. I actually prefer the 9900 design to the Torch's due to the sliding mechanism, I just don't trust sliders in durability. I am, however, warming up to the Torch because of the screen estate. I just may get the Torch instead but we will see.
On the race row, I agree completely with you that it is a good thing that it happened cause we are still living in a racist society and we haven't really dealt with the issue properly.
Yeah, BMW know how to create spectacular cars irrespective of size. I must say the X3 tends to confuse me quite often when coming towards me head-on, I always think it is the X5. I have fallen head over heels in love with the 6 series Grand Coupe, I have always loved the 6 series design except that I didn't like the two door idea. The Grand Coupe is a perfect car and I am looking into acquiring it around next year. Would love the M6 version though, not sure when that will be available.
[ This Message was edited by: Dups! on 2012-05-12 18:08 ]
---
Posted by
Tsepz_GP
Dups
The Torch9810 is pretty nice, my mum has it, very well built, but its not without the BB issues e.g. lots of freezing and reboots, but in terms of form, i like it, very nice in hand, i dont blame you for prefering the 9900 build though, its thin, sleek and solid, and that model itself has an amazing keyboard, one of my mates went from his now falling apart 9700 Bold to the 9900 and we both realy like that keyboard, by far the best BB keyboard since the legendary 9000 Bold.
Lol,Yep, thats very true the X3 looks like an X5 head on, i noticed the same, the one Beamer i love in terms of how it looks at the front is the baby 4x4 the X1 with the M sport package, its very striking at the front, and then the back makes me just want to

lol.
The new 6series is an absolute masterpiece, and it seems to be flying out the dealerships, ive seen quite a lot of them, the Grand Coupe is going to kill off the Porsche Panamera and Aston Martin Rapide lol, i saw a few pics of it and yep, looks gorgeous, it looks more elegant than its competitors.
You lucky so-and-so

i'll be waiting for the pics of your 6series Grand Coupe, will you be keeping the X5?
You know what car im in love with even though its not a Beamer? The new Merc CLS 63 AMG, it looks so mean from the front, not as elegant and poised as a 6series GC, but it has this presence about it, that same sort of "drug dealer's car" presence Range Rovers and the 300C Hemi have

the new SL also looks great, similar design but with a touch of elegance to it.
---
Posted by
Dups!
I guess I will have to try both the Bold and the Torch when their BB10 versions arrive to see which suits me better. I know about the freezing, my 9700 did that to me a number of times, that is another reason (other than the touch interface) that made me prefer my P1i.
I haven't yet decided whether I am keeping my X5 or not, I hate the idea of having one car. I have actually come up with 2 cars for my next purchase, ie, the Range Rover and the 6 GC.
My problem is I already have an SAV/SUV in the X5 but love the Range Rover more and would love to have it and the 6 series GC. This brings me nicely to my X5 problem, I don't feel it anymore but it is a useful car. I thought of getting the Range Rover and then selling the X5 then later get the 6 GC.
I haven't quite decided on the course of action but I love the second option better because I can finance it without many compromises.
The only Benz I love has always been the S class but the CLS does have some presence I agree. The design language of Mercedes has changed and become really, really good. I once found myself staring at the new CLK in Pretoria and telling my brother that if I didn't know much about cars I would buy that Merc without hesitation, it was just so beautiful. I also love the CL, my problem is a four door saloon with two doors.
Man, being a car junkie! I just wish I could buy the X6 M, M6 GC, Mercedes S600, Range Rover and the Porsche GT3 RS or maybe the Spyder.
---
Posted by
Tsepz_GP

its one expensive passion.
If i were to become a millionaire tomorrow i'd have a Range Rover, new M5 and Porsche GT2 Sport Classic.
I'd say Range Rovers are the most majestic machines i've ever seen, we got a ride in a RR Sport Supercharged in december and i fell in love with it.
You're in one sweet predicament there Dups, one i'd love to be in one day

you simply cant go wrong with any of those cars, in terms of whatever you pick are you not worried about which one guzzels the most petrol with the price forever going up?
These new beamers are unbelievably frugal, one of my mates took us down to Durban around two weeks ago in his new Bmw 523i, its a beaut, has the M sport bodykit and all, one tank got us from Jhb to Margate

in comparison we have usualy gone down there in a Jaguar X type v6 and once in the Camaro, both those needed refilling in Harrismith , not that they were empty but they wouldnt have made it without filling up somewhere between, the beamer's full tank was still closer to full than half when we left Harrismith. BMW seem to be on a mission to build a perfect balance between fuel economy and performance, that 6 GC will probably run rings around a Range Rover in that aspect.
New CLK as in the new E class 2-door? They look incredible, do you think got a new designer? Now that you mentioned the CLK ive realised their whole new range looks amazing, even the new SLK and the 2013 A-class is quite a stunner and looks to be after the BMW 1series now with its lower design, it looks nothing like the past A-class models.