---
Posted by
celltech
Hi, do anyone know what GPRS+ is?
---
---
Posted by
Tahir Ally
Yello 3G huh.MTN is R a minute for contract and R3 a minute for prepaid customer on VIDEO CALLS.FREE MINUTES DO NOT APPLY and you can not make VIDEO CALLS to Vodacom users.MTN video calls are the same price throught the day.MTN is offering VIDEO MAIL for FREE and will charge a monthly FEE soon.......Vodacom is still cheaper because our VIDEO CALLS are the same price as a NORMAL CALL,FREE MINUTES APPLY+PERSECOND BILLING FROM THE 1st SECOND.VIDEO MAIL is FREE......YELLO 3Ging
---
Posted by
sIssIs
Nope ... please tell us.
I can't wait until sunday( Y'ello Day)because I want to laugh at MTN pathetic ads. Ahhh... same... well maybe they will suprise us this time.
---
Posted by
brix25
With all the hatred directed at the Yello guys I'd like to see them spring a suprise. @Tahir: How come you've already got their tariffs if they're only launching on Sunday?
---
Posted by
Tahir Ally
Mr Brix visit www.moneyweb.co.za.MTN hyped EDGE so much and they have the same wireless connect card as Vodacom.Which does not support EDGE.
---
Posted by
sIssIs
DO you people think ICASA thought about the idea of give US (the people with the brains) a decision to choose from the contracts from today AND from contracts without mobile phones. The contracts without the mobile phones will have cheaper calls etc. like ICASA said. I really think they must do this!
_________________
Člen určitý budoucí blýskavý , člen určitý budoucí oranžový. Jak se máte mimochodem?
[ This Message was edited by: sIssIs on 2005-06-23 21:46 ]
---
Posted by
Tahir Ally
DO YOU WANT TO SEE GOOD PRICES IN THE TELECOMS IN SA......DO AWAY WITH A REGULATOR.
---
Posted by
brix25
Tahir sorry to say it mate but again you sound ignorant. If there wasn't a telecoms regulator the cellphone industry would not have grown to the extent that it has in SA. Who would regulate the allocation of radio frequencies? Telkom? Who would protect consumers against unscrupulous operators? Vodacom? And who would ensure that most handsets sold locally met set standards? Nokia? Seems like ur pissed off coz Icasa want networks 2 do away with long-term contracts and the related subsidies on handsets.
---
Posted by
derekvandermerwe
Hi there all fellow South Africans, joined Esato few days ago and was surprised to see a regional forum featuring my home country! I'm a photographer looking to see just how far a cell phone cam can be pushed creative-wise and got a cell phone cam page going:
http://www.icon.co.za/~why/phonecam/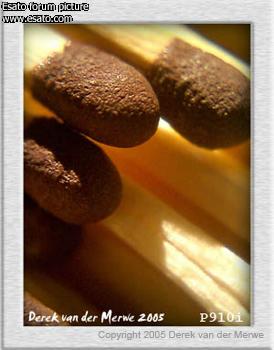 ---
Posted by
JK
@celltech
Im sure voda had commwarrior like a couple months ago...
---
Posted by
brix25
Hi Derek, welcome to Esato and the SA mobile discussion.
What phone do you use? Like the macro mode on the last pic.
You might want to check up on some earlier posts in this thread by the WirelessMonkey. For the last three weeks he's been one of a few people in SA with a K750 and the pictures are quite superb.
---
Posted by
WirelessMonkey
hello... hello... hell no!
>> Hello. Umm.. MTN doesn't have 16mil subscribers. Internationally if a company owns like MTN 51% in a company with 800 000 subscribers, then MTN only counts the 51% part of the 800 000 which is 392 000
Folks I don't like using harsh language on the internet. This is not a face to face environment and I don't wish to belittle my fellow techies. However... the above statement makes me question why I even bother sharing information with stone heads! Business rules are - if one company owns a controlling stake in another company... like say 51% share, then it can rightfully stake a claim to the property / assets of that company... like the 800 000 subscribers.
Figures aside - no one knows the exact subscriber bases of any network because churn only implies that a subscriber may or may not be there. While Vodacom has significantly less churn than Cell C and MTN, we must not forget that Voda counts an inactive connection for SEVEN months while the other two only count THREE months.
Folks... it's a numbers game so please - don't read too much into this crap. I like the Voda folks because they make me smile. I like the MTN folks because they keep me connected. I carry a SE K600i 3G on my Voda contract, and a K750i music phone on my MTN card. Life's great when you learn to love them all.
Sunrise from my office in Cape Town, overlooking the harbour - pic taken with my K750i Sony Ericsson with 2 megapix cam and five pumping music CDs!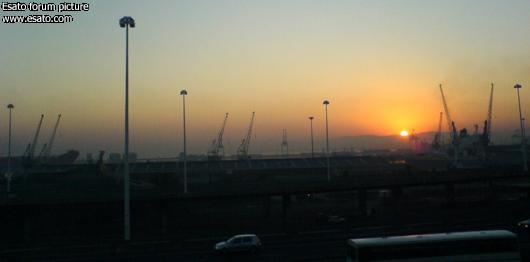 ---
Posted by
brix25
@The Monkey Man... I'm just about to leave the house for the gym...But it's going to be a beautiful day in the Mother City...25 degrees, now I like that.
---
Posted by
brix25
Got the V800 today awesome features...still can't connect with 3G but hopefully will have it sorted by this evening.
---
Posted by
sIssIs
sorry monkey man! you won. 2days till Y'ello day. Does ANYONE know how to connect a mbile phone with a computer to use it as a moden. I tried bluetooth but the stupid laptop and PC don't "see" the mobile. I know only a way to send and recieve stuff to and from the mobile... .....
Another thing I didn't say we mustn't have a Telecom Regulator, I just said they must think more options. I will love a shorter contract, but I want my free mobile. I don't care how much a call is going to be.
1) the contracts stay the same
2) shorter term contrcts -1) with free mobiles
-2) without a free mobile
3) contracts without a free mobile
_________________
Člen určitý budoucí blýskavý , člen určitý budoucí oranžový. Jak se máte mimochodem?
[ This Message was edited by: sIssIs on 2005-06-24 18:51 ]
---
Posted by
sIssIs
Japan tests 1Gbps download on a 4G network
Japan's DoCoMo says that it has achieved 1Gbps real-time packet transmission in the downlink at the moving speed of about 20km/h in a field experiment on fourth-generation (4G) radio access. The experiment took place in Yokosuka, Kanagawa Prefecture last month.
How fast is wimax you say?
---
Posted by
Tahir Ally
Wimax is like dead slow compare to 4G............Mr Brix i dont care if you have to pay for a phone on a contract.I might sell fewer contracts but the PROFITS will be higher.I dont think it will happed.11 years ago you had to pay for a phone.The network gave the dealer about R1200per line.Dealer makes huge profits on the phone and the network still pays the dealer percentage on usage.NOWDAYS we give you free phones.The dealer makes no money upfront but only gets a percentage on customer bill.IF you pay for a phone now the dealer can make up to R3000 per line UPFRONT + monthly commission.NOT forgetting we make huge profits on prepaid sim cards.GET THE PICTURE NOW MR BRIX.Icasa makes customer pay for phones.Cellular shops will make a killing.I DONT THINK THIS WILL HAPPEN
---
Posted by
mario2002
And when will it be introduced?
---
Posted by
sIssIs
I dunno.... after HSPDA. 1Gbps wow!...okay.. tomorrow Y'ello day! Brix why are you so still these days?
---
Posted by
brix25
@slss: I'm quiet of late because I've been very busy at work. But I'm also fascinated by the growth of our discussion thread...six months ago there were just four of us posting here. BTW I'll hopefully get GPRS/3G working today on my borrowed V800.
---
Posted by
mario2002
3G has just been introduced.Only a handfull of people uses it compared to the 'old' technology.There is talk about 3.5G ,but no cellphones support it or are planed to for at least a year to come.Now 4G is completely different once again. Not only the standard is not finalized but also the time frame is to far out even countries like Japan.Wimax is around the corner buddy.
---
Posted by
brix25
Got the V800 working pity there's no 3G reception in my neighbourhood.
---
Posted by
Kryptik
Hiya peepz... New to Esato, altho i've been on wap forever it seems... Nice to see this thread doing so well. Oh, i'm from Port Elizabeth, by the way... So, what's happening, mense?
---
Posted by
mario2002
Hey buddy,I see you have a nokia.Is it a S 60 ? I am from Jeffreys bay.
---
Posted by
brix25
@Kryptic: Welcome to the thread. Hopefully we'll be seeing more of you're posts.
---
Posted by
Kryptik
Indeed you shall, Brix... And yep, i use a 6600 and 3510i. Only reason why i cling to the 35 is because it has big keys! (and the free wap...!) Howz J-Bay? It's brilliant rugby weather here, the Boks are leading, so all's well in the world.
---
---
Posted by
brix25
I don't quite follow;-) 3510 has got free wap? Or have you just tinkered with the settings to fool the network?
---
Posted by
Kryptik
Ummm, *innocent grin* yep, tinkered with the settings... And its a lot more comfortable too, with the bigger keys more suited to my big hands
---
Posted by
mario2002
@Kriptik Go here and download AgileMessenger for your 6600. Is free and it will allow you to connect to all the major IM programs (msn,icq etc) http://www.agilemobile.com If you want to add me use for: YAHOO- 'marios_cell' AIM-'marios cell' MSN-'marios_cell@hotmail.com' ICQ-'164112069' JABBER-'gomario'
---
Posted by
Kryptik
Thanx boet, will do so asap... Hey, the Boks won, we've got a lady Deputy-Prez... So maybe things are going our way finally... Hmmm, wonder if we'll live to see the rand being on equal footing wth the pound and dollar...
---
Posted by
zani_003
Yello broadband!

---
Posted by
brix25
Still haven't checked my Sunday papers.
---
Posted by
gilani
During these july holidays I MIGHT be getting my own k750 or a 6680 (if the 6680 is available) from oversees
Ive already used a 6680 two months ago , from my friend who got it from dubai, but he never had any 3g settings or anything so i just played around with it.
---
Posted by
sIssIs
Y'ello 3G, Take the world with you.
Looks good...Lets just wait. The deals looks good. Well just look how much you have to pay (In small print) at the SE Z800 mobile.

---
Posted by
brix25
I'm currently playing around with the V800 and one thing I've noticed is apart from the annoying modifictions in the main menu all roads seems to lead to the Vodafone Live portal. Want to buy this game? 2morro will try to watch some streaming video feeds.
---
Posted by
brix25
Yeah...R600 upfront for the Z800. One thing I like though is the fact that these new handsets aren't branded, probably just wallpapers and stuff in the phone but nothing to the extent of what Vodafone has gone out and done.
---
Posted by
Kryptik
Look at it this way- at least the uninitiated will now realize their mobiles are more than just mere telephones... although why anyone would want to pay such ridiculous amounts for games and tones is beyond me.
---
Posted by
JK
i think its better and more reliable than exactmobile!!!
besides thats their problem!!!!
brix you can use mp3 as ringtones if they saved on the mem card!!!
---
Posted by
brix25
@786KBR: Realised that with the mp3's...some items though does have a key next to them. The activity button is quite annoying as I've mistakenly pressed it on several occasions while trying to post on Esato. Now I'm a bit more mindful when writing to avoid the button . I'm expecting Tahir to come on here and be negative about MTN's 3G offers.
---
Posted by
JK
iv heard nothing bout it yet....
i saw a mtn ad with the new samsung 3g phone... i think tahir mentioned it to be mtn exclusive... its quite nice looking... z130 or sumtin.. with a rotating screen for wide view.. impresive..
hope se could make sumtin like that...
---
Posted by
Kryptik
Well, mtn may merely be trying to improve their market stake, but ultimately it means progress in the proper direction w.r.t improvement in technology and services available to S.Africans
---
Posted by
sIssIs
I don't know what's annoying about the V800 menu system, it's actually easier that Nokia. And I know that tennis game you ahve to buy, which you get free on the K700i. And yes... Vodefone Live! isn't just any portal... it's much better than Exatmobile and MTNLoaded combined... and tell me what will you rather take?
Free internet forever with a Vodafone or Pay for your internet and have a mobile without a few(-10) pictures of Vodafone?
Again every vodafone's menu system is basically the same.
... there is a reason to go and paint the city RED

---
Posted by
brix25
786KBR: The upcoming S600i will have the widescreen feature for games and videos. One thing missing from the V800 is the slideshow feature for viewing pictures. About Vodafone Live it does look better than the MTNloaded portal...someone mentioned that browsing is free, It's actually not coz you have to pay a subscription to access services like news and weather...with limited premium content included in the bundle.
---
Posted by
sIssIs
Ep... but... if you want to go to a site outside Vodafone Live! its also free. Umm... there is a slideshow feature. Just look around.
---
Posted by
brix25
I say It's not free coz you still have to pay for a bundle...the Value Pack goes for R29 and gives you access to the portal for 30 days. No there ain't a slideshow feature.
---
Posted by
sIssIs
Well 1stly... then you don't know how Vodafone Live! is charged. THE Value pack is for ringtones, etc. news, etc. BUT IF YOU PRESS THE VLIVE! button on your V800(Or any Vodafone) you get connected via 3G/GPRS/EDGE for free. THE CONNECTION is free which means EVERYTHING- the portal, the web, anythign you can access with the internet is free of charge.
Point form:
-> Connection is free
-> Portal is free
-> Anything outside Vodafone Live! is free
-> You only buy what you want( THIS IS THE ONLY/SINGLE THING THAT GETS CHARGED) ( And will always be warned a minimium of 2 times!)
Just check ... use a Prepay number... connect to VLive! using the Vodafone Live! settings... NIL/Ziltch RAND charged
>Then connect to the internet via the Normal GPRS settings... and see ... wow, your charged.
Hope you understand and get it right.
---
Posted by
brix25
Vodacom doesn't offer EDGE. I sense some aggression in your response...take a chill pill mate, I'm easy like Sunday morning.
---
Posted by
sIssIs
I am calm... you just tryed to fight back. Well don't blame me... there is limited and even if EDGE was available you couldn't use it. V800 doesn't support... have you seen MOST of MTN's 3G mobiles doesn't support EDGE... so tell me what's the use?
Sorry brix
---
Posted by
Kryptik
Cool!!! So you're saying that i can access any site, go and download as much as i like, and only pay R29 per month? So would i be able to use my existing payg voda sim together with a vodalive voucher?
---
Posted by
brix25
@Kryptic: The catch is that you'll have to buy a branded handset...which kinda sucks as many of them will have DRM which means you can't download content without a digital key. The feature is not common in most of the current phones but expect it to be included in most new phones by the end of the year.
BTW, saw that the 6230i and the black RZR have arrived on local shores.