---
Posted by
laffen
The Japanese network operator KDDI has modified their Android handsets by showing advertisement on the Android notification bar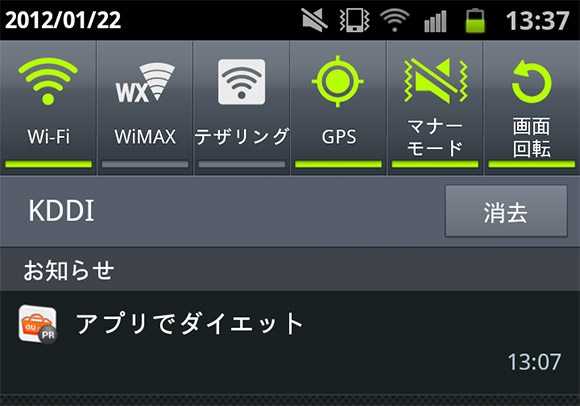 Esato News
---
---
Posted by
NightBlade
---
Posted by
ofiaich
Hi!
A pu ri de da i e tto!
アプリでダイエット! 
An application for
diets!
Probably hundreds of them to look at so if you don't eat whilst searching, then you can loose weight

Ofiaich

[ This Message was edited by: ofiaich on 2012-01-24 19:39 ]
---
Posted by
Bonovox
I would find that really annoying
---
Posted by
etaab
Im not sure how the notification area is programmed, but surely Google didnt put the possibility of advertisements to be pushed to the phone ? that must be a network operator addition ?
---
Posted by
Tsepz_GP
Etaab
Google put it there, but its up to you if you want them, you can turn the ads off via Android Market settings.
EDIT: The ones Google put in are app adds, my bad.
[ This Message was edited by: Tsepz_GP on 2012-01-25 23:32 ]