---
Posted by
laffen
Nokia has announced the Nokia Lumia 900 Windows Phone powered LTE smartphone for the US market
Esato News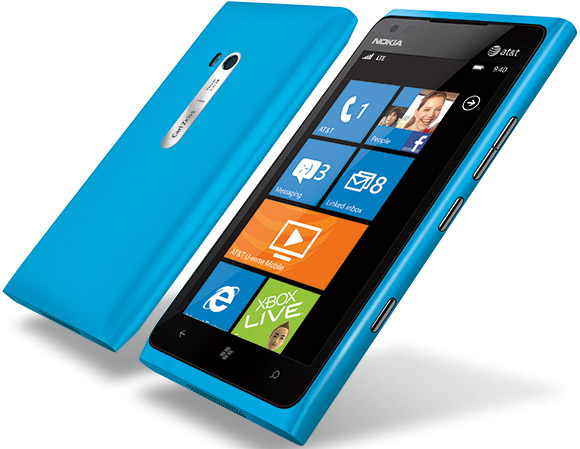 Nokia today announced the Nokia Lumia 900 for AT&T which basically is an enlarged Nokia Lumia 800. Both models are running Windows Phone 7.5 Mango on a 1.4 GHz processor. But the Lumia 900 has are running on an updated Snapdragon chipset. The Lumia display is larger though, with its 4.3 inch size. As Windows Phone 7.5 Mango currently only support the screen resolution of 480 x 800 pixels, it an easy choice for Nokia to increase the size of the display on the Lumia 900. A low display resolution keeps the production cost low. If the two devices has the same display features, the Lumia 900 display might even be cheaper to produce.
The Lumia 900 strength is the support for LTE networks. It is one of the first model running Windows Phone OS and which also has LTE support. This means the Lumia 900 in theory can download content at 50 Mbps using the LTE network. The max HSPDA speed is 21 Mbps. The Lumia 900 is exclusively sold via AT&T in the US.
Nokia Lumia 900 is has a single core 1.4 GHz Qualcomm Snapdragon APQ8055 + MDM9200 processor which should be powerful enough for running Windows Phone.
As with the Lumia 800 and Nokia N9, the Lumia 900 back cover is carved out in one piece of polycarbonate. Polycarbonate is a type of plastic with good electrical insulator. It is heat resistant and flame retardant. Battery capacity will increase compared to phone models with metal covers because the polycarbonate have very low shielding to network signals.
Nokia Lumia 900 highlights
Weight: 160 gram
Size: 127.8 x 68.5 x 11.5 mm
Networks: GSM/EDGE 850/900/1800/1900, WCDMA 850/1900/2100, LTE Band 4 1700/2100, Band 17 700
Wi-Fi b/g/n
4.3 inch AMOLED touch display, ClearBlack glass, Corning Gorilla Glass
8 megapixel camera, f/2.2, 28 mm focal length, Carl Zeiss optics, geo tagging, autofocus
1 megapixel front camera, f/2.4
720p video capture
OS: Windows Phone 7.5 Mango
512 MB RAM, 16 GB storage, 14.5 GB available to user
a-GPS
USB 2.0
Bluetooth 2.1
3.5 mm headset connector
1840 mAh battery
Standby time: 300 hours
Talk time: 7 hours
Browser: IE9 HTML5
---
---
Posted by
Tsepz_GP
Oh dear Nokia, what ever happened to being innovative? I thought Lumia900 was the one meant to blow us away, but its hardly an upgrade from the already average even by 2010 standards Lumia800.

---
Posted by
Bonovox
Nah i love these Lumia phones i care not for the top specs i don't need dual core and neither does WP as its buttery smooth anyway
[ This Message was edited by: Bonovox on 2012-01-10 17:14 ]
---
Posted by
Miss UK
Looks nice it's good Nokia came to there sense
And adopted Windows cos there Symbian
Has seen better days, if Nokia adopted android
I exspect it would boost up there success again
I can't see why they won't do this lol
Also What annoys me is is that US has
LTE and were still in the dark ages
Why is it we would get this faster speed
Till next yr is disgusting the US prob
Have 5G by next yr and were still on
3G lol
---
Posted by
rikken
Yaaaaaaawn. . . . . .
---
Posted by
Bonovox
Symbian is now seeing better days. It now has Symbian Belle which is a million times improved & more like Android now. It ain't dead yet
---
Posted by
Miss UK
Not seen that update
Symbian on the X6 or N95s
Were good for the time tho
---
Posted by
Bonovox
That's cos you don't have any of the later ones. Symbian Belle is a big improvement & even the last update Symbian Anna at last has a qwerty keyboard

Anyway we are off topic I guess
---
Posted by
Tsepz_GP
No phone OS (iOS, Android, WP, Meego etc...) tha NEEDS dual-core.
I wasnt talking about dual-core in my prev post, but i feel Nokia should have done more with the Lumia900, after all its Nokias flagship WP, this is the blockbuster that is superior to 800 and is meant to compete with the likes of iPhone4S 64gb, Samsung Galaxy SII, Google Galaxy Nexus, Xperia S, HTC TITAN II, HTC Sensation XE, Motorola RAZR etc...yet the 900 hardly seems to be a threat to any of the above, and it realy doesnt offer much over the Lumia800, actualy it only brings a larger display (with the same res) and thats all, this was Nokia's chance to make a killer WP handset, they could've ATLEAST given the Camera a bump with a larger sensor and 12mp with Xenon flash and they would've had a nice finisher for their 2012 line-up of WPs, am i asking for too much?
This is a company thats in quite a bad situation, its brand is diminishing on a daily basis even in emerging markets where it once ruled, they need a killer product A.S.A.P , and this is not it, IMO.