---
Posted by
toby23
What I want from a phone
Everyone has different requirements of a phone, mine are:
1. Great camera and flash with autofocus and macro
2. Great call quality and loudspeaker for hands free
3. One handed Texting and Calendar entry
4. Customisable and responsive User Interface - Themes, Softkey layout etc
5. Simple but reliable Calendar for Appointments and Reminders (I only use month view)
6. Expandable Memory
7. Bluetooth (for file transfer)
I prefer Candy Bar's but the C905 is the first slider that I have owned that is small enough and well balanced enough to have made me change my mind. It fits in my trouser pocket but is more comfortable in my jacket pocket, when I am out of the house.
Can a monkey use it?
I have relatively large hands and can reach all the buttons easily. I was worried, after testing various models with larger screens and buttons placed near the bottom of the phone, that the C905 would easily slip out of my hands or that I would experience cramp in my thumb trying to reach the C button but the C905 has been well designed and I do not have this problem. The rubber touch battery cover ensures that the phone stays in my hand or where I put it.
The keyboard is very easy to use, it will take a bit of getting used to if you are used to buttons but it works very well and is easy to use with one hand. On Touchscreens, I really miss a physical button and no, haptic response doesn't make a difference to me, neither does the Bold's pressable screen, my thumb needs buttons.
Size does matter
After comparing the K800i, K810i, T68i and the C905 side by side, I can assure you that they are all very similar in size, with the T68i being the smallest.
The C905 feels similar to the K800i in your hand and has a pleasant slider action. My phone must be one of the newer models because I have not experienced any of the problems mentioned by people who bought this phone last year. Everything works fine and feels solid and like a quality product should.
Applications and Games
The phone came with the most amount of software pre-installed that I have ever seen on a Sony Phone.
The following applications, some of which take advantage of the GPS feature.
1. AccuWeather
2. Photo Mate
3. Slideshow Wall
4. Walk Mate
5. Wayfinder 7
6. World Clock 3D
7. You Tube
The following games were also pre-installed, Need For Speed utilises the built in accelerometer but this is just a novelty for me. Games like Marble Madness or Labyrinth are much better suited for use with the accelerometer in my opinion.
1. Kasparov Chess
2. Need for Speed
3. Tennis Multiplayer
I don't play games on my phone, I have a PSP for mobile gaming and a PS3 for gaming at home.
System Software
Sony obviously know their customers, in spite of what you might read online.
I fall into the 'needs a great camera and wants to make calls target group'. I do not need the latest and greatest operating system on my phone, even though the geeky part of me still thinks I do

This phone has a very similar UI to the K800i and T68i. There are some small updates, for example the bluetooth icon will change to a computer icon when you're transferring files, and the icons have received a small update too.
There are two new menu layout options, single icon and rotating, which feature a single icon at a time on screen.
Personally, this is much too slow for me so I'll stick with the Grid view.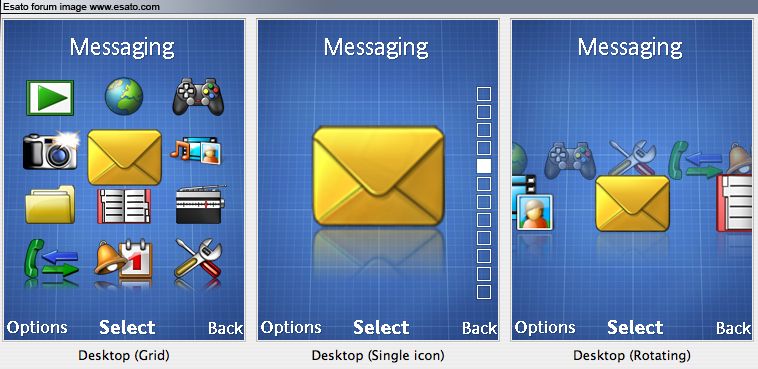 The phone feels slightly slower to respond than the T68i but only slightly. It's a very quick and easy to use interface and you can easily switch between windows and applications without having the feeling that the phone is lagging behind.
The lack of a back button confused me at first but after discovering that one press of the On/Off button takes you back to the main window from any menu, I was happy.
The Wi-Fi worked without a hitch when I tested it, connecting to my network without a problem. Expect to recharge your battery daily if you are a heavy wi-fi user. This is a phone and not a computer

The GPS also works ok, it's not that accurate. I have a Garmin Nuvi 250 and that does everything that I want from a Navigation Unit, so I doubt I'll be using the GPS feature much. You can also geo-tag your photos to remind you where you were when you took them but I honestly don't need that. Useful perhaps if you constantly forget where you are.
Thankfully, Sony have removed the dedicated Internet button next to the Accept Call button on this phone. Finally, I don't have to worry about accidentally pressing this button and going online without realising it.
The Camera software has also received an update, with Smile Shutter and Face Recognition now standard.
The picture quality is very good and perfectly acceptable for most people. I was happy with the K800i, and this is much better. The sliding lens cover is a great idea and works very well. It has not opened once on its own, unlike my K800i.
Normally, pressing the power button lets you access profiles and keylock. It doesn't on this phone. That's not a big problem for me, the #Key still switches Silent mode on and off. You can activate an automatic key lock as well as sliding the phone open/ closed to activate the keylock, so no problems there. It just takes a bit of getting used to if you're used to a key combination.
Conclusion
For more detailed reviews, check online.
This is just my opinion, your mileage may vary.
Overall Score 7/10
The C905 is the best phone I have had. It does what I want a phone to do and it does it very well.
I am also looking forward to seeing the Palm Pre, the new iphone and the idou.
[ This Message was edited by: toby23 on 2009-04-29 15:23 ]
---
---
Posted by
gtr83
Glad to know you're experiencing the same things that I have!

---
Posted by
goldenface
Hey, great review, thanks.
The Camera UI is one of the phone's best features and very much underated. The flash themes are also fantastic.
I also get an excellent range with the Wi Fi - it connects to my router easily which is about 10 metres away and in another a room upstairs.
One thing I wish they would implement in the future is the ability to access my laptop's files from the phone, because at the moment the phone only acts as a server. This is still good though because I can still show the C905's photos on my photoframe.
---
Posted by
gtr83
Maybe we should wait until they implement a Symbian OS on their non touch handsets.
---
Posted by
goldenface
I think I'd rather see A2 developed further - its come a long way already and it suits my needs perfectly.
---
Posted by
gtr83
Maybe something like A250? Some skinning support for the Media player interface without having to change themes?
---
Posted by
goldenface
That would be great. Some better transitions / animations too. They're already there in some respects.
---
Posted by
arnold123
better than c901?