---
Posted by
Xajel
Well, we have a lot of talents here on esato, some are concepts designers some just think but don't know how to design or draw, but the most important thing, we have Imagination & Creativity...
I thought it's better to have some thing like a centric thread for all our ideas that related to phones and mobile, the ideas maybe simple maybe complicated, but for sure it will be creative and great...
I have several Ideas I want to share, and I thought it's better to see notes and ideas that may complete every vision of the idea it self...
---
---
Posted by
Xajel
First Idea : The Touch Hybrid pad.
hybrid d-pad that uses both regular d-pad and a small touch bad.
this idea I already used in my third concept ( K910i Slider ), the idea is simple, after using the regular joystick and circular d-pad and that square d-pad like in K850i I felt that joystick are faster to handle, you don't need to move your finger around to have another direction.
the problem with joystick is dust, wich shorten it's life very much, this is where the circular dpad is good, it's not as fast as joystick as you need to move your finger, but it has much better lifetime
the sequar d-pad was nice idea but in case of usability and handling it fast, it's the bad brother here, in circular d-pad you can move your finger but no need to remove it complety to go to another direction, but in K850i like d-pad you have to remove your finger then put it again...
in Touch Hybrid pad, you may use the regular pad ( botton based ) but you can use the touch pad too if you wish, the touch-pad also serve as better option for handling sliding ( like zoom-in zoom-out in camera ) or handling non uniform direction ( like up+right )...
it's not revolution idea but I think it's a good idea, the flatness of the surface of the pad make it easy to move around the pad without moving up your finger...
---
Posted by
NightBlade
Hehe, great thread.
Well, I thought of this next idea about 2 months ago. Dunno whether it's already been implemented.
Wouldn't it be cool if you could stream the music playing on your phone to another phone via bluetooth? That way you could:
- Combine 2, 3 or even more phones to make one big "metaspeaker".
- Share your music library with friends that are around without the need of sending it to them.
- Other possible applications.
---
Posted by
razec
Cool thread Xajel, this would be a great help for the concept designers

---
Posted by
Xajel
Thanks NighBlade/razec

Second Idea : Voice tagged/recognition Walkman/Cyber-Shot/System
the idea is very simple, it will use voice tags or recognition technology to command/control the Walkman player, you may add your own commands and tags or use predefined commands.
without the need to get the phone out of your pocket, the voice commands can be activated using several methods like special walkman key on the headphone, or even the same answer key, but rather than saying the name of contact you will activate the walkman player for example by saying ( Walkman ), then you may say the command you want ( Next track ) or ( Volume Up ) or ( Album
album_voice_command
) or ( Track
track_voice_command
)...
the same voice tagged control may apply to several applications/usage on the phone and
NOT limited to the Walkman player
, for example you may put your phone on a surface and go with your friends and all say ( cheese ) wich translated into taking a picture command...
in the gallery you may go to the next picture,previews,stop, resume, zoom in, zoom out using the same way, just command the phone and it will response, this will be help full if you connected your phone to a TV to show your friends/family the pictures you have...
_________________
http://www.se4m.com
: the Arabian Sony Ericsson community
[ This Message was edited by: Xajel on 2008-03-30 12:59 ]
[ This Message was edited by: Xajel on 2008-03-30 12:59 ]
---
Posted by
NightBlade
Yeah, but it would we kind of awkward constantly saying "Next", "Next", "Pause", "Volume down" etc. in a place where there are lots of people (like a bus). Honestly, I prefer using the controls on my headphones.

(HBH-DS980, to be more precise)
---
Posted by
razec
Xajel, it will be nice if you list all your ideas into your first post just like what WhiteEye did in his 2008 Concept thread. that makes your ideas easier to find and make your thread more organized

---
Posted by
Xajel
@Night blade, well it's not intended to be used all time

@razec, okay, I'll try this later, I posted each idea in seperated post as I needed to write it and arrange my thoughts about it

btw, I think I'll make the first post ( the thread it self ) as a guide to all ideas from all users here, just like the concepts thread

---
Posted by
Angello
my patent has been used in the C902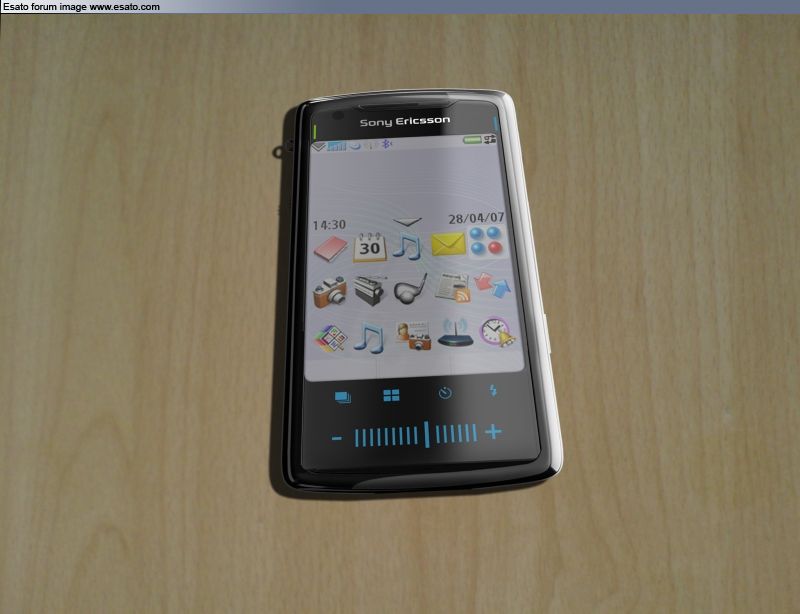 the touch-camera-keys
---
Posted by
badassmam
Detatchable keypad variations for the P series i.e. full qwerty keypad, rocker, media keys etc. You buy a P900 type full touchscreen phone and then select a type of flip. For business you put the qwerty on and for games you could switch it for a gamepad type thing. Would be good for a PSP or media phone.
---
Posted by
Xajel
I had another thought,
Virtualization, or Hybrid OS...
something similar in the it works with Xperia stacks
stack for Cyber-Shot, another for Walkman, another for Internet browser and so on..
but here every stack is an OS by it self or a special kind of a shell that run on very fast and stable OS, eg OSE
the idea is simple in explaining but hard in doing it
imagine a phone with both Symbian UIQ and OSE A200 operating system, they both running in the same time, you can switch between them on the fly as they are running but holded on a special standby status
in the normal time, the OSE A200 OS will handle the phone managing all it's stuff like contacts, calender, file managing, alarms, camera interface, walkman player, etc...
but when you need more power, functions, like more powerfull applications liek the one found on UIQ platform then the UIQ stack will jump to the screen
both OS's ( UIQ & OSE ) will share the same user resources & settings, like contacts, alarms, settings, calender and so on, both OS's must use a standard way of changing and managing these resources, so if you change a contact in OSE, it will be changed too UIQ as both will use the exactly same database with the same data structure, the same goes for toher resources like calender events and alarms and so on
if the user fires up the camera software, then it will come very fast, as it's already loaded and uses the OSE API's as they are faster, and in background it will load the advanced UIQ API's that cannot be made in OSE, so every thing will be much faster, Symbian UIQ will always be on hold in some kind of a standby status, it's loaded already but not active as OSE is handling every thing, but if the user want it he can bring it back
there's some thing must taken into account for this device
- it's not midrange or low end, it's high end and ultra high end too.
- it's hardware will be more that regular UIQ phone, more RAM and NAND must be added to handle the already loaded Stacks... NAND will be used to store the suspended OS/stack as it will use lower power but it must be fast to quickly transfeer the required data into the RAM when required
- both Symbian UIQ and OSE must be coded to use the exact same data structre for user prefrences and settings, and data can be shared between them too for example copy & paste...
- the hardware must support virtualization so it can handle two or more OS's on the same time and quickly switch between them with a simple command..
- some Stacks will use the faster OS to run, and it may be a standalone OS too if it was faster and better, for example the Cyber-Shot Stack it maybe a part of OSE, or a standalone OS depending on wich is better and faster, if you were in UIQ and decided to take a picture then the Cyber-Shot stack will be active, after the shot and you want to return, the phone will return you to UIQ as you was using it and then it may do what every it do after taking the picture ( nothing, load the Photoedit software, start the messaging system, etc... )