---
Posted by
jarge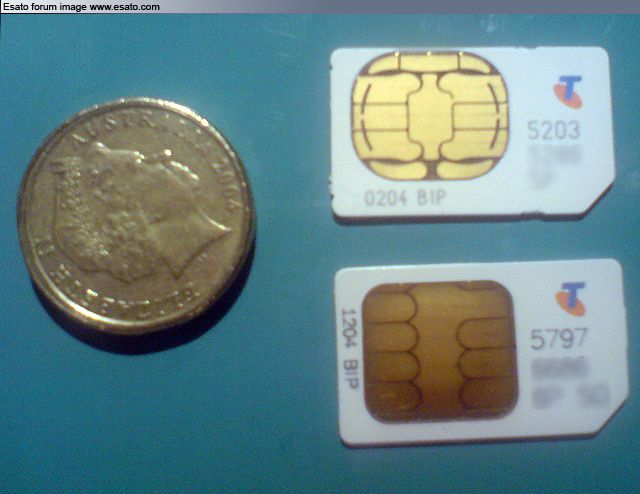 [MY STORY]
Above is a photo of 2 doifferent kinds of Telstra Next G Sim Cards
(They are both Grey with Next G logo's on the back)
The top sim card has more rounded edges than the lower. (5203 ######)
My friend ported over to Telstra Next G and was issued with the more square shaped sim. (5797######) When this sim card was in his Sony Ericsson handset, the phone was near unusable. When making an outgoing call it would have a noticable delay of up to 20 seconds. Sometimes it would not recieve incoming calls when the phone was definately on. There was all kinds of dodgy network activity occuring.
It was definately not the phone, as any other sim card worked in the phone. (and sony ericsson's rarely fault)
After dealing with many telstra agents and support, they all said to swap the sim card. After 6 sim card swaps, somebody suggested a different shaped sim card that had rounded edges. (top sim in the photo). With this sim card in the phone, there are no problems what so ever.
I have now come accross the exact same problem again. When my girlfriend ported over from vodafone to Telstra Next G, she was given the square cornered Next G sim. Her phone was also near unusable. When making an outgoing call it would delay ridiculously. She was sometimes unable to recieve calls.
When i put the square shaped sim in my phone (which has been working flawlessly with a rounded Next G sim for months), the same problems occurred.
There are a few concerns here.
1) Trying to track the rounded sim is near impossible, because Telstra staff will know there are 2 different types of Next G Sims. Trying to explain it to them is just frustrating.
2) The didn't just play up when using network functions such as calling etc, but were playing up just using the menu and general phone features.
3) I am assuming that the rounded edges are an older version of the Next G Sims, but what are the differnces between the two shaped sim cards?
4) All 3 Sony Ericsson Phones that played up were unbranded generic Sony Ericsson software handsets. The handsets are models that are approved on the Next G network. K850i for example. One was a W910i that is yet to be approved but there is no reason why it wont be. Is there something in the Telstra branded sontware on the Sony Ericsson phones that has something to do with the square sim cards?
---
Posted by
StevenC
Oh I noticed a difference between the 2 sim cards. Observe them carefully and you'll see that the round shaped sim's pin (contact) are higher than the square shape sim. So probably the sim has not been cut out correctly and the contacts do not touch the phone's pins correctly.
I hope I shone a light on this issue.
[ This Message was edited by: StevenC on 2008-08-24 22:57 ]
---
Posted by
srsunlock
bad contacts can indeed be the reason of the problem there are a couple other reason. I don't know telstra very well (currently I'm also living in Oz and I tried telstra prepaid for 4 days but their service sucked so hard I switched from Voda -> bad reception to Optus)
These other reasons might be:
- 64k and 128k simcards. Some phones have problems with 128k and some newer phones have trouble with 64k cards
- Voltage. This only applies to older simcards but you never know maybe Telstra is sometimes just still using old simcard which work on 5v and not on the newer 3.6volt. Specially newer phones have lot of trouble with the 5v ones.
B.r.