---
Posted by
mince-inside
Yup, if I'm really bored on the train I start by sending stolen phone etc THEN try to pair (aka bond)- I have Transport Police as my visable name

---
---
Posted by
Eulogy
Quote:
---

On 2004-07-15 17:51:40, etaab wrote:
Well the 7610 is the first Nokia phone that does alert the user with a sound (except for the 6310).

I know the 3650, 6600, N-gage certainly dont - ive tried them out myself !


---
Well. You know what phone i had before i bought 7610? I had 6600. And that one also gives a beep/tone when something is received through BT.

---
Posted by
etaab
Must be a Norway only thing then, as Nokia's are commonly known by most people who bluejack not to make any noise when someone sends them a contact.
I know you're the first ive met who says their Nokia's beep when they get a message request on their screen.
When i say pairing, yes i mean when you add another device to your trusted list.
---
Posted by
etaab
Ah hang on i think you've misunderstood it.
When you send something to a Nokia, the message '(bluetooth name) wishes to send you a message' (or something like that, i forget)
Only
when you press
YES
the phone does beep. It doesnt actually beep when you're waiting for the owner of the phone to say yes, it doesnt alert the owner at all.
---
Posted by
Eulogy
Hmm. Ok, maybe i misunderstood, but its not my fault that you peeps arent good at explaining

---
Posted by
Blexcroid
@ KiMcHeEbOi:
Model train conventions provide the greatest amount of geeks in one space (outside of a Microsoft convention)

It also didn't hurt that it was in Seattle, one of the geek hotspots. There was an interesting discussion at one of the forums regarding developing a BT interface to control trains via existing digital command control systems. Hmm-m-m-m . . . running a train from a tele. . . Better yet, Bluejack a train!! woo-hoo!
@ mince-inside:
Nice vic-pic m8! Looks like it should be in the dictionary under 'Clueless'


_________________

Got Esato?

[ This Message was edited by: Blexcroid on 2004-07-16 10:31 ]
---
Posted by
kimcheeboi

i know a girl from seattle...
---
Posted by
ricardoln2
I bjacked some guy today for the first time! I was at Fnac pretending to play n-ga(rba)ge and i did a search. Found a 6310 (no i at the end) and sent him a contact saying: Installing virus.. Heard a "ti ti..... ti ti", looked around but I didnt get to see his reaction.

Tried to send: virus installed but he prolly turned his phone off

cus i didn't find.
I'd wish i had seen his face. Well, there's always next time.
---
Posted by
Sammy_boy
Got a T610 in a restarant whilst out with a meal with my girfriend! Couldn't think of anything original, so sent 'Bon Appetit'. I didn't see the owner's reaction - it was either in a bag or pocket, or downstairs somewhere.
I actually had a dream about bluejacking someone!

I for some reason dreamt I'd bluejacked a Nokia 6600 in a restarant and saw the owner being very perplexed.....
I did a quick search in this restarant earlier in the evening during this meal, and found..... a 6600!!! Sadly, I didn't try bluejacking it, as my girlfriend was (understandably) getting annoyed with me playing with my phone, and was threatening to kick me somewhere sensitive, so I put my phone down rather quick

---
Posted by
Blexcroid
@ Sammy_boy:
Better to attend to the girlfriend that get kicked in the 'Family Jewels'!!


---
Posted by
deliciosomarron
I jacked me a Z600 yesterday in a chinese restaurant and the guy didn't know what was going on. You had to see his face when I sent hem "Bon apetit!" after a few messages and my friend and myself had to try real hard not to laugh because we were just a few tables further.
I actually wanted to jack the girl who had a 6230 in her hand at the table next to the guy with the Z600, but I guess she was smart enough to have Bluetooth turned off on her phone.
---
Posted by
themarques
Forgot to switch my BT off whilst on the train home, a couple of stops later and a guy jumped on holding is Nokia 7600.... A couple of minutes later he bluekacked me... so I excepted his message, He sent some stupid movie poster of Donnie Darko or something like that. Anyway I sent it right back to him and I guess he was seated right behind me because I just heard him and his girl mumble with discontent.
So the journey went on and we kept bluejacking each other..finally..I got bored and thought right let see what you little Nokia can do for storage space...hehehehe. So I decided to send him a LARGEEEE 3gp video...in large I mean 20Megs hahha. The fool excepted it and then after like 10 Mins I heard him shout ..arghhh how long is this going to take.....I guess it must have filled his available memory because it crashed later. And the next thing I heard was THANKS ALOT....
So children the lesson for today is DONT FCUK with a Z1010 or P900 or P800 we have lots of storage space......
---
Posted by
ricardoln2
@themarques

nice one!
Sony ericsson 1 - 0 N*kia
_________________
So greece won the euro 2004 cup. But can they QUALIFY for next time?
[ This Message was edited by: ricardoln2 on 2004-07-18 11:46 ]
---
Posted by
ricardoln2
Got my second victim but this time i actually saw him!

i was at a gastronomic fair looking for a table to sit down and eat. i searched and found some weird name i can't remember. i sent the usual "installing virus...." and looked around (couldn't here a thing over there). I found a guy with a t610 in hand, talking to what i think was his wife, completely puzzled wondering where that message came from. They stood there for like 1 minute just staring at the phone!

So i got my table, sat down and took a pic with my mobile of them.
But i cant post it here cuz i dont have a cable to connect to the pc.
Maybe later i'll get 1 and post it.
---
Posted by
Abby
I use the IR port to move pictures from PC/phone and vice versa.
Hope this helps.
Abby
---
Posted by
Lembo
@themarques
Cool!!!!
---
Posted by
bacanito
I finally got one!!!! lol
I was having drinks on friday after work, the bar was quite crowded, and there was a table of 4, sitting with the owner that kind of annoyed me...they were all smoking cigars and the thick smoke, although I smoke myself, was kind of bothering me...
So I grab my P800 and start searching for BT devices, when I find a T610...I dont think he knew what BT could do because he never looked around to see where this was coming from.
I named my phone "Police C.U.M." (abbreviation for the Montreal Police) and sent him a contact called "please exit quietly, an officer awaits outside"...I looked around but saw no one with a t610...only saw a Siemens and some other lower end phones...
A bit later, while that cigar smoking table was enjoying their supper, I spotted the t610...it was the same guy with the Siemens...so I sent another one that said "Good food, huh?" At that point, I noticed he was a bit puzzled by the situaion, but nothing more...
So finally i sent another one that said "You should throw out your siemens" and this time he barely looked @ his phone...but all the contacts were received...
This guy's reaction was not what I expected, I guess I'll have to pick a scarier phone name like "installing virus" or something

---
Posted by
Melik
i saw a Man with his black t630 today and sent him this picture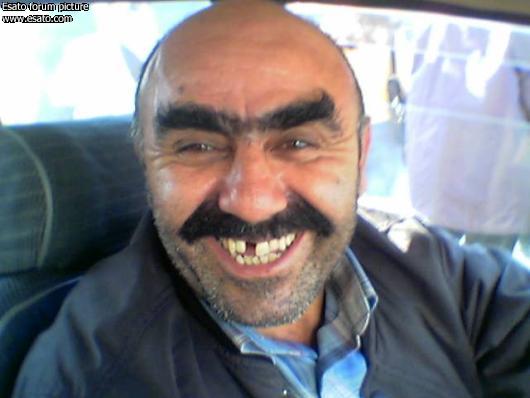 [ This Message was edited by: melik on 2004-07-20 17:20 ]
---
Posted by
bacanito










_________________
"The United States is a nation of laws: badly written and randomly enforced"- Frank Zappa
Bacanito's Canadian Forum
http://members.migente.com/bacanito/
[ This Message was edited by: bacanito on 2004-07-20 18:55 ]
---
Posted by
etaab
And i thought sending the Goatse man was bad !



---
Posted by
batman
hi!, everyone....just read ur discussions here,and i wnna know how to do this bluejacking...pls.help me how...just accuire my new se t610...when i go to bt, it requires password...wat r dis passwords?
---
Posted by
Dj Boyi
I think u better read it again mate :-l
---
Posted by
titus
Ok, so im walkin through my local sainsbury's @ started Sman's proximity sweep, & lo & behold in find a 6310i, so begin sendin Nokia sux & buy SE stuff, did this several times as l walk around, after leavin my phone had bluejacked a T610 too, so 2 for price of 1, a lovely supermarket savings, lol...
---
Posted by
batman
hey doyi!, i just read the 1st 10 & last 5 pages of this, i cant read all of this 182 pages.....i thought u were all friendly here to all se user....anyway, ur not the one im looking....
so, anybody wanted to help me how to do this bluejacking in my t610?...
ajack,....can you help me (step by step)...want to bluejack here in the philippines....
---
Posted by
Residentevil
Read them or you will miss something.

---
Posted by
Dj Boyi
doyi? :-l
---
---
Posted by
ajack
@batman:
If you read the first five pages, you should know by then how it is done... maybe you do need to read the threads again...

---
Posted by
four
haha i hav saved that pic - i want to send it 2 sum1...itll be funny especially around where i live

_________________
even with boots on.
[ This Message was edited by: four on 2004-07-22 10:31 ]
---
Posted by
etaab
batman, that site i pm'ed you explains it all.

---
Posted by
four
just a thought - when i try to send a contact to my p800 it just says 'a device is trying to connect in order to transfer an entry' then gives you reject or accept. if we all had that it would mean the end of bluejacking forever!

---
Posted by
mince-inside
Yes this is the case with most if not all phones, the trick is to double negative your contact as a question.
Eg Delete Virus
Then they hit Accept - not reading the accept contact question
---
Posted by
ricardoln2
im going on vacation to Algarve. Hope there's lots of people in the hotel

. I guess im gonna ruin their vacation for every1 who has their bt on

_________________
So greece won the euro 2004 cup. But can they QUALIFY for next time?
[ This Message was edited by: ricardoln2 on 2004-07-22 17:04 ]
---
Posted by
Valek
I was just wondering how do you add a picture to a message when you want to blue jack them?
---
Posted by
Greeny
you cant? not with bluejack! you can however go to a picture and send via bluetooth! just remeber to change your devices name to something thats not putting a big arrow on your head!!! \!/
---
Posted by
mince-inside
I find 'Transport Police' as a visable name goes down well on trains

---
Posted by
etaab
Actually, you can send a picture.
On a T610, go to the phone book, choose ' Pictures ', then select the contact you want to attach the picture to, choose the picture you want to attach and save it.
Then whenever you send the contact to another phone, even if they dont save the contact, the picture still gets saved in the other phones ' My Pictures ' folder.
---
Posted by
gelfen
unless it's series 60, in which case i think they have to accept it. (at least that's what happened on my friend's n-gage).
---
Posted by
lordmat
so many pages im on page 30


[ This Message was edited by: lordmat on 2004-07-23 13:35 ]
---
Posted by
lordmat
hi i did somthing gd with blue tooth too
i was so bored today i went to toys r us went to the n-gage turned the blue tooth on(and my phone p900) then i stood away waiting for
people to play with the n-gage and sent more pitures it was so funny they started looking around then the manger came over to cheek the phone casue i look sucspences by that time i was gone
___________________
p900 for ever (untill p1000)
A dog is not just for chirstmas if you cut it thinnly u can make it last to janaury
[ This Message was edited by: lordmat on 2004-07-23 15:07 ]
---
Posted by
Blexcroid
Hmm-m-m-m I wonder if I could send this via BT


But first I gotta figure out how to get it from my 'puter to my phone........

_________________

Got Esato?

[ This Message was edited by: Blexcroid on 2004-07-24 11:08 ]
---
Posted by
lordmat
lol that would be cool



---
Posted by
babak_1274
Dear Buddies:
I Bluejack someone today but in common i can't bluejack people.
I can find their Mobile with serching but i can not send them anything.
Anybody knows why?
---
Posted by
etaab
Depends. What are you trying to send ? and what happens when you try ?
---
Posted by
alpal
The main problem I faced is that sometimes depending on the receiver's phone, some form of pairing is needed b4 connection can be establsihed. So while I can detect other phones, I cant establish connection unless we both key in the same password "1234...etc". Otherwise I will just get a message "bonding failed". Is there any way to by pass the password requirement?
---
Posted by
friscosjoke
no you cant cicumvent the pairing process but if you change your phone name to your message they should get the point. assumeing they are looking at the time.
---
Posted by
babak_1274
Dera etaab
I want to send any contact pics. etc.
But after mor than twenty times i can only bluejack one.
---
Posted by
alpal
Sorry friscosjoke, I dont understand, how does "changing my phone name in my msg" change anything. Most receivers will still reject the pairing and you wont be able to bluejack??? Anyone else can help
---
Posted by
etaab
The most common mistake we all make when you first learn how to send stuff to people is you try to pair or bond with the other phone first. Dont do that. Simply find the item you want to send to the other phone, go to its options, and send it via Bluetooth. Pictures, sounds, themes, or other files always need the other phone owners permisson before they are allowed to be sent.
Things like contacts, calendar appointments, and tasks always get sent automatically. You can even attach pictures to contacts so they get sent automatically.
Most new Nokia phones all require the owners permission to allow the connection before anything gets sent, including contacts. They just wont accept things automatically, except for the old 6310. When you try to send something to a Nokia, on the Nokias screen your Bluetooth name is shown, saying something like '(bluetooth name) wishes to send you a message, accept yes / no ? '. The easiest way to trick the Nokia owner into accepting the incoming message is to rename your phones Bluetooth something like 'Nokia Msg Centre' or something which they'd think is normal, so they'll allow the message thinking they're about to receive some SMS messages.
Sometimes when you've already sent a message to some phones, they wont accept another. The T610/T630/Z600/K700 will only allow you to send one message to them at a time. Nokia phones however, allow 10+ depending on the handset, and PDA's / computers tend to have no limit to the amount of contacts you can send.
Hope this helps.

---
Posted by
T_grr
Hello.
How about the P800? Some days ago I did a bluetooth search in my hotelroom, and I found a phone called P800. I tried to send a contact with a name only from my T610, but it did not work.. I tried several times, but no luck.
Could it be that the owner was using the bluetooth for something else?
---
Posted by
spooky77
I tested how the 'Synchronize view' option (Menu -> Phonebook -> Options) causes my PocketPC to accept contacts sent from T630 via infrared, and found that while it is in position 'By first name', the contact 'Hello There!' is received like 'There!, Hello'

Is it the same when contact is sent to another phone?