---
Posted by
abbafan1972
Sorry, but I don't like the new layout at all. It looks cheap and tacky. I find it difficult to see where one post ends and the next one starts.
---
---
Posted by
BobaFett
hope the wml look wont be changed, got way too much used to it
This message was posted from a E60-1
---
Posted by
fatreg
@ miss c..
you can't in safari...
you need to use firefox or windoze...
i made a wee
thread
about it with a pic!

fatreg
_________________
"live fast, die young"
please sponser me
i

my 8700f
[ This Message was edited by: fatreg on 2007-03-04 12:38 ]
---
Posted by
Vexii
I really like the new look. It looks fresh and clean.

---
Posted by
shyam335
Large images dont scale well to width it seems..
---
Posted by
axxxr

On 2007-03-04 02:04:19, laffen wrote:
I really don't understand what some of you are complaining about.


We basically miss the simplicity of the old design, ..esato was always unique because of the very basic "no frills" layout, now it just looks like any other forum.
sorry but i still prefer esato how it was.
I still don't see how new features (logo ect) can't be retained with the old look?
---
Posted by
Jim
Ok here are some things I don't really like:
- 2 seconds job on photoshop for the logo.
- the online status (curved).
- signature following post meaning in big blank if reply was only on one line, it should be on bottom no matter what.
- google adsense between post 1 & 2 could be placed between the "Members" and "Post reply" icon?
-
more colors !!!
everything is in a blue/gray gradient, even adsense (doesn't catch up the eye if you ask me), it's so 2000 ...
Other than that I really like how it use the complete width of the screen and how the quote/edit/print buttons are placed.
---
Posted by
Superluminova
I have to say i'm not to taken with the new look, As my screen is really high res and its far to streched across the page.
I like the old style more and new logo just in my view looks kind of cheap.
---
Posted by
PeterKay
like the old style better, this is too much in your face if you know what i mean!
---
Posted by
asfaq
i think the new board and design look swell.. its just a matter of getting use to the layout!
good job laffen !!
---
Posted by
batesie
well the logo needs to be kept as the original. im sure most people will agree...
---
Posted by
PeterKay
looks like we'll just have to get use to this new look, may take a few days but we'll get the hang of it.
---
Posted by
Coxy
Is this new style of expanding (or rather not, having to use slide bar) of pictures in posts going to stay?
---
Posted by
PeterKay
is quite annoying that.
---
Posted by
tonchy
what about a logo competition... some help won't hurt.. ppl can post photoshops and members vote... what do u think laffen???
I'm sure there r some very talented members who would love to do it!!!!
---
Posted by
carkitter
I still like it.
Everything but the logo that is.
I use 1024x768 to view Esato and have the Favourites Menu showing at the same time (IE7) like every website I view.
Clean, simple, ledgible and uncluttered - all Esato hallmarks.

---
Posted by
shaliron
Came back to see a whole new Esato. More fresh than the old design, and I like the work that you've put into the overhaul.
But I still reckon that there are some things that could be cleaned up.
The worst part for me is that the area for text on the screen stretches too much. It's fine I guess if people are using a screen with a resolution of 1024x768, but I'm using a monitor with a screen size of 1280x1024, and the text is far too long to read comfortably.
As a result the controls look messy when the screen is maximized, and they don't look ordered.
Also I thing the top navigation bar is a little hard to use quickly. The labels are not in line with each other making clicking a little messy.
Here's a suggestion on how you might want to order the various controls. To me this is more logical.
-In the fixed version the navigation bar is easier to access, i.e. the main areas are clearer.
-The Posts/Accounts controls are reordered a little more logically.
-The Help/Search/Members has moved to the corner; that's just to separate it from the rest.
-The New Topic button has been removed. There is no real benefit of having when in thread view; instead the Post Reply button has been enlarged. In the forum topics view, the Post Reply button could be the New Topic button instead.
-Slight shuffle of labels as well.
-
Original Logo!
And if you were to use this version, the layout would look far cleaner when maximized on a monitor like mine (which is becoming increasingly common in resolution. The width of 790px was used for the main body, a bit more may be fine, but not too much).
Also:
-Could you please revert to the old style of viewing images when clicked. The new style is not as useful.
-Some pages do not take advantage of the liquid design of the text body.
_________________
A wooden spoon is a spoon made from wood.
Source: Wikipedia
SE's Upcoming Phones
[ This Message was edited by: shaliron on 2007-03-05 08:43 ]
---
Posted by
batesie
well this is how it looks on my monitor - 1440 x 900 pixels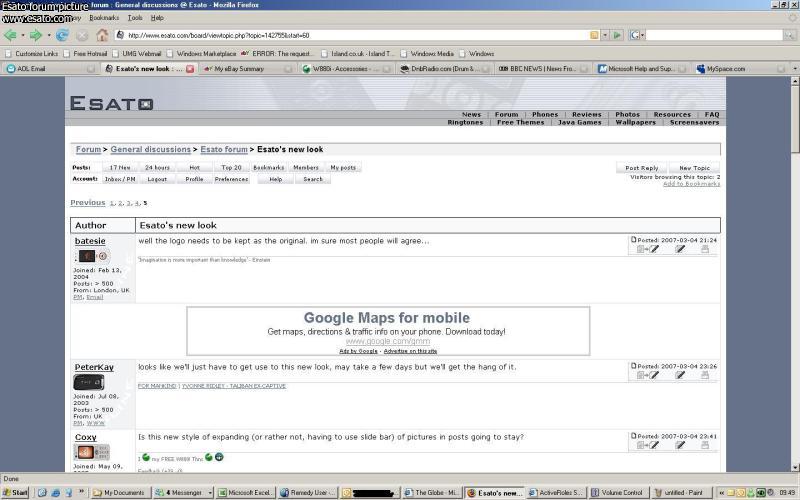 _________________
'Imagination is more important than knowledge' - Einstein
[ This Message was edited by: batesie on 2007-03-05 09:51 ]
[ This Message was edited by: batesie on 2007-03-05 09:53 ]
---
Posted by
Aivar
"Latest forum posts" should be in the left side and "news" in the right side. This is my opinion, because for me the forum is number one and news come after that. As we know, people first look at the top of the left side of the screen.
[ This Message was edited by: Aivar on 2007-03-05 10:21 ]
---
Posted by
TeenInvader
Well well well, at first I thought maybe the stylesheet file didn't download, but then I realised that its a new look.

I think the look is quite cool I'm happy they kept the grey color. I still need to try is at home on a high resolution.
The Logo is kinda wheck, but its a designers choice.
---
Posted by
tranced
is someone having problems viewing photos with FireFox? is there a bug? or it's my firefox?
---
Posted by
Jools
Well, it looks like the top button positioning has been fixed in Safari. Thanks! Although I still don't like the way the 'Search' and 'Help' buttons are offset from the others.
I know its been designed that way, but it
looks
like a error in the display!
If these two buttons need to stand out in some way, how about tinting them a different colour?
Eyes are drawn to colour - and even a subtle shade would stand out on this otherwise very grey site.
---
Posted by
Coxy
Press the my posts link to get the old Esato back!

---
Posted by
mayacesar
I don't remember if it was in this thread that I was congratulating ESATO for its new look but now I feel like my screen is too white... and that makes that I can not spend too much time in the forum anymore. It hurts my eyes a bit. And God knows I've no problems with my eyes.
I think Esato should try to reduce or fade the whity background color.
Do you guys agree with me ?
---
Posted by
SloopJohnB
Trying to update esato´s looks is a good idea but they should listen to shaliron and his suggestions and they should put the forums back on the left
at the main page.E sato is a forum website, news r just a plus and we all know that.
---
Posted by
WelshTom
I think it would have been nice to have used this opportunity to integrate the AZOTT feedback system into the forum a bit more. All user could have a simple score underneath their username and location information on the left hand side. It could also be a 'clickable' hyperlink to the main feedback page so that further details of the feedback can be seen.
---
---
Posted by
laffen
In the fluid vs. fixed width debates, the usual argument against fluid widths
is people with gigantic monitors who (for whatever reason) maximize
their browser window. Why maximize the window? Any good reason for that?
A couple of example sites using fluid layout
Amazon.com
Bill Gates' web site
Internets without doubt largest discussion forum (They must have done something right):
Gaiaonline
Who is Online? - 17850 users. (15731 visible, 1294 hidden, 825 guests).
Gaia has 958,766,676 articles posted with 6,543,556 registered users.
Most users ever online was 86,738 on Thu Jan 04, 2007 3:00 pm
How do these sites look on my 1920 pixel wide monitor. It depends on me. I am given the power to ajust the browser window to whatever I like. And that is not full screen.
Amazon.com wide
Amazon.com resized
Esato resized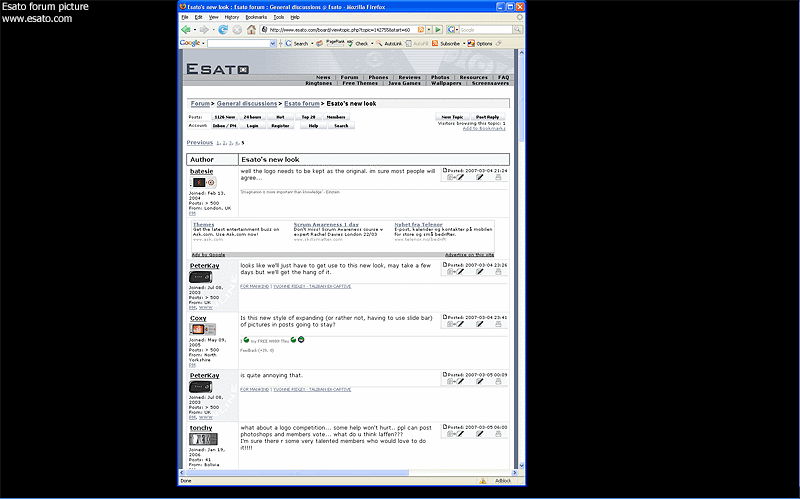 Esato full screen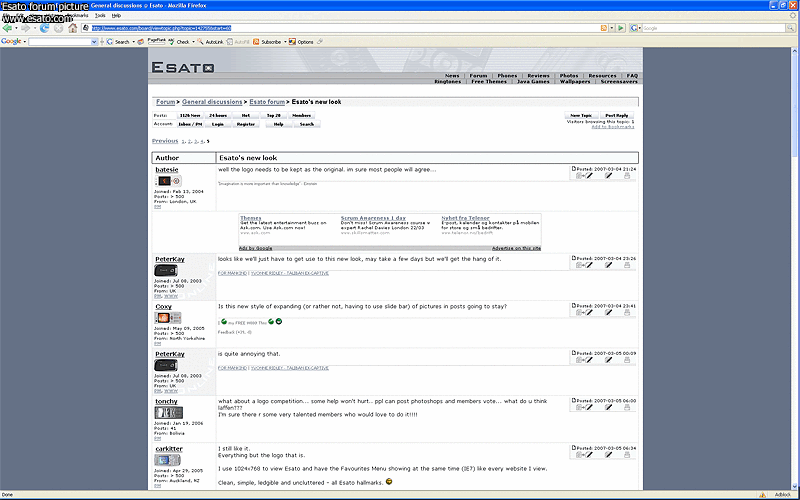 ---
Posted by
tranced
why does ESATO keep that way? it should have had expanded all over the monitor. my monitor isnt that big so i wouldnt complain about the extra blank space that will be left on a 1920 monitor. some ppl do have these monitor and they would do complain.
IMO, i'd prefer the non-resized mode.
---
Posted by
govigov
People having lot of white spaces on their browser head over to
Esato Bar
to get another 3 inches of esato on to the left of the screen.
---
Posted by
thami
Nice new Clean look
---
Posted by
tranced
it's just me or ESATO looks different again?
---
Posted by
Ridahz
Agrees esato looks a lot better!
Keep making this site look better laffen!

---
Posted by
scottt
Yeah i have actually noticed another change, and looks quite nice tbh

---
Posted by
goldenface
I must say I don't have any issues with the new esato layout.
There's a bit more white space but its still as clear as ever to read and I adapted to the change quite easily.
Although, that logo still gives me the jitters. Its a bit austere and the white circle in the letter 'O' reminds me of a beady eye watching you; like one of the moderators' - keeping an eye on our
every
move.

---
Posted by
tranced
@laffen: i think that the bars in the
Mobile phone forum Index
would look if they were a bit darker.
---
Posted by
The Lostprophet
one thing i have noticed, dont no if its just firefox, but ever so often it will unstretch itself, so ill have a old style esato but with the new colours, then ill press another link and its gone back to this new one again?
---
Posted by
tranced
what happened to the date? all went back to 1970
---
Posted by
tranced
fixed!
Laffen?
---
Posted by
Coxy
I reckon with the update in colours it looks better.
A couple of things I think still need tweaking are:
Pictures need to expand properly, this doesn't seem to be happening currently.
The "online" box could do with darkening to make it easier to see.
Just a couple of things I noticed.
---
Posted by
Kwiksta
Very weird, seems different but the same, but now I'm liking

Nice job!
Kwiksta
---
Posted by
tranced
why the date went back to 1970-01-01 and the time to 00:00?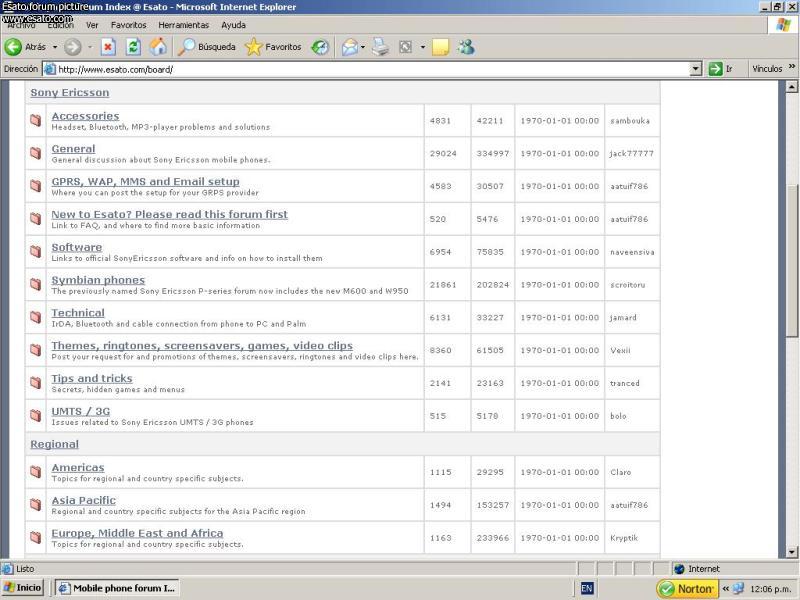 ---
Posted by
masseur
there is some bug out there which has already been reported a few times and it is being investigated
---
Posted by
tranced
but this happens when youre not logged in.
---
Posted by
masseur
correct. software bugs can occur at anytime, it seems this one presents itself when not logged in
---
Posted by
methylated_spirit
Its alright, not bad at all. In Meths Humble Opnion.
---
Posted by
carkitter
I've noticed that sometimes the blue vertical bars overlap the page numbers at the bottom right of the screen.
This only happens when I have the Favourites Menu in place (IE7) and Esato is sqeezed into 4:3 on my widescreen. Not a big thing but it never occurred in the old format.
---
Posted by
PeterKay
Getting use to the new look now, takes a week or two to get use to it.
---
Posted by
Nanu
When will it be finished though? i cant wait to be able to see who is online!!!

---
Posted by
tranced
the last page number is not shown till the last page of the topic has like 2 or 3 posts.
---
Posted by
deluded
Well, it's been a while now, and I presume most bugs have been ironed out. I've gotten used to the new Esato layout, what about the rest of you guys? I still kinda hope the online status indicator could be made more visible on my Firefox browser though. I can see it just fine on my IE6, but not on my Firefox, wonder why.