---
Posted by
Luke-the-magic-man
achually miss c - solid doesnt give a shit about the mac, I dbout he will even try to use it when he gets it. He bought it to sell on and is achually using this thread as a marketing tool to advertise the mac.
Mr jools I do have a question for you, I have one of those airport express base stations to print my music through, today I decided to change it so I can also print through it - the printer I am using for this is a dymo 330 turbo. When I go to print it doenst print though, all it does is come up with a error on screen, but under airport options its shown as a wireless printer under airport options and bonjour . Any ideas?
_________________
for sale - Complete PC System, ipod acessoris, all kinds of iPods, Sony MP3 players and a ton of cool electonics
human slaves for sale
[ This Message was edited by: Luke-the-magic-man on 2006-03-19 22:51 ]
---
---
Posted by
Jools
I must admit that wireless networking is something I know next to nothing about, not having one myself or ever used one!
I would suggest disconnecting and deleting the Dymo printer from the 'Print & Fax' preference pane, re-connect it via the Airport Base Station, then re-add the printer in the 'Print & Fax' preference pane.
The Mac may have got confused about the location/connection of the printer.
Other than that there's not much else I can suggest!
---
Posted by
mrao
@jools... i need to find out how to enable the spam filter on Entourage...im a windows person myself..but a mate of mine has acquired a new mac

rool:, but cant figure this one out...im as clueless when it comes to macs...so any advice is greatly appreciated ..tia

---
Posted by
Jools
The Spam filter in Entourage 2004 is under the Tools menu > Junk E-mail Protection
You then choose the level you want. It learns and gets better as time goes by.
Any reason why your friend isn't using Apple's Mail program? I find it better than Entourage and is much better integrated with the OS. For instance, the system wide Address Book is available in Mail, whereas with Entourage you need to maintain a separate Contact list. It's very easy to migrate all your messages and contacts to Mail if he decides to switch.
---
Posted by
mrao
Thanks for the quick response, mate

As i mentioned, im as much of a noob on macs as a third of computer users

but ill most certainly suggest your recommeendation to my friend....thanks again
---
Posted by
Luke-the-magic-man
jools, as I think you know I recently bought a airport express, but sold it the otherday due to me getting annoyed that when I as using high levels of bandwith when playing music on my hi-fi it kept cutting out (as my macs old it doesnt have a 54mbps card but a 11mbps card). So as I thought the idea was pretty cool I went out and ordered a roku m1000 (probally 1 of the 2 compatable wirless music reciever thingies) anyway not being very clever I went out and ordered it pretty quick (should be here in like 12 hours) but I didnt think to check if id have the same problem as with the airport. Do you think it would be likely? As the aiport express just recieved music, but the roku achually uses the mac as a remote itunes server basically, can you see it stopping etc or slowing down my interent? Cheers
---
Posted by
Gigs
Luke: If you're streaming between one point and another, other things can be slowed down IF the connection is saturated, that means if its being used to most of its capacity.
Ideally you'd want to look at an 802.11g card for your mac, that way you'll have plenty to spare while streaming and your internet shouldn't be effected. (I just went to a wireless router for my main pc and laptop, absolutely loving it! Both are g however, bandwidth hasn't been a problem as I share lost episodes from my laptop to my main pc)
Not sure about the mac side of things but you might also have a setting either on the mac side or the airport side (if it allows settings?) for QoS (quality of service) - Using QoS you can reserve bandwidth on a connection so no matter how much you throw across your local network it always reserves some. (So for instance for your internet)
Hope that gives ya something to go on at least

---
Posted by
Luke-the-magic-man
@ gigs, yep your right. Idealy id like to upgrade my card to a 54mps airport extreme card, but unforchantly due to the age of my mac its not possible, it won't make alot of difference as in about 3-5 months im plannning on upgrading my mac before uni, to a mac book pro (just waiting for a 17" model lol)
---
Posted by
fatreg
Folks,
When i get my mac is it gonna be safe for me to leave it on 24/7?
i currently use an VPN thro my pc and want to do the same with the mac, failing that im just gonna use an FTP thats connected to my mac,
but basically i wanna know if ill be able to leave my 20" imac dual core jobby on all the time? its not gonna melt or owt is it?
If it is im a bit screwed and might have to spend a bit more money and get a power mac G5 if they can stay on!
cheers
fatreg
---
Posted by
Luke-the-magic-man
my old power book (details above) is on for hors at a time, probally about 20 hrs a day every day lol, I think its pretty safe to asume itl be fine

and if it melts just complain to apple lol
---
Posted by
remo74tg
Just picked up a new Intel based Mac Mini and I have a few questions,
1). I'm looking for a good Bittorrent client I downloaded Azureus, but can't figure out how to install it.
2). Do I have to maually enable Java, because some web pages won't show java images.
3). A good video player VLC does'nt support Intel Macs yet.
4). A program do convert avi's to DVD and burn DVD's.
5). How can I import my iTune library from my windows machine to my Mac.
6). Any other must have programs and any other tips, I'm totally new to OS X, but loving it so far.
I appreciate any help.
---
Posted by
Jools
1). I use Transmission.
http://download.m0k.org/trans[....]files/Transmission-0.5-OSX.dmg
To install it, just download the .dmg file above. Double-click it, then a new disk will appear on the desktop. In there just drag the 'Transmission' icon to your Applications folder.
2). Java should be automatically installed and enable. Can you list some of the sites you're having problems with?
3).
VLC Media Player 0.8.5a2
supports Intel Macs. Also, download
Flip4Mac
to play WMV files in QuickTime Player and
DivX 6
for DivX videos.
4).
MPEG StreamClip
and
Roxio Toast
5). You should be able to just copy the whole 'iTunes' folder (containing 'iTunes Music Library.xml', 'iTunes Library' and 'iTunes Music' folder) to your users 'Music' folder.
6). Tell me what you want to do, and I can recommend some programs!
---
Posted by
remo74tg
Thanks for all the links, but flipformac says it does'nt support Intel macs yet is there another plugin for Safari to watch .wmv movies. And I was also wondering is there a quicker way to see the desktop if you have a few windows open instead of minimizing them one by one.
---
Posted by
Jools
Ah... I guess you'll have to wait for Flip4Mac Intel version - sorry!
To see the desktop just press F11
To see all open windows press F9 then click in the window you want to bring to front.
To see all open windows in the current application press F10
[ This Message was edited by: JoolsG4 on 2006-04-10 07:16 ]
---
Posted by
remo74tg
Another Question...Do I need firewall protection? If yes which one would you recommend.
---
Posted by
Jools
Do you have a firewall built-in to your router? If so, that should do the job as long as its configured correctly.
Otherwise you can use the one that's built-in to Mac OS X.
Go to the Apple menu > System Preferences
Click on 'Sharing', then 'Firewall' then click 'Start'. There's different things you can allow access to if you need to. The default settings should be enough.
---
Posted by
haynesycop
Ok so i tried playing what i thought was an avi video in quicktime which did not work, so i went into the properties/info tab and this is what came up: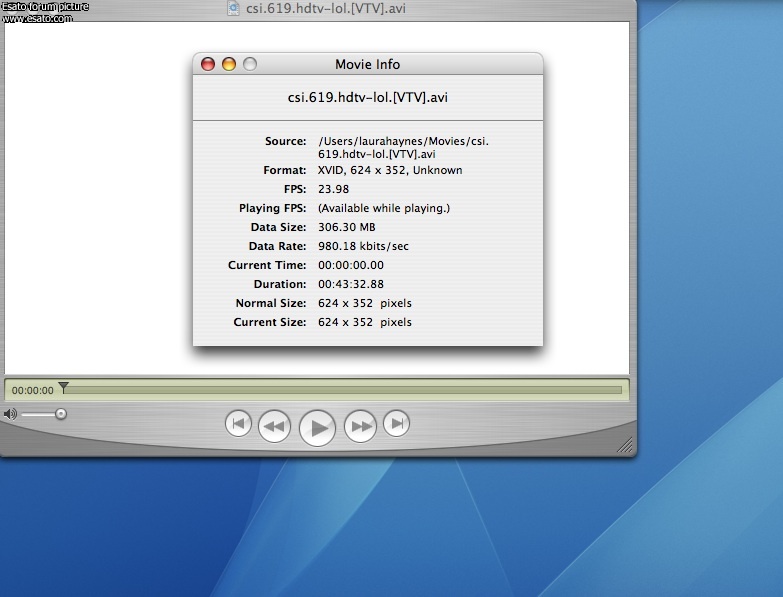 So thinking it is an xvid codet i needed i googled and found this site and downloaded the top file from it:
http://n.ethz.ch/student/naegelic/download/
I opened it up and this is what i get it is like a foreign language can you help me out as to what to do please?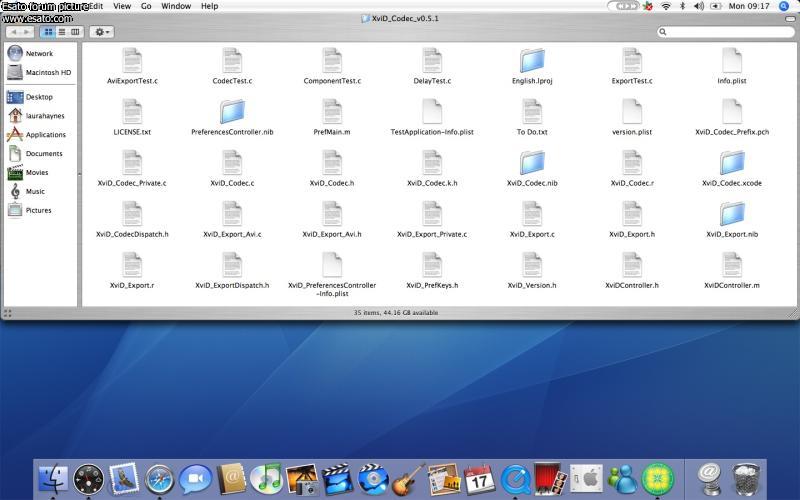 I did try using VLC but it is very buggy and won't play the video properly.
Thanks
---
Posted by
Jools
It looks like you downloaded the source code rather than the program itself. The link you need is this:
XviD_Component_Bin_v0.5.1
I'm not entirely sure whether this is written for Intel Macs yet, so it may not work.
Have you tried the
DivX Player 1.0b2
for Intel Macs?
You could also try
MPlayer 2.0b8r5
which is for Intel Macs
---
Posted by
haynesycop
Oh lol i wondered what the hell all those files were, thanks, i just downloaded divx player, its just a pain having to have so many different programs for different formats.
Cheers
---
Posted by
remo74tg
Joolsg4 thanks alot for all your help..Another question..How can I uninstall widgets..Also where can I get the phone book, Flight Tracker and Stocks widgets listed on Apple's site (link Below).
http://www.apple.com/macosx/features/dashboard/
---
Posted by
Jools
To uninstall widgets bring up dashboard, click the + in the bottom left of the screen and click 'Manage Widgets'
The other widgets you're looking for should be in there too - click the tiny left and right arrows at the left and right of the panel at the bottom of the screen to see more widgets.
---
Posted by
haynesycop
I just had to do a clean install after cocking something up. I reinstalled fine and put all my bookmarks back on the safari toolbar and then downloaded some updates. After i restarted the following happened:
1. All of my boomarks disappeared and i have had to put them back one by one.
2. In finder the icon for documents, movies, music and photos has gone instead of the being a symbol it is just a blank folder for each of them.
Just wondered what could have caused this?
---
Posted by
fatreg
a virus lau?

hehehe
all being well my imac turns up today! w00t w00t

fatreg
---
Posted by
haynesycop
WTF! A virus please tell me you are kidding right? Now i need anti virus?
There doesn't anything wrong apart from that? Jools any ideas? Also is there anywere i can get the icons from and a recommendation for virus protection etc etc.
---
Posted by
Luke-the-magic-man
Miss c. I think fatreg is just messing about. And im sure Jools is just going to tell you there is no need for virus protection on your mac as he has done to me so many times lol. Apparently most of the virus software for macs just searches for windows viruses on them to stop them transfereing them. ALso to install a virus on a mac would be done by user negligents (cant spell) as to install anything which could potentially damge your mac you would have to enter your system password then give it the ok to do all the bits (i belive this is along the lines of what jools told me)
I say don't worry, you probally did something wrong lol
---
Posted by
fatreg
i was indeed jokin miss c!

i really need to grow up

fatreg
---
---
Posted by
fatreg
i've just hada horrible thought

my 60g photo ipod that is full of songs is stored on a windows formatted ipod!!
as soon as i connect it to my mac surely its going to wipe it??
is there any sw i can use that will rip my songs from my windows ipod into mac itunes on a mac?
please please please say yes, or im doomed!

some songs on my ipod i will never ever ever get back again stuff ive recorded that was on my old hdd ive formatted!

please help me over come my horrible thought!
fatreg
---
Posted by
Luke-the-magic-man
oo something I can achually help with. Ok I myself have just done the same thing (using a windows lappy for some work as well as me mac). ok first if you have your pc still then you can just copy the itunes music folder accross to the mac and import all the music (you can do this by hard disc or dvd etc) thats what I did. or you can wipe your ipod and use it as rmovablle media and transfere it that way, though again that relys on you having the music on your pc though. If either of those dont work or are not viable then i recomned you go to mac update.com and seach for ipod. Under the apps avalibe is one called ipod dick, which allows you to browse a ipod and then copy all the songs from it onto your hd. One thing is it will ask you when you plug in the ipod do you want to join this libery... it will wipe yur ipod clean if you say yes so make sure you say no lol
Luke
---
Posted by
fatreg
im gonna need that ipod dick then,
my pc has nooo music on it i want!!
surely dont wanna get caughty short or im gonna cry!

ive been told about a progam called iRip or something that basically knicks all the music off the ipod and dumps in in itunes n a mac!?
might see what i can find out about that too.
fatreg
---
Posted by
Luke-the-magic-man
lol, my typos always turn out bad lol. Ipod DISK is basically what your saying irip does, but I gota say I have never used irip before, sounds very similar though
---
Posted by
Jools
@miss c:
Try repairing permissions on your boot disk with 'Disk Utility'
Also, download the 10.4.6 Combo Update and re-apply that (don't download the smaller Delta update, the Combo is over 100mb big)
---
Posted by
haynesycop
Thanks it is ok now not sure what happened there. I was also wondering i am not the best at working out how to use certain utilities etc etc and was wondering what things i should do whether it be on a day to day or weekly to weekly basis to keep it ticking over ok.
Obviously i should check for updates which i have set up to do daily but is there anything else i should do, to stop things from going wrong.
Danke!
---
Posted by
Luke-the-magic-man
switch on your firewall?
---
Posted by
Jools
If you leave your Mac on overnight it will automatically do all its housekeeping stuff in the middle of the night. If your Mac is asleep or shutdown at night, use
Onyx
to run the housekeeping tasks a couple of times a month.
---
Posted by
haynesycop
Ok thanks i do keep it on overnight most of the time but will try that application as well just to be safe.
Cheers
---
Posted by
haynesycop
Ok something weird happened again, it was happily running and then i picked it up and looked in itunes and my whole playlist had disappeared (all music was still in the itunes music folder) and my internet bookmarks had disappeared completely.
Also certain items were not showing on the desktop even though they were there the only way to see them was to open desktop in finder and then manual drag them onto the desktop.
I went into the finder preferences and the tabs are all ticked for displaying everything on the desktop.
This is just plain weird i mean why would the music just dissappear and my boomarks?

---
Posted by
fatreg
Miss C! your not filling me with joy about the prspect of loosing all my bookmarks and music!

i do hope its an isolated problem!!
on the other hand i hope you get it sorted!
fatreg
---
Posted by
haynesycop
I know i don't understand what is wrong it is a clean install so it should all work fine.

---
Posted by
haynesycop
Oh no worries i figured it out under the home folder i have a shared folder and two other folder with the same stuff in so i just transferred it into on. Must have created the same user twice under two different namea. Don't worry fatreg your imac will be fine it is just me being thick.
All good now!
---
Posted by
Gigs
@Missc:
Uh given the file name of what you download..

(all my lost episodes look like that too

) it'll either be xvid or divx. Doesn't hurt to have both installed anyhow

---
Posted by
fatreg
baba boom!
one imac for me

loving it so far, soo glad i left winsows, i just hope it always works as well as it is now

thanks for all the help so far ppl, im sure ill need more later on!

fatreg
---
Posted by
Jools
Great! Welcome to the world of Mac! Hope you enjoy it!
---
Posted by
fatreg
likig it so far, one quick question though, i downloaded and installed msn messenger, yes wheneverit runs i get like a box on my desktop amd its mightly annoying!
how can i remove this box when the progam is running? as when its not runnig the box goes!
ooh and any news on a wireless mighty mouse? i love the mightly mouse but cant be dealing with wires!
cheers
fatreg
---
Posted by
Luke-the-magic-man
to get rid of the whole msn thing you need to copy the aplication from the msn disc and dtick it in ur application folder then run it from there instead of off a disc thing. I had the same probs, also just wondering u tired amsn?
---
Posted by
SE Rules
Hi guys, Look i'm looking to buy an intel iMac or more likely, a Macbook Pro. First question, can you suggest someone suggest a decent 5.1 surround sound system for either of the above for about £75, and also what cables will I need. Secondly, if I do get a Macbook, will it run XP/Vista and games, ie is it powerful enough? Cheers guys


This message was posted from a K750

[ This Message was edited by: SE Rules on 2006-04-13 22:33 ]

---
Posted by
Jools
The MacBook Pro has a combined optical digital input/audio line in (minijack) so any surround sound system you get would have to have optical digital on it.
A MacBookPro will run XP using Apple's Boot Camp (and Vista too with a bit of help), but why would you want to? The whole point of buying a Mac is to use Mac OS X!
---
Posted by
Luke-the-magic-man
i think SE is a bit confused lol. TBH if ur going to spend a min of 1.4k on a new lappy and are going to use xp on it you might as well by a normal windows one, otherwise your just wasting about 750 quid
---
Posted by
SE Rules
I'm gonna use windows for my PC games and windows only programs! I'm otherwise trying to escape windows, anybody got any info leopard? ps what do mean the mac will cope with a little help?
---
Posted by
Jools
Because 'Boot Camp' (for booting Windows on a Mac) is a beta product, and Vista isn't officially released yet, its not officially supported. A few people have managed to get beta releases of Vista to boot on a Mac, but its not as straightforward as XP. You can be sure that as soon as the final Vista is available you will be able to boot it on a Mac.
---
Posted by
Luke-the-magic-man
ok to all the mac fans here I have just come accross the best im program yet, after using amsn for months it was driving me nuts so I had a rela browse and found this one:
http://www.adiumx.com/index.php
it supports all major im clients, to start offf with its a little annoying ddue to crap sound effects and logos, but if you go to
http://www.adiumxtras.com/
you can find a ton of cool plugins
I really recomend you use this as to be fair msn messenger, and amsn don't even compare to it