---
Posted by
Mebs
Recently when I try to convert some movies I get the following error: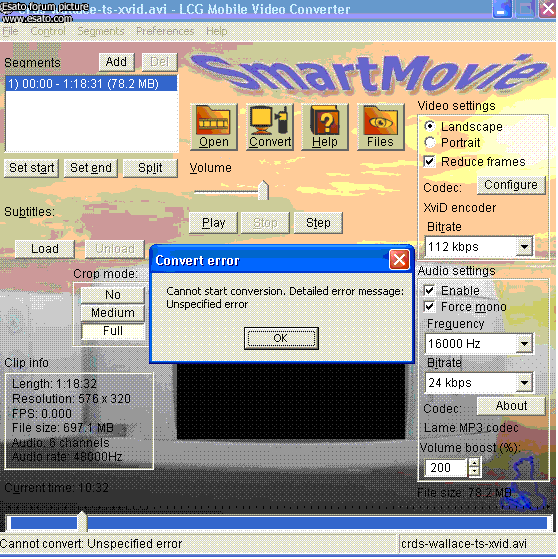 Previously I had no problems but all of a sudden, this happens. The fully thing is the error message only happens of some movies. I can't work out which ones, though, in terms of file formar/codec etc.
Can anyone help
---
---
Posted by
numb
I have no experience with Smartmovie but
From your screenshot I can see the clip info of your source says 6 channel audio. This indicates that AC3 audio has been used as audio in the clip as opposed to mp3 which are also often used in xvid movies.
Many conversion softwares do not support converting AC3.
If however Smartmovie converts by using installed directshow filters, you could first try installing a directshow filter for AC3, chance is that now it just try to use the filter from a soft dvd player youve installed which Smartmovie may not be able to use.
Heres a link to a good AC3 filter to try:
http://www.free-codecs.com/download/AC3_Filter.htm
If this doesnt help, then you need to convert the AC3 audio in your sourcemovie to mp3 or wav before trying to encode with Smartmovie.
---
Posted by
Mebs
Thanks numb.
Tried it and no joy. It still has the same problem.
_________________
Whilst trying different options I noticed that that problem may be to do with the file type rather than with Smartmovie. Some movies will convert whilst others won't. The job is to work out which is which?
Any assistance on telling what codec have been used to rip/encode the movie?
[ This Message was edited by: Mebs on 2005-11-10 19:20 ]
---
Posted by
numb
Its not the filetype which is the problem, the filetype is .avi
This is a common container than can be read by any encoder, and from the filename of the source its encoded in xvid mp4 videocodec which will be played back by any directshow decoderfilter installed like dix, this also should not course problems for Smartmovie.
Im quite certain that the problem is the AC3 audio
You can get information of the codecs in the file with the utility AVIcodec
http://www.free-codecs.com/download/AVIcodec.htm
And I still suggest you need to make a new avi with the audiopart converted from ac3 to mp3
You can do this with VirtualDub and an AC3 plugin for VirtualDub
VirtualDub:
http://www.free-codecs.com/download/VirtualDub.htm
AC3plugin for VirtualDub:
http://www.free-codecs.com/download/AC-3_ACM_Decompressor.htm
PS: Smartmovie like many other converters may have problems converting other from filetypes like for instance mpeg2 files.
[ This Message was edited by: numb on 2005-11-10 20:18 ]
---
Posted by
Mebs
numb,
I have installed virtual dub and I am stuck as to exactly what I am supposed to do and why.
When I did open VDub abd warning message came up

Which is what I suspect you are saying. I must seem really thick but how do I use VDub to resolve this issue. What process do I need to follow?
Can you assist with a step by step guide?
In kind anticipation, Regards
Mebs
---
Posted by
numb
well things got a litle more complicated from your latest screenshot
This indicates not an AC3 audio but an mp3 audio with Variabel bitrate.
VDub warns that directly converting this will give synch problems.
To resolve this you first need to extract the audiopart to an uncompressed wave, this file will be hughe, and then recompress it with constant bitrate, and finally mux together the video with the new recompressed audio.
This is a rather big process, that takes time and requires lots of diskspace, and it may not even resolve your problems with smartmovie.
To do this a litle bit smarter we use VirtualDubMod instead, its a modified version of VirtualDub, that lets us convert without having to extract first
Get it here:
http://www.free-codecs.com/download/VirtualDubMod.htm
So, before going any further, could you open the sourcevideo crds-wallace-ts-xvid.avi in Vdub first, then goto the menu, select file, select file information, and post screenshot of this file information. This will show information of codecs used in the original file.
In the mean time Ill write up a small step by step instruction on how to do the conversion with VdubMod
[ This Message was edited by: numb on 2005-11-12 12:16 ]
---
Posted by
Mebs
As requested, the file information: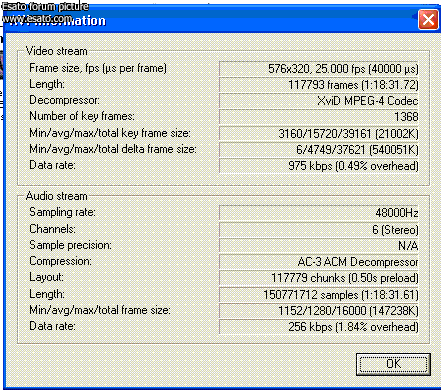 I will download from the link and let you know. I'm going out now and will be back on the case later this evening. Thanks for your help and the step bt step guide. Looking forward to it.
---
Posted by
numb
oki

Your screenshot shows that it is indeed AC3 audio
Heres the step by step guide
1. open the sourcevideo in VDubMod:
2. from the menu select streams, streamlist: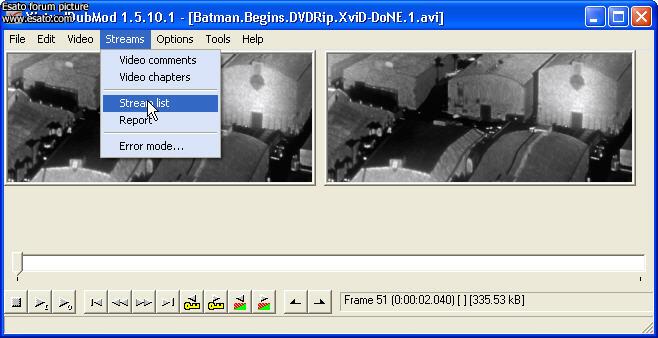 3. rightclick on the stream and select "full processing mode"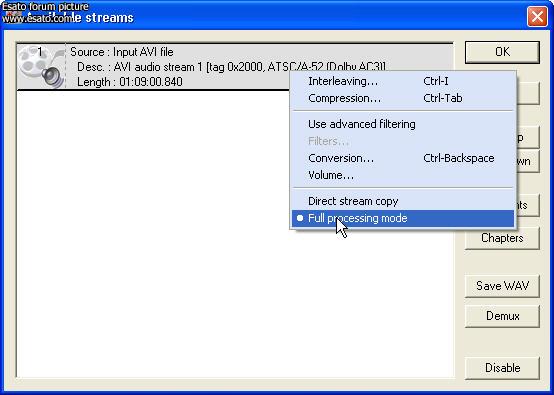 4. rightclick again on the stream and select "compression"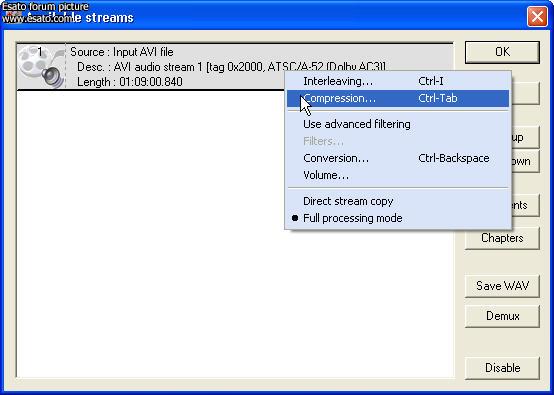 5. Select the Audio compression, when done click ok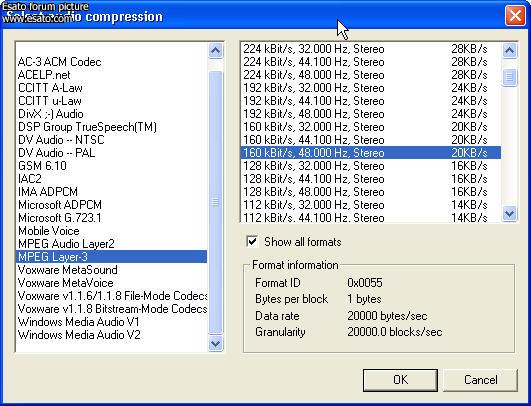 6. From the menu select video, and select "direct stream copy"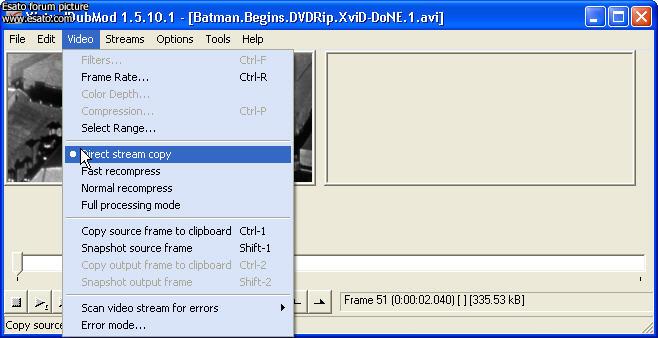 7. From the menu select "save as", and give the new file a new name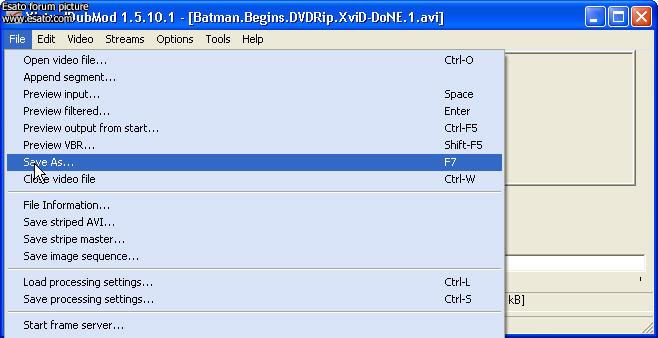 Thats it, your done and now have a new video where the audiopart is converted to mp3, and the video is kept in original quality.
---
Posted by
Mebs
Thanks for your guide. However, it didn't work. See the following screenshots after using VirtualDub Mod (I called the file Wallace II):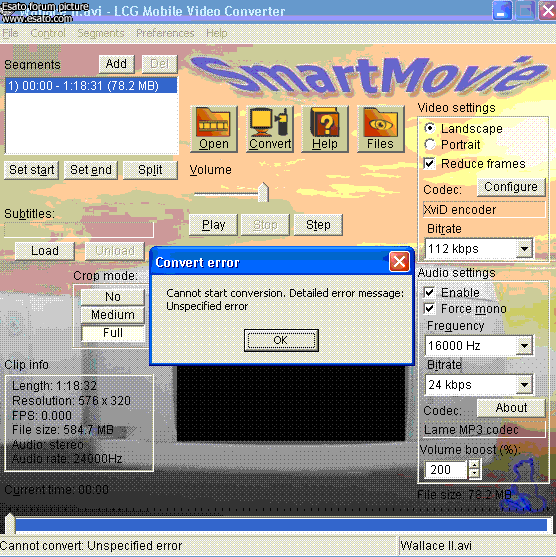 And there's one of the file info:
One thing that I found was that I didn't have the same selection of mpeg-3 options, your was 160kBits/s 48,000hz 20KB/s my best was 56kBits/s 24,000hz 7KB/s. I don't know if thats the probelm why it did not work.
---
Posted by
numb
To get more mp3 encoding selections you have to use the mp3 filter from windows mediaplayer 10 and do a litle registry hack to use it as proffesional filter - see more about that here:
http://www.looprecorder.de/tut_l3codec.php
Back to smartmovie, if it still complaints like that, then I cant help.
Your converted file looks fine, the lower bitrate mp3 should not be a problem and the xvid codec shouldent be a problem either.
You could try installing a different playback filter for mp4 - like the latest divx version, but it seems that its just smartmovie which is somehow busted or at least extremely picky about which files it will accept. From that my best suggestion would be to use a different conversion software than smartmovie, cause from the looks of it, smartmovie doesnt seem all that smart

According to the info on smartmovies website it supports directshow filters, so everything you have tried since we started should have worked in smartmovie. Perhaps you need to either reinstall the smartmovie converter or upgrade to a newer version.
http://www.lonelycatgames.com/index.php?chapter=smartmovie
They also have some support pages and some info on directshow filters.
[ This Message was edited by: numb on 2005-11-12 23:02 ]
---
Posted by
Mebs
I have done the looprecorder and now i have the full list of compressions as shown on your screenshot. So I thought I'll have another go. I stopped the convertion after about 3mins and then started up smartmovie and it loaded so I pressed convert and it started to convert. Yippeeeeeeeee!
However, the sound quality has deteriorated. I will pm you if I can send an attachment, if not, then is it possible that I could email you directly??
Thanks for helping. BTW, on the screenshot you gave me what movie is that, I am intruiged by the tents/caravans/ trailers or what ever they are?. Are you into video converting as you seem to fully understand the structure of movies.